Perry Bellegarde wins another term as Canada's Assembly of First Nations chief
Perry Bellegarde won a second term as national chief of the Assembly of First Nations (AFN) on Wednesday amid allegations a federal minister interfered in the election.
Bellegarde clinched the victory after receiving 328 votes which pushed him over the 60 per cent threshold needed to win.
It took him two rounds of voting to emerge from a field of five candidates.
Sheila North, a grand chief from Manitoba, received 125 votes, putting her in second place. Miles Richardson, a former president of the Haida Nation, came in third with 59 votes and Russ Diabo ended his run with 10.
The fifth candidate, Katherine Whitecloud, dropped out after the first ballot.
A total of 538 chiefs and proxies cast ballots on Wednesday. Bellegarde enters his second term with a strong mandate from AFN member-chiefs. He nearly won in the first ballot, garnering 53 per cent of the vote.
Focusing on unity
Attawapiskat Chief Ignace Gull, whose community sits along Ontario's James Bay coast, said he voted for Bellegarde because he saw no reason for a sudden change in direction.
Bellegarde entered the campaign as the presumptive front-runner and managed to maintain support from a wide base of chiefs across the country.
The room erupted in cheers when his victory was announced, and Bellegarde called for unity in his speech.
"Bring back our circle in unity," he said. "And keep working together for our children, our grandchildren and those yet on board."
Bellegarde said it was time for First Nations to "move beyond" the "genocide" of Indian residential schools and the "colonization of the Indian Act."
He said it was time to "assert ourselves as nations."
Minister's presence criticized
But the election ran into controversy when, amid voting on the first ballot, Crown-Indigenous Minister Carolyn Bennett met with Alberta chiefs.
Diabo, a policy analyst from Kahnawake, accused Bennett of interfering in the election.
His allegation surfaced between the first and second ballot, creating a brief air of uncertainty about what was about to unfold next.
"This is the first time I have seen a minister come in to influence chiefs on voting day," said Diabo. "I see that as political interference."
Alberta AFN Regional Chief Marlene Poitras said Bennett was invited to the meeting to speak about community issues.
"She did not whatsoever speak about any of the candidates, any of the election, none of it was brought up during the time she spent with the chiefs," said Poitras.
Bennett's office said in a statement that "at no point was the election of national chief ever discussed," during the meeting.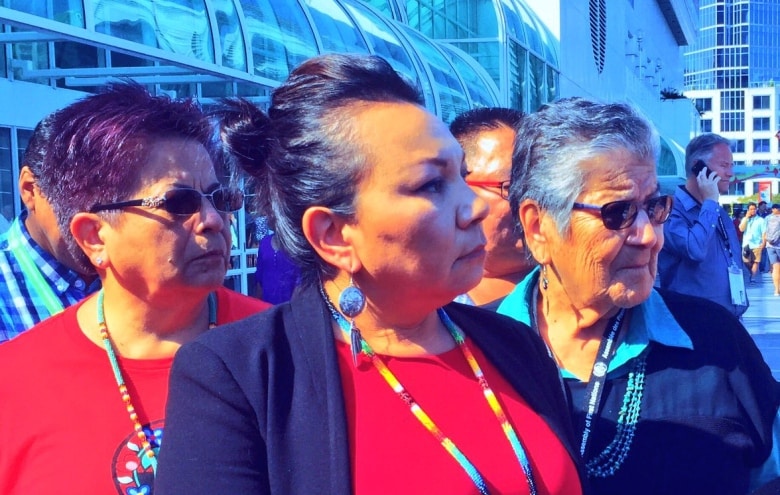 Diabo said it didn't matter if Bennett was invited, she should not have agreed to the meeting.
The issue spilled into the assembly after North, Richardson and Whitecloud supported Diabo's criticism and confronted Bellegarde over his initial decision to distance himself from the issue.
AFN's Chief Electoral Officer Loretta J. Pete Lambert refused to investigate, arguing it fell outside her jurisdiction, according to Diabo.
Opponents concede
Richardson and North took a conciliatory tone in their concession speeches, also calling for unity.
"We have to stay unified, we have to love each other," said North. "We can't let government tell us what to do."
Diabo took a different approach.
"There will be consequences for the way you voted," he said. "You can boo all you want."
Related stories from around the North:
Canada: First Nations National Chief candidates tell Indigenous Northern Canadians to 'exert your sovereignty', CBC News
Finland: Sámi school preserves reindeer herders' heritage with help of internet, Cryopolitics Blog
Norway: Arctic Indigenous food culture takes the day at international cookbook awards, Eye on the Arctic
Russia: Russia plans fenced parks to confine reindeer herding in Arctic, The Independent Barents Observer
Sweden: Report sheds light on Swedish minority's historic mistreatment, Radio Sweden
United States: Inuit leaders to advance Indigenous human rights, Radio Canada International