Gov cancels caribou hunt in Northwestern Canada following First Nation's complaints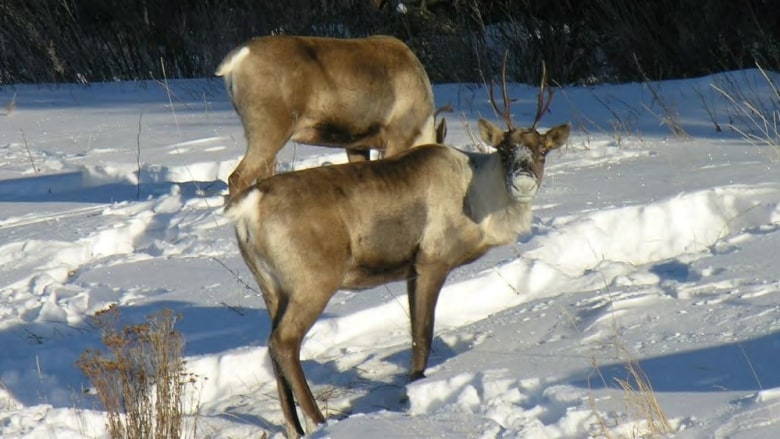 The Yukon government has cancelled permits for hunting Finlayson caribou in southeast Yukon this year in response to objections from the Ross River Dena Council.
The government said in a release Tuesday that all other territorial hunting regulations remain in place.
The Dena Council had taken out a newspaper advertisement in June outlining its concerns.
"Due to our deep concern for caribou and moose in our homeland, we hereby require that any non-Kaska hunters wishing to hunt in our territory must obtain a permit from RRDC. This permit will be subject to our Dena laws," read the advertisement.
It also said the hunting season for moose and caribou, which will open Wednesday, would close on Sept. 15.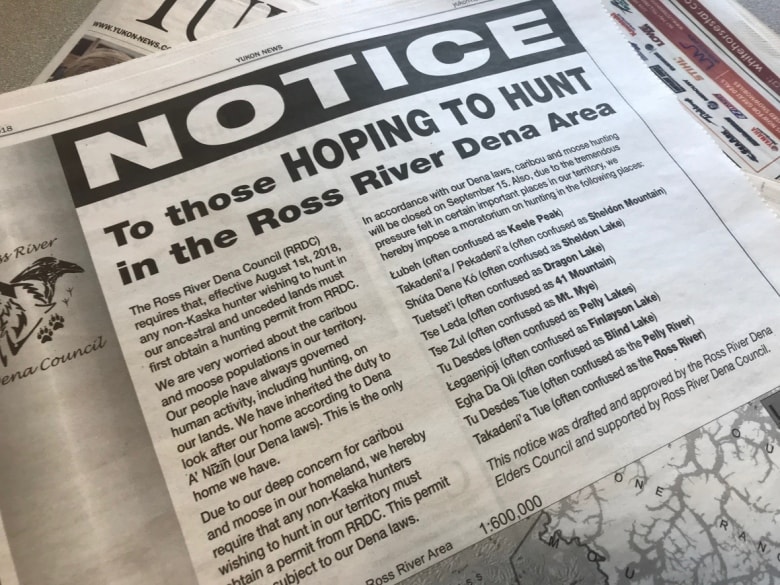 The territorial regulations, however, say the season for hunting moose ends on Oct. 31. The caribou season closes on Oct. 31 in many areas, but there are also variations between zones.
A spokesperson for the environment department, Roxanne Stasyszyn, said the territorial law still applies.
Stasyszyn said anyone with questions about the Finlayson caribou harvest or other hunting rules should call Environment Yukon.
Check in with First Nation, government says
While the existing regulations stand, Stasyszyn said the government is "asking hunters to voluntarily comply with Ross River Dena Council's requests."
Stasyszyn said the First Nation is asking for people to check in before hunting big game. She has not heard that Ross River Dena Council are selling permits or requesting fees.
"To the best of my knowledge, they are asking for people to come in and talk to them and have a conversation before going out on the land," she said.
The traditional territory of the Ross River Dena Council includes much of eastern Yukon and two roads popular with hunters, the North and South Canol Highways.
30 hunters affected by cancellation
The cancellation of the Finlayson caribou hunt will affect 30 hunters who had won permits for this season.
The decision was announced after this year's lottery had already been held and winners chosen, but Stasyszyn said the permits were never issued.
"When the lottery was held, we became aware of Ross River's significant concerns and we were able to sit down at the table with Ross River only after the applications had already been accepted," she said.
All applicants are getting their $10 application fee back and the winning candidates will be given seniority for future lotteries, increasing their odds of winning.
There's no word yet on whether cancelling the caribou hunt will be permanent.
"We have not changed policy. We have made a decision for this hunting season, and we will be informing hunters at a later date if that impacts Finlayson hunting in future years," Stasyszyn said.
"The conversations with Ross River Dena Council are continuing. We do appreciate that the decision for this year could lead to changes for next year but we can't' say that with confidence yet."
The Ross River Dena Council has not responded to CBC News' request on its reaction to the government statement and whether it will enforce its conditions.
Related stories from around the North:
Canada: First Nations National Chief candidates tell Indigenous Northern Canadians to 'exert your sovereignty', CBC News
Finland: In Santa's hometown, are tourism and a railway threatening Sámi culture?, Cryopolitics Blog
Norway: Polar bear shot dead after attacking person on Svalbard, The Independent Barents Observer
Russia: Russia plans fenced parks to confine reindeer herding in Arctic, The Independent Barents Observer
Sweden: Poachers suspected behind dwindling wolf numbers in Sweden, Radio Sweden
United States: Supreme Court's rehearing of hovercraft hunter case could test Alaska's sovereignty, Alaska Public Media