Kwasi Benjamin sentenced to life in prison for 2nd-degree murder of Inuk woman Nellie Angutiguluk in Montreal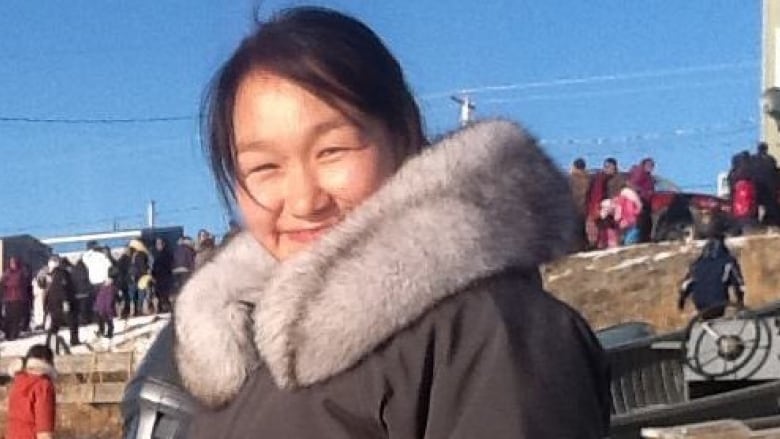 A judge has sentenced 32-year-old Kwasi Benjamin to life in prison with no chance of parole for 14 years, for killing Nellie Angutiguluk, 29, a mother of three who moved to Montreal from Puvirnituq, in Quebec's Inuit territory of Nunavik.
In February, a jury found Benjamin had strangled Angutiguluk with an electrical cord in the apartment the two shared in Cote-des-Neiges in May 2015.
In rendering his sentence, Quebec Superior Court Justice Pierre Labrie said, "Mrs. Angutiguluk's death is another tragic example of domestic violence."
"She was entangled in an abusive relationship with Mr, Benjamin," he said.
The Crown had sought a life sentence for Benjamin with no chance of parole for 17 years.
During the trial, prosecutors argued Benjamin killed Angutiguluk for two reasons: money problems between the couple, and the fact that the accused wanted Angutiguluk out of the way because he had a new girlfriend.
The defence sought the minimum sentence for second-degree murder: life in prison with no chance of parole for 10 years.
At trial, Benjamin's lawyer, Paul Skolnik, had painted a picture of a depressed Angutiguluk who had tried to hang herself in the weeks before she died, arguing that Angutiguluk had not been murdered and may have taken her own life.
Aggravating factors
"A number of aggravating circumstances warrant a severe sentence," Labrie said.
Among those was the fact that Angutiguluk leaves behind three orphaned children, aged 9, 10 and 11.
Angutiguluk had moved to Montreal after the father of her children died in an accident. Her children remained in the north, now adopted by their maternal grandparents.
Other aggravating factors included the fact that the death was a case of domestic violence, the fact that Benjamin had three other court matters pending at the time of the murder, and what Labrie called "the violence and brutality of the offence."
He also noted expert testimony from a psychiatrist, who found that Benjamin lacked empathy, had a serious alcohol problem, was narcissistic with rigid thinking and had a history of violence towards women, although he repeatedly minimized the impact of that violence.
Judge alludes to lack of 'wet shelter'
Labrie also mentioned Angutiguluk's vulnerability as an Inuk woman living in the city as an aggravating factor.
"Mrs. Angutiguluk had an alcohol problem and was living far from her community," he said.
He noted testimony from Angutiguluk's cousin, who said that many Inuit women in the city end up living on the streets because of alcohol problems.
Labrie noted the lack of a so-called "wet shelter" in Montreal — a safe place where women with an alcohol addiction could stay while being allowed to consume alcohol.
"This is why Mrs. Angutiguluk may have been living with Mr. Benjamin," Labrie said, despite the fact that he had been physically abusive to her in the past.
'My heart has been hurt'
Angutiguluk's mother, Maggie Nungaq Angutiguluk, wrote a victim impact statement that was read in court during sentencing arguments.
"My heart has been hurt," said Nungaq Angutiguluk in the statement.
Nellie Angutiguluk's three children are in dire need of counselling in the wake of their mother's murder — something which they can't get in Nunavik, Lisa Koperqualuk, a relative of Angutiguluk's, said at the sentencing hearing
"They miss, and will miss, talking to their mother about their life experiences, about what they're going through, to be able to open up about their feelings to the one who loves them unconditionally," Koperqualuk told the court in her victim impact statement.
Related stories from around the North:
Canada: No help available for children in northern Quebec scarred by Nellie Angutiguluk's murder, court hears, CBC News
Finland: Police in Northern Finland overstretched, says retiring officer, YLE News
United States: Violence against Indigenous women still a hot topic for Alaska Federation of Natives, Alaska Public Media