Canadian Arctic: two arrests in connection with grocery store fire in Iqaluit, Nunavut
Two youths have been arrested with arson charges pending in connection with a fire that destroyed the warehouse of Iqaluit, Nunavut's largest grocery store.
The fire was extinguished overnight after raging for 22 hours. No injuries were reported.
RCMP announced Friday morning in a news release that police are working with the Nunavut fire marshal's office and have two youths in custody, with criminal charges pending for arson —​ disregard for human life.
The youth were not named in the release.
RCMP District Commander Mark Crowther said in the release that police and fire personnel "are working diligently to ensure public safety and bring those responsible to justice."
Iqaluit's mayor, Madeleine Redfern, tweeted early Friday that the fire at Iqaluit's Northmart was "largely out" overnight. She said firefighters were able to save the building's main store, though it suffered significant smoke and water damage.
"It will take time to assess and undertake the necessary repairs and replacement of the lost sections of the other buildings," said Redfern.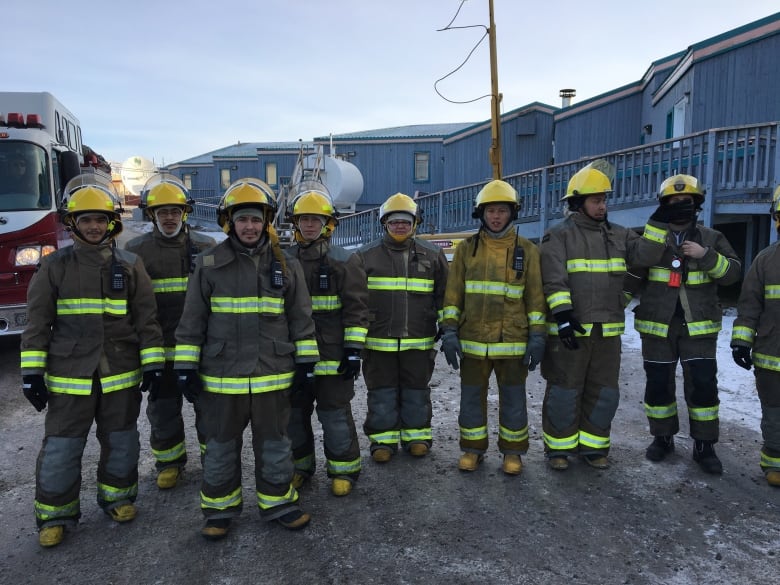 A total of six fires burned in the community Thursday, destroying Northmart's warehouse area — where food that comes up by sealift is stored — and threatening nearby elders' residences.
Firefighters from other Nunavut communities, including Pangnirtung and Cape Dorset, flew to Iqaluit Thursday to support local crews.
After suspending delivery for the day in order to allow crews to fight the fire, Iqaluit's trucked water services resumed Friday morning. However, Redfern says the city is still asking residents to conserve water.
The cause of the fire is not yet known. Iqaluit RCMP said they would provide a statement Friday morning.
Nutrition North may help hold down prices
The fire led to immediate concerns about food security in Nunavut's capital city, with many concerned about where non-perishable goods would be stored and the cost in shipping them to Iqaluit.
The city's sealift season — barges carrying food and goods for residents — recently ended, and any replacement goods will need to be flown to Iqaluit.
"I think the biggest impact that we'll see is a whole year's supply of dry goods, everything they brought in by sealift, is gone," said Nunavut MP Hunter Tootoo. "Northmart is the largest retailer in Iqaluit … so all your flour, sugars, diapers, cleaning supplies, canned goods … I'm sure they had all their Christmas stock in, Easter. All that's gone."
Tootoo says he has spoken with both of Iqaluit's major retailers to ensure prices remain stable in the community. Yesterday, Alex Yeo, the president of Canadian retail for the North West Company, said prices will not rise as a result of the fire.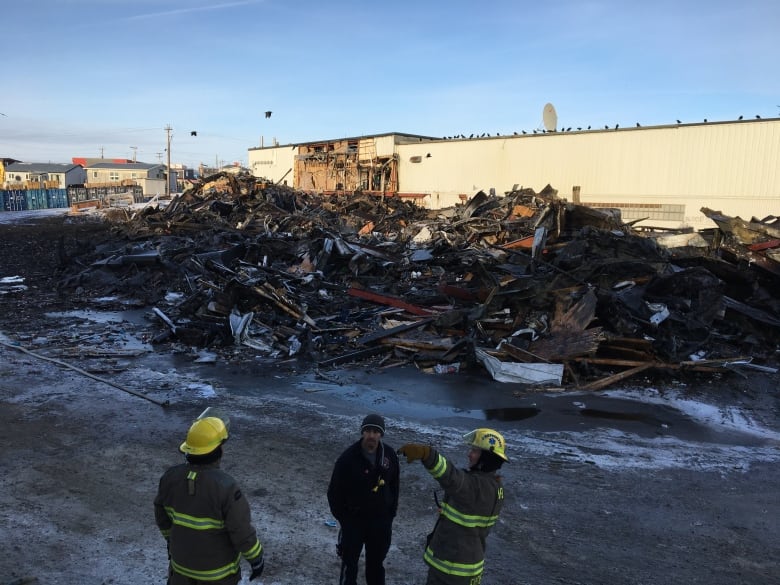 However, federal Northern Affairs Minister Dominic LeBlanc says his office is looking into using the Nutrition North food subsidy program to ensure that prices remain stable.
"I don't want people in the North to be gouged, whether deliberately, or simply by virtue of a lack of supply," said LeBlanc. "The price cannot be pushed up because of a circumstance like this, so we will work with the territorial government to ensure we do everything we can to make sure that doesn't happen."
LeBlanc said his department will work with other levels of government to ensure a stable supply of food and goods to the capital, and that the federal government has offered a military airlift to the community, if needed.
"For the moment they believe the situation is under control, and they have the resources they need," said LeBlanc. "But we will continue to work with them."
With files from Kieran Oudshoorn, Hannah Thibedeau and Heather Hiscox
Related stories from around the North:
Canada: Remote community in Arctic Canada struggles to cope with barge cancellation, CBC News
United States: New farm bill program aims to fight food insecurity in Alaska, Alaska Public Media