Massive 7.0 earthquake strikes southcentral Alaska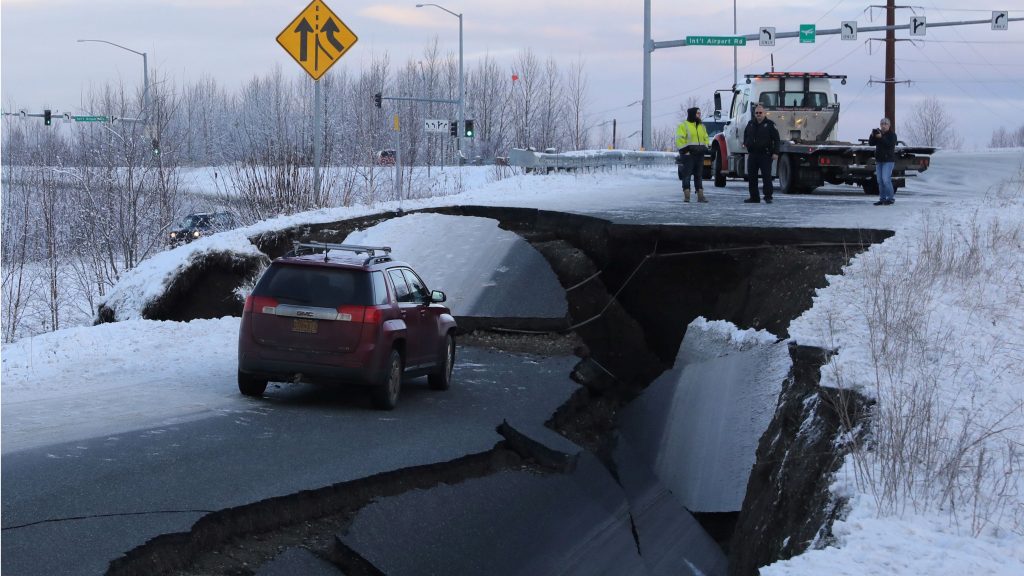 A powerful 7.0 earthquake hit Southcentral Alaska Friday morning, shaking town and causing widespread damage.
Information is still trickling in, but here is what we know so far.
According to the Alaska Earthquake Center, the quake hit about 10 miles north of Anchorage, Alaska's most populous city. The event started at about 8:30 a.m., with multiple aftershocks following.
Roads and infrastructure are severely damaged. According to the Department of Transportation's Shannon McCarthy, rock falls nears McHugh Creek and milepost 112 have closed the south-bound Seward Highway. The northbound Glenn Highway is closed by Eagle River Drive because of damage.
In Anchorage, many traffic lights are out, contributing to traffic standstills along major roadways. The overpass by International and Minnesota Drive has partially collapsed. An intersection at 36th and the New Seward Highway has a sinkhole or split in the road.
By 10 a.m. the tsunami warning issued earlier had been canceled.
The Anchorage School District is telling parents, "When you feel it is safe to pick up your children at your school, please do so."
The Anchorage Police Department says officers have been dispatched throughout town handling incidents. On it's Facebook page, the department wrote, "There is major infrastructure damage across Anchorage. Many homes and buildings are damaged. Many roads and bridges are closed. Stay off the roads if you don't need to drive. Seek a safe shelter. Check on your surroundings and loved ones."
As of 10:20 a.m. the Ted Stevens International Airport is open, but passengers are encouraged to get flight information from their airlines. Earlier, the airport had closed and canceled inbound and outbound flights.
Alaska Regional Hospital has canceled elective surgeries but remains open as staff their inspect for damage beyond water leaks.
Chugach Electric is reporting that 21,000 people lost power. As of 10:30 a.m. there are still 15,000 without power.
Related stories from around the the North:
Canada: Canadian military trains to respond to Arctic earthquake, Radio Canada International
Greenland: Greenland earthquake and tsunami – hazards of melting ice?, Blog by Deutsche Welle's Iceblogger
Sweden: Mining company LKAB won't pay for earthquake damage to homes in Arctic Sweden, Radio Sweden
United States: Gulf of Alaska quake prompts alerts, evacuations and review of response, Alaska Public Media