Blog – Snapshots from up and down the Arctic in 2018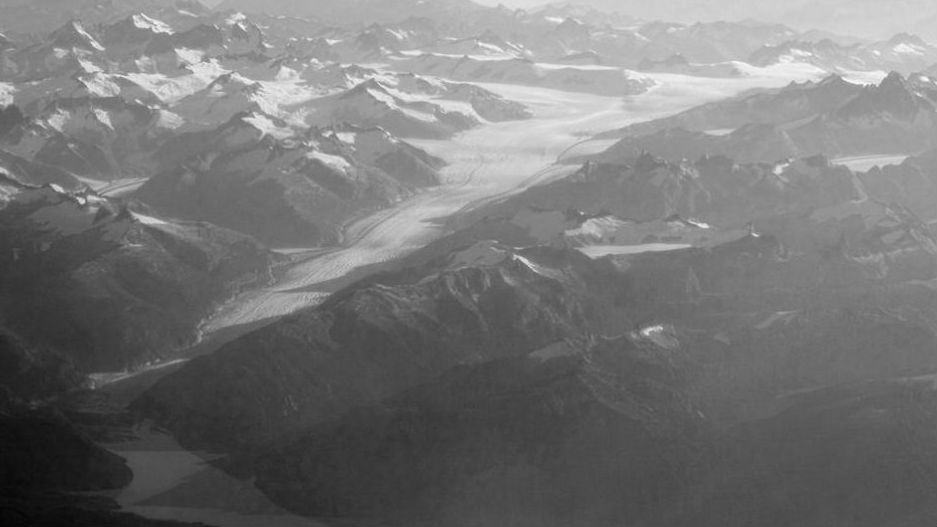 In 2018, conferences, workshops, and meetings brought me to seven of the eight countries with territory north of the Arctic Circle: the U.S., Canada, the Faroe Islands (part of the Kingdom of Denmark), Finland, Norway, Russia, and Iceland.
In Canada, I only made it to Quebec City. Although the St. Lawrence River was partly frozen during my trip in March, that part of the province doesn't count as the "Arctic" by anyone's standards. I also didn't make it to Sweden last year – the one Arctic country where I still haven't really been to the northern edges. This year, I probably won't be making as many Arctic trips. With some new projects in the works, however, I'm hoping to start fieldwork in Alaska and Greenland later this year or next.
In the meantime, looking back on my northern travels in 2018, I've chosen one photo from each Arctic country I visited – organized latitudinally, from the top of the world down. Looks like I didn't quite cross the 70th parallel, but that will change next month when I sail by Hammerfest on the Hurtigruten following the Barents Spektakel festival in Kirkenes, Norway – which brings me to my most northerly stop of 2018:
69.728°N: Sydvaranger Iron Ore Mine, Bjørnevatn, Norway
JUNE 2018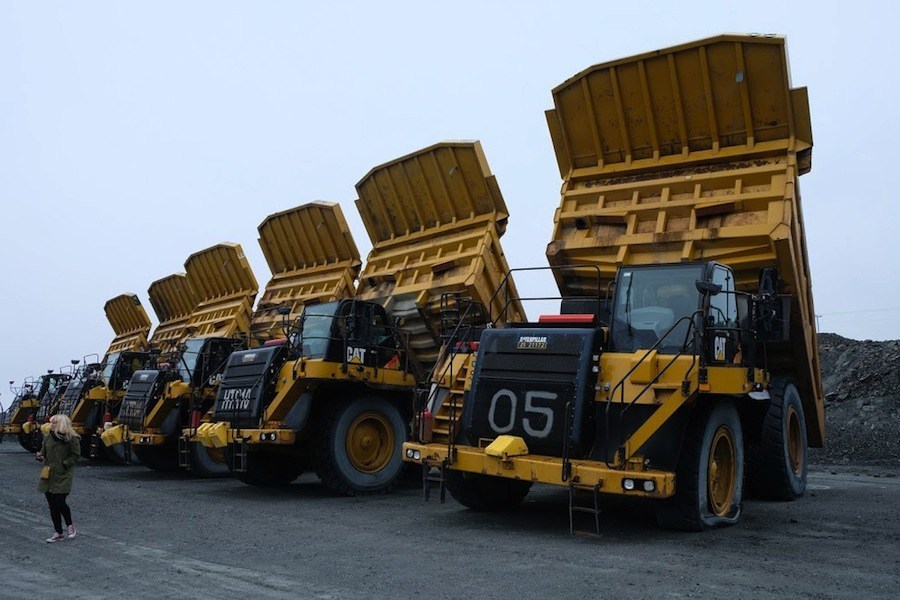 Just outside of Kirkenes, the Norwegian city facing the border with Russia, six earth movers sat parked at the shuttered Sydvaranger Iron Ore mine. They don't seem to have moved in a while: notice the flat tire on earth mover number five.
Between 1910 and 1997, the facility produced 200 million tons of the black powdery commodity crucial for steel manufacturing. The mine was originally opened to supply Germany, which was rapidly industrializing at the turn of the twentieth century. After close to 90 years of operations, it was shut due to low profits. Except for a period of production from 2009-2015, the mine remains inactive, though it may soon reopen.
A decision to recommence operations depends in part on global prices largely set by China, which gobbles up more than half the world's iron ore. In its quest to lower pollution from steel manufacturing, China is increasingly seeking out high-grade iron ore like the kind found at Bjørnevatn. In 2010, a test run between Kirkenes and Qingdao, China via the Northern Sea Route demonstrated that it was possible to ship iron ore from the Arctic to Asia. Now, it's up to global commodity cycles and mining investors to determine if this will become a regular occasion and get those earth movers moving again.
69.267°N: Rest stop, Titovka, Russia
JUNE 2018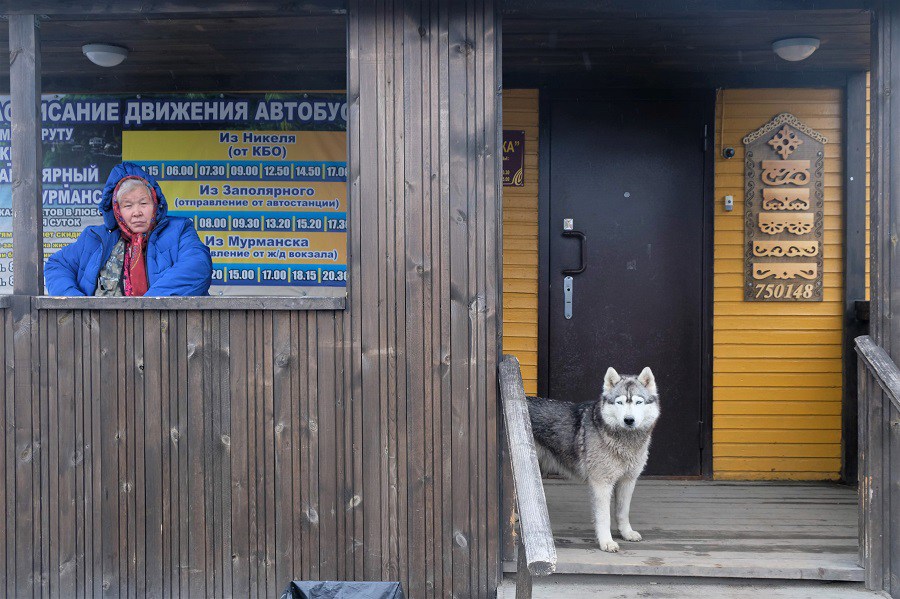 After driving across the border from Kirkenes, we made a brief stop at Nikel, the postapocalyptic nickel mine that unrelentingly bellows smoke and toxins into the air. After taking in the scorched moon landscape, we drove on until we reached the first proper rest stop on the E105 highway from Norway.
In the town of Titovka – population 1, supposedly – huskies approached our group with tender stares as we got off the bus. As members of the group meandered between the tiny convenience store and the toilets, one of the fluffy butterballs ran over to stand guard outside the shop next to a Russian babushka rocking an azure parka. And with that, I fell straight into a scene from a Tarkovsky film.
66.561°N: Napapiirin Porofarmi, Rovaniemi, Finland
JUNE 2018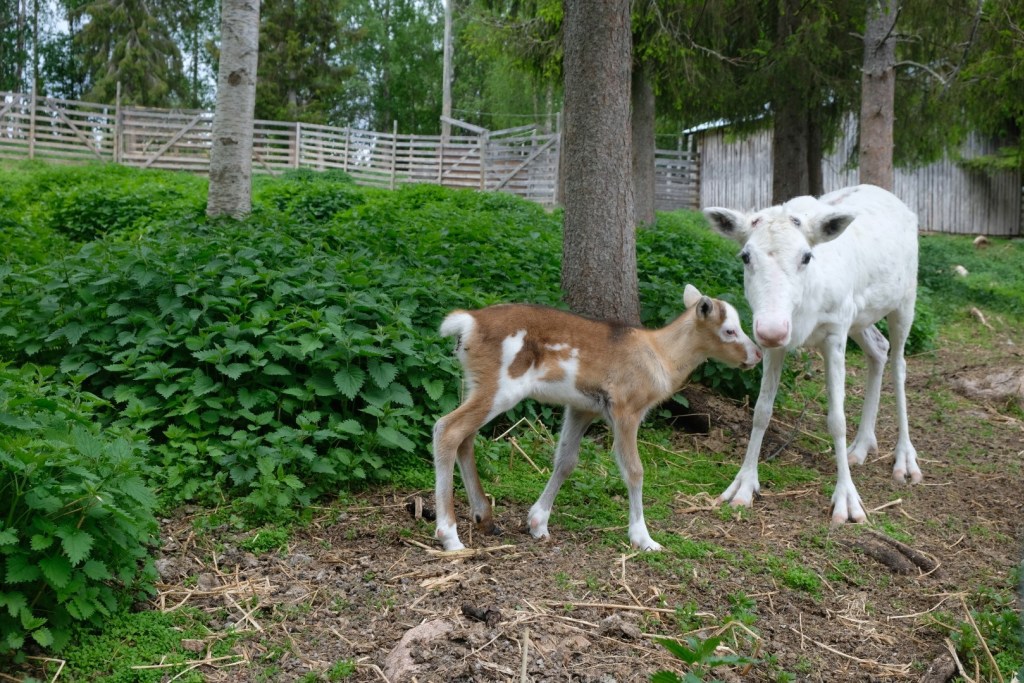 On my first visit to Lapland, I was determined to see reindeer. I wasn't sure how likely the chance of encountering Arctic ungulates would be given that I was staying within the city limits of Rovaniemi, the region's biggest conurbation.
Lacking the time to track down a Sami reindeer herder out on the summer pastures, I entered "reindeer farms" into Google Maps. As luck would have it, a few locations popped up, though most were quite some ways outside of town. A few reindeer farms seemed to offer tours, but at great expense, and many others seemed closed until winter, which is the high season for tourism in Lapland.
As I didn't really want the whole tourist experience anyway, I decided to simply run to the nearest reindeer farm a little over five miles outside of town. It was a straight shot past the well-kept homes along Kittiläntie Road, which follows the meandering Ounasjoki River. After about an hour, I arrived at the Napapiirin Porofarmi – "poro" being Finnish for reindeer. I wandered down a path through the small parking lot, passed a sign hammered into a tree marking the location of the Arctic Circle, which the farm almost exactly straddles, and spotted something white moving amidst the lush green foliage. It was a reindeer, and not just one, but a mother, father, and calf all prancing around in a summer Arctic dreamland. Mission complete.
64.147°N: Harpa, Reykjavík, Iceland
OCTOBER 2018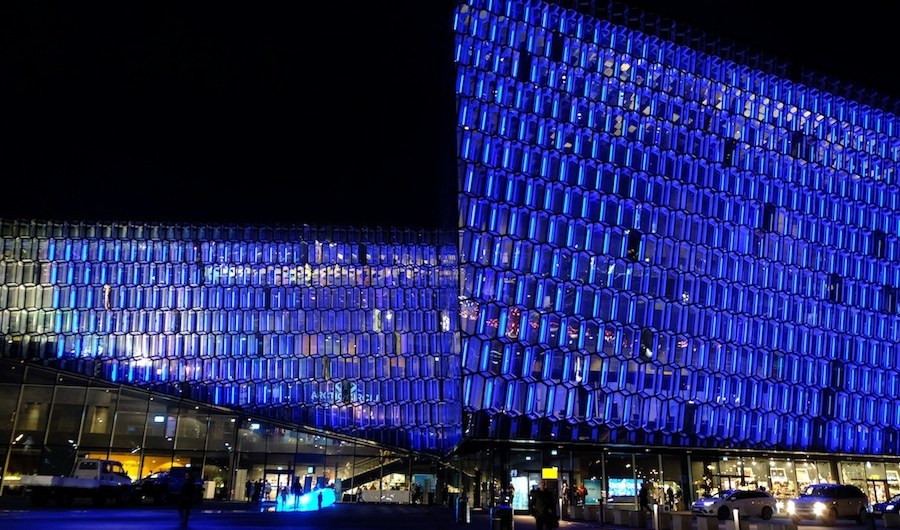 I return to Iceland every other year or so for the Arctic Circle conference, the largest international gathering on the region. I rarely have time these days to stick around for more than just a dip in the public hot springs in Reykjavík, where photos aren't allowed. Most of my days are spent indoors at Harpa, the beautiful opera house and conference center designed in cooperation with renowned Danish-Icelandic artist Ólafur Elíasson.
This year at the October conference, an iceberg was brought from Greenland and illuminated by fluorescent turquoise lights. Sleeting rain and winds gradually shrunk the iceberg over three days in a miniature diorama of the ghosting of the Arctic ice cap. Here today, gone tomorrow.
62.299°N: Eiði, Faroe Islands
MAY 2018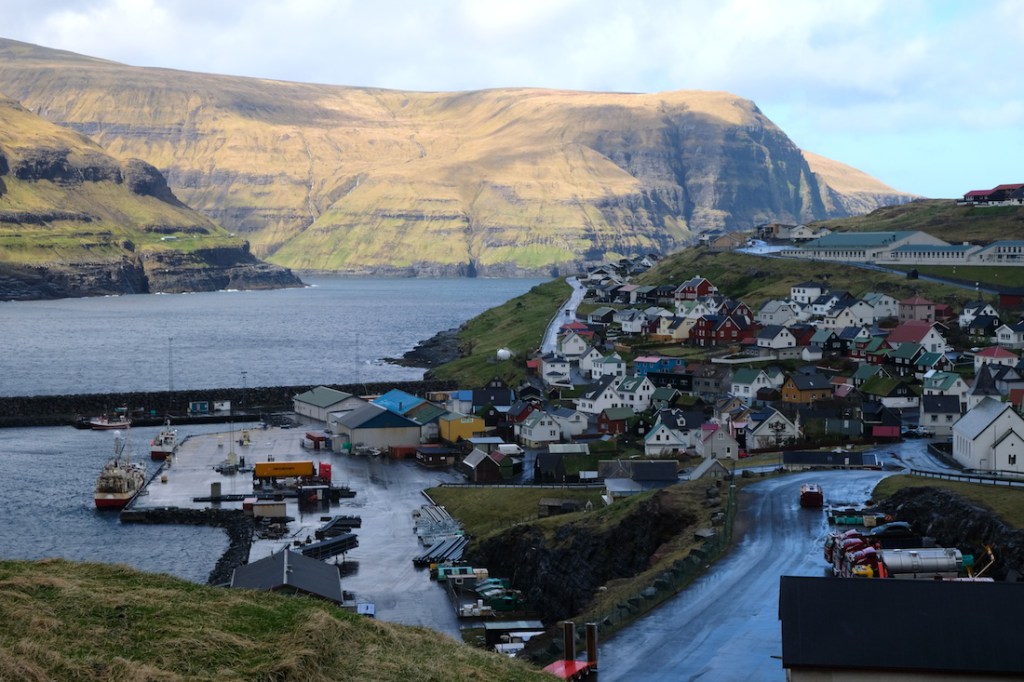 Iceland might be more famous for its Ring Road, but I'd venture that the Faroe Islands is probably the northern nation best set up for road tripping. A network of stunning roads and underwater tunnels, which fascinated me to no end and which I wrote about here, allows drivers to cruise seamlessly between most of the archipelago's islands.
Unlike Iceland's Ring Road, which basically only allows travelers to go clockwise or counterclockwise, the Faroes' more criss-crossed network allows you to choose your own adventure, so to speak. Driving here, you feel like you're somewhere between Scotland and Iceland, between a rainbow and a cloud, between the sea and the sky.
At one point, we descended down into the town of Eiði, whose name means isthmus in Faroese. We parked at the wharf and got out of the car. I went up to the red and white boat in the photograph to say hello to its three fishermen, who generously allowed us to come on board and see the fruits (or more precisely, fish) of their labor. While the work out on the rough North Atlantic Seas is backbreaking, the fishermen make enough money to spend much of the year relaxing in Copenhagen.
Given a choice, however, I'd probably exchange Danish city living for views like this any day.
57.071°N: Stikine Ice Field, Alaska, United States
SEPTEMBER 2018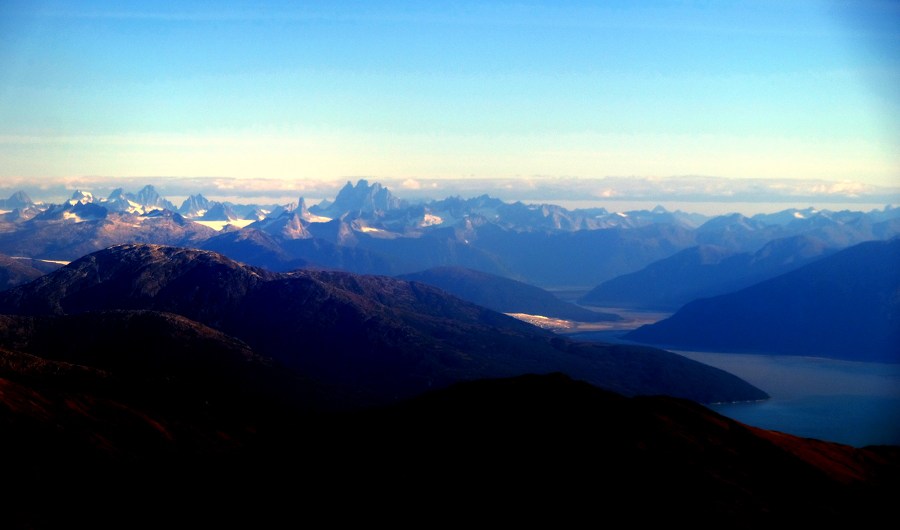 The view from the Alaska Airlines flight between the capitals of Washington and Alaska was bound to be stunning regardless of what side of the plane I sat on, but I wanted to be sure that I sat on the most scenic side possible. I dutifully checked some aviation-geek forums before making the trip and learned that sitting on the right side going north was advised, and vice versa for southbound flights. In other words, sit facing the inside of the Inside Passage.
On this late summer day – one of the last before the autumn equinox – I was rewarded with stunning views over the glaciers and craggy peaks of the Boundary Range between the U.S. and Canada. I had equally impressive views out the window on my way back down from Juneau to Seattle three days later, this time sitting on the left side.
The above photo shows what I think might be the Stikine Ice Cap (let me know if you can confirm this!). John Muir, who visited the area in 1879 and compared it to his beloved Yosemite, wrote of these mountains:
"The black rocks, too steep for snow to lie upon, were brought into sharp relief by white clouds and snow and glaciers, and these again were outlined and made tellingly plain by the rocks. The glaciers so grandly displayed are of every form, some crawling through gorge and valley like monster glittering serpents; others like broad cataracts pouring over cliffs into shadowy gulfs; others, with their main trunks winding through narrow cañons, display long, white finger-like tributaries descending from the summits of pinnacled ridges."
Travels in Alaska, 1915
He named his dog after the mighty Stikine river that flows through these mountains, whose name means "Great River" in Tlingit, an Indigenous language. During his visit, Muir was "prospecting for glaciers,"
according to an article
in
Northword Magazine
. The Scottish-born naturalist counted
over 200 glaciers
up and down the Coast Mountains. He would be heartbroken to learn that all of these are predicted to be "eliminated by 2200," in the perfunctory
phrasing of glaciologists
.
This post first appeared on Cryopolitics, an Arctic News and Analysis blog.

Related stories from around the North:
Canada: ITK, an Arctic Council rejig and the summit Finland won't let die : Northern news to watch for in 2019, Eye on the Arctic
Norway: NATO's Arctic dilemma: Two visions of the Arctic collide as NATO and Russia flex muscles, Eye on the Arctic special report
United States: 2018: Recapping the year in the Arctic, Cryopolitics Blog