Blog – How a Norwegian coastal ferry service went global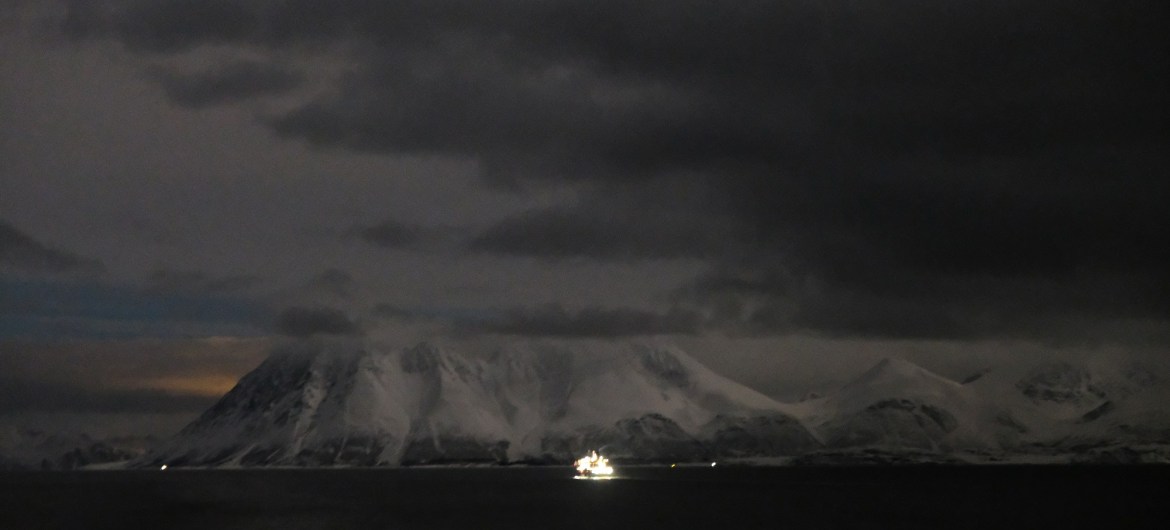 It's been a while since I wrote, and I have a lot of catching up to do. Aside from scrambling to finish two book chapters, I made trips to Pittsburgh's Carnegie Mellon University, where I participated in a workshop on the future of autonomous technologies and robots in the Arctic, and to northern Norway, where I attended Barents Spektakel, an annual arts and culture festival for which the theme this year was "The World's Northernmost Chinatown."
I'll write more about robotic sled dogs soon. But first, I want to recap some of the significant changes I witnessed or heard about while I was in northern Norway last week, as I think they encapsulate many of the dynamics occurring in the wider Arctic today. They are in brief, 1) the rise of tourism; 2) the rise of Asia; 3) the rise of mining, and; 4) the rise of railroads. In the coming week, I'll cover each one of these separately.
The rise of tourism
Six Januaries ago, I took a Hurtigruten ferry for an extremely reasonable price of about £60. Hurtigruten is the name of the legendary coastal service established in 1893 – before the Norwegians learned to lay roads and rails across their countryside and drill tunnels through their mountains – to deliver mail and supplies to the many isolated towns that dot the rugged coastline.
Unlike in many other parts of the Arctic, year-round sailing around Norway's coastline is possible thanks to the relatively warm waters kept from freezing by the Gulf Stream. My ship left the Arctic city of Tromsø in the dead of night bound for the spectacular Lofoten Islands, the first place I ever saw the northern lights dance above the sky and cascade into the indigo ocean.
After boarding, I curled up in a public seating area with a couple of blankets given to me by the crew and stared out a circular wooden porthole as snow fell outside. When I woke up in the morning – hours before the sun would rise, this being northern Norway in January – I realized that there weren't all that many people on board the drafty ship. I encountered a handful of German tourists all wearing the same cap that said "Hunting the Light," sold in the dinky shop on board that also offered pastries dried out by the thin Arctic air, reheated hot dogs, and a few overpriced postcards.
This year, when I took the Hurtigruten from Kirkenes to Tromsø, sailing around the very top of Norway, I wasn't allowed to sleep in the main area because my journey was more than 24 hours. In any case, the ferry didn't really seem to be catering to budget travelers going local distances anymore, and the ship was fairly packed.
Point-to-point journeys can't even be booked on any of Hurtigruten's foreign-language websites. I had to navigate through the Norwegian one to book a short trip rather than a package tour. I suppose the company assumes that every overseas tourist wants to make the entire slow and scenic journey from Bergen up to Kirkenes and maybe even back down, a 12-day trip that starts at £1124 ($1,467). While one knowledgeable English passenger who has worked in the maritime industry for 45 years described to me that Hurtigruten has become "an upmarket ferry," it seemed more like an Arctic cruise-lite with all of the food, none of the bad singing, and maybe a bit more seasickness than one would find in the Caribbean.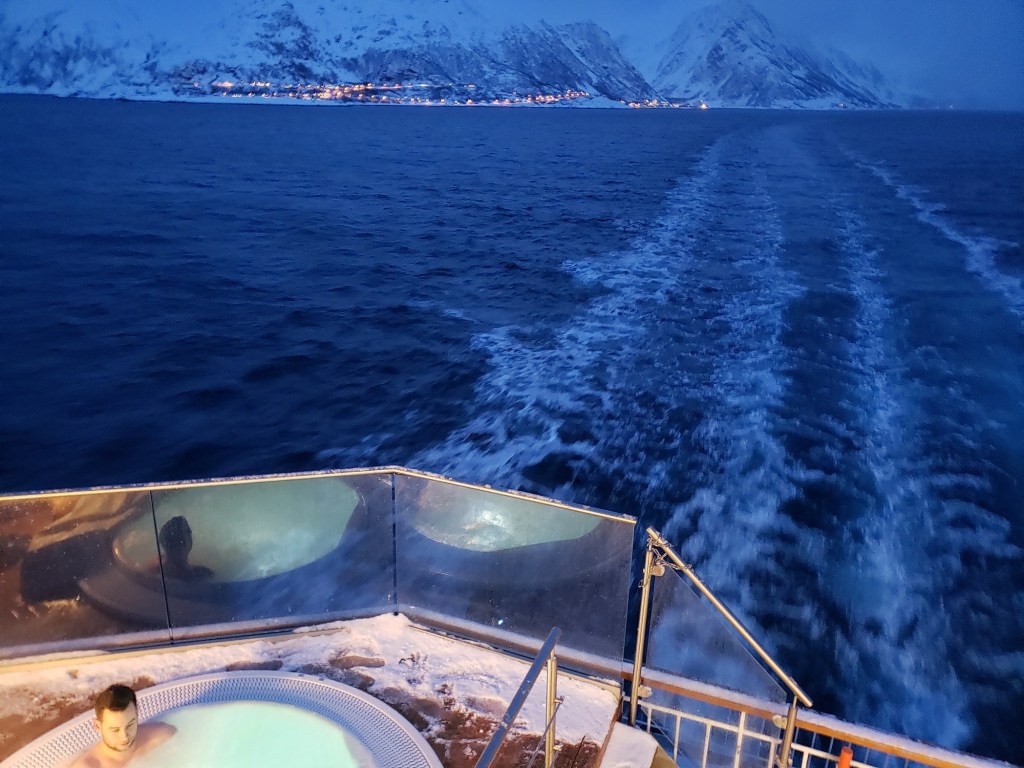 In the past couple of years, Hurtigruten has seized on the world's discovery of the northern lights and northern destinations. The fleet of eleven ships sailing off Norway has been completely transformed in order to attract what the late sociologist John Urry calls the "tourist gaze." People now seek to consume not just things, but also places – especially those that are considered rare or remote, like the Arctic.
As social media platforms like Instagram and budget airlines servicing the Nordic countries like Wow Air, Iceland Air, and Norwegian Air have made Arctic travel both visible and affordable, Hurtigruten has gone global. Additional vessels within the company's expanded operations now sail far beyond the Norwegian and Barents Seas. This year, in cooperation with the tourism brand of Alibaba, China (and the world's) largest e-commerce company, Hurtigruten will operate five trips tailored exclusively for Chinese tourists in Antarctica.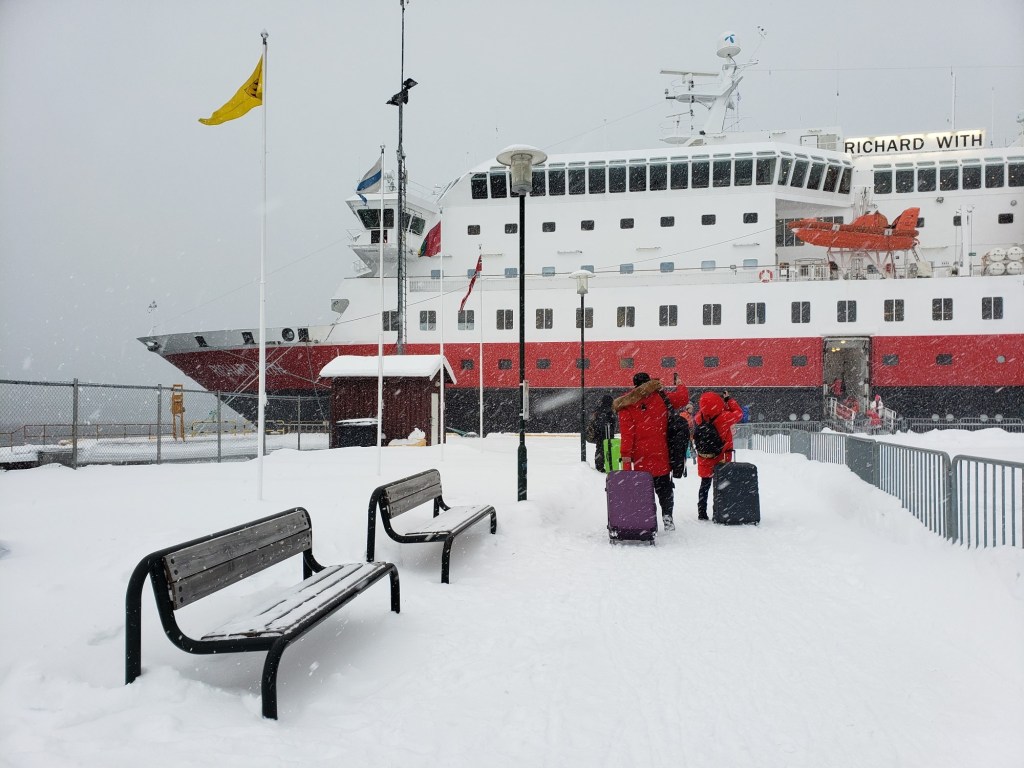 In search of the Asian tourist
Since 2000, the amount of Chinese tourists traveling overseas has exploded by 1,380%. I spoke to some of the crew members about the general rise in Asian tourists on their ferries, and they were all enthusiastic about the new arrivals. They remarked that the groups of people coming from Japan, China, Hong Kong, Singapore, and India added diversity to the mix of passengers, which historically has consisted of older British, German, and American tourists (aside from the Norwegian teenagers in sweat pants traveling to sports games in towns up and down the coast).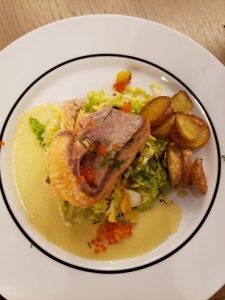 They also occasionally added what might be called the opposite of local flavor. One rather gregarious Hurtigruten crew member described a group of Chinese tourists who had brought their own rice cooker and attempted to cook the ubiquitous Asian staple in their cabin. "And that's completely not allowed," he commented. "The smell filled the entire floor."
Then, another employee overseeing the restaurant described how when large groups of Indian tourists arrive, the kitchen tries to cook dishes from the Subcontinent for them, but they're not always satisfied. "They carry their own spices with them, so it's okay," he laughed.
Apart from one small group of Chinese tourists, who all wore matching red parkas, the vessel I was on actually didn't have that many Asian tourists – possibly because the Chinese New Year holiday, a peak travel period for Chinese tourists, had taken place a couple weeks prior. Instead, there was a large group of passengers from around Liverpool, England, who had flown to Bergen on a specially chartered flight.
For nearly all the tourists with whom I spoke, their goal was to see the northern lights. Unfortunately for them, the skies had been cloudy for the entire journey up from Bergen, I heard. But even if teal-green iridescent streaks weren't shimmering across the sky, as long as the seas were steady, these tourists could relax in comfort.
Exchanging practicality for luxury
Last autumn, our vessel, MV Richard With, named after Hurtigruten's founder, underwent a complete refurbishment. Some cabins have been combined into larger rooms that I was told looked "straight out of an IKEA catalog," complete with floor-to-ceiling windows and plush textiles. At the stern of the ship, two hot tubs have been installed. In winter, though, as I experienced, you still have to walk across the snow to reach the jacuzzi, and after a soak, the hot water that drips off your body as you step out into the Arctic air quickly freezes into ice on the slippery staircase.
Despite these added luxuries, Hurtigruten is still not exactly a Carnival cruise. During my two days on the ship, hardly anyone appeared to be using the hot tub, preferring to sit indoors and knit or read books or do Sudoku puzzles. The general preference for quiet time indoors than raucous times outdoors may have been because the average age of the passengers appeared to be over 60 rather than under 30.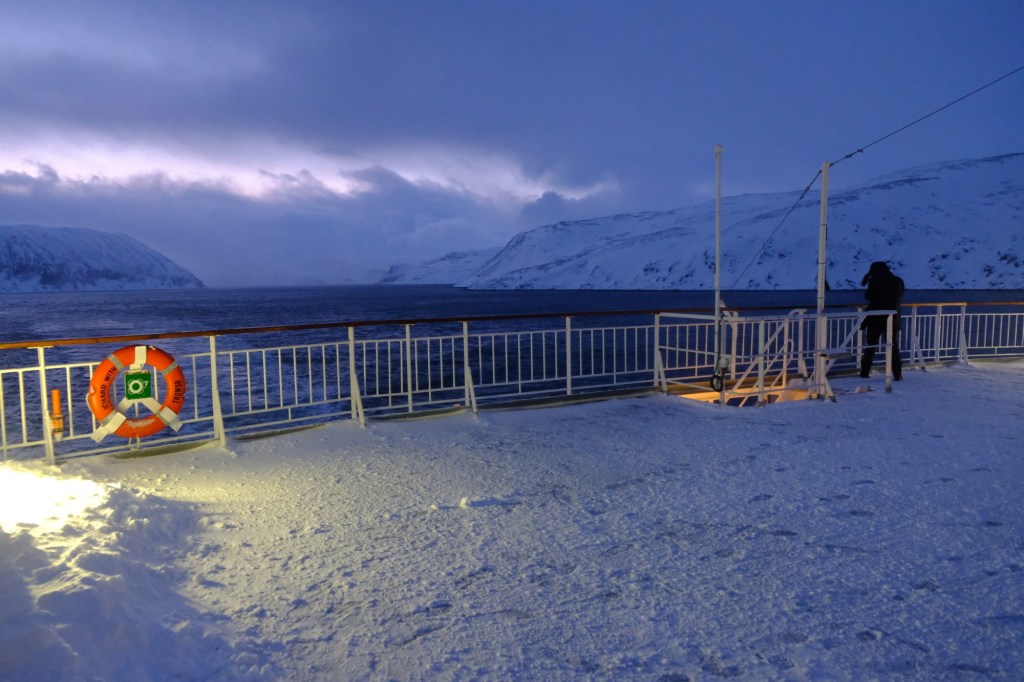 Indoors, there were two new lecture halls and a souvenir shop selling designer wool sweaters and glossy coffee table books. In place of the under-stocked cafe I recalled from the Hurtigruten six years ago, there were two full-service restaurants on the third floor, including one that served fresh king crab. On the sixth floor, there was a full-service bar and a bakery and cafe called "Multe" ("cloudberry" in Norwegian). Here, delectable slices of cake and cones of gelato, with flavors like "brunost" (Norwegian caramelized goat's cheese) and tørrfisk (dried cod) could be yours for 49 NOK (by Norwegian standards, a relatively reasonable ~$5).
At breakfast, the all-you-can-eat buffet offered up three types of smoked salmon, never-ending heaps of caviar, and even gluten-free bread. I was actually relieved that there was only coffee and tea and no espresso machine – at least the catering services showed some restraint (or perhaps they were just trying to direct people to pay for their espresso upstairs).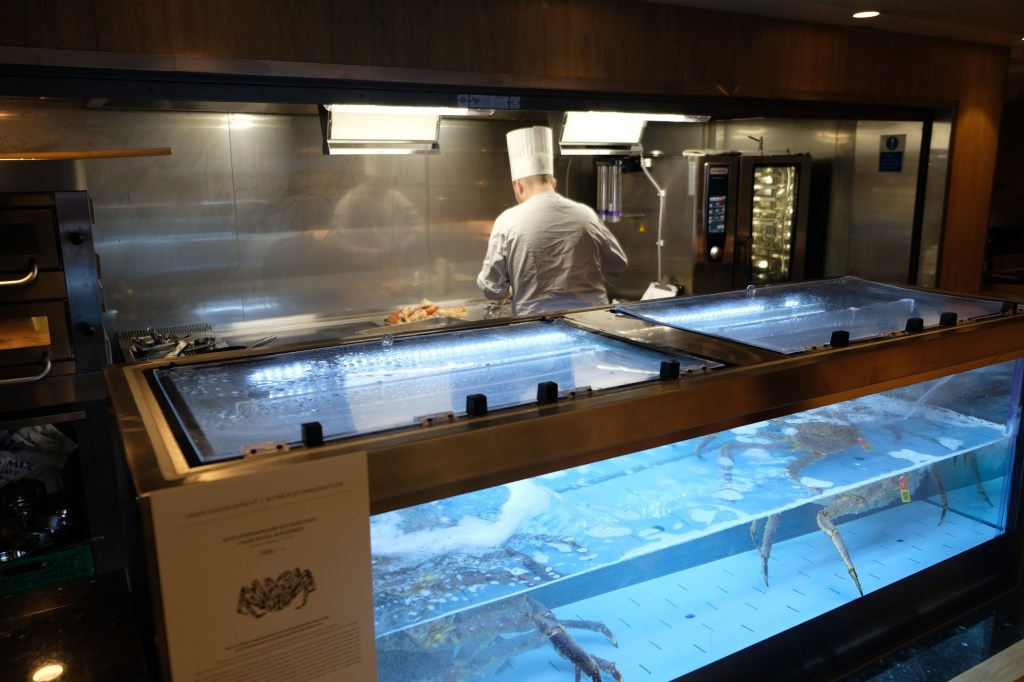 One more-than-cosmetic change to Hurtigruten was that the crew weren't just taking care of the mail and supplies. While regular activities like snow shoveling did go on, the crew were now also organizing daily lectures for guests on topics like Arctic exploration and the Norwegian oil industry held while the ship was at sea, while running onshore expeditions during the ship's regularly scheduled docking times. These activities included everything from nighttime snowmobile jaunts to quick dips in the Arctic Ocean for the more intrepid passengers.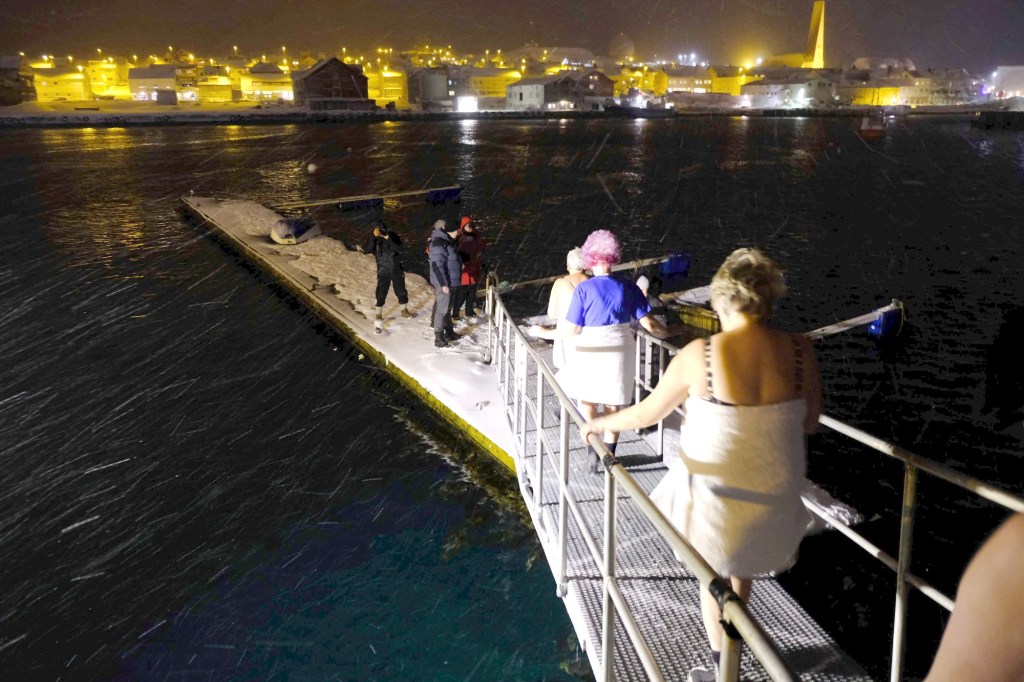 At night (more like 4 pm, but the sun had already tucked itself in for the night under the murky horizon), I relaxed in one of the hot tubs with my companion from Spain and, for once, a few other tourists, who happened to be from Switzerland and the UK. As we sailed by mountains illuminated by the full moon glinting off their crowns of freshly fallen snow, I felt like I was a long way away from the Hurtigruten of yesteryear and pretty far from home.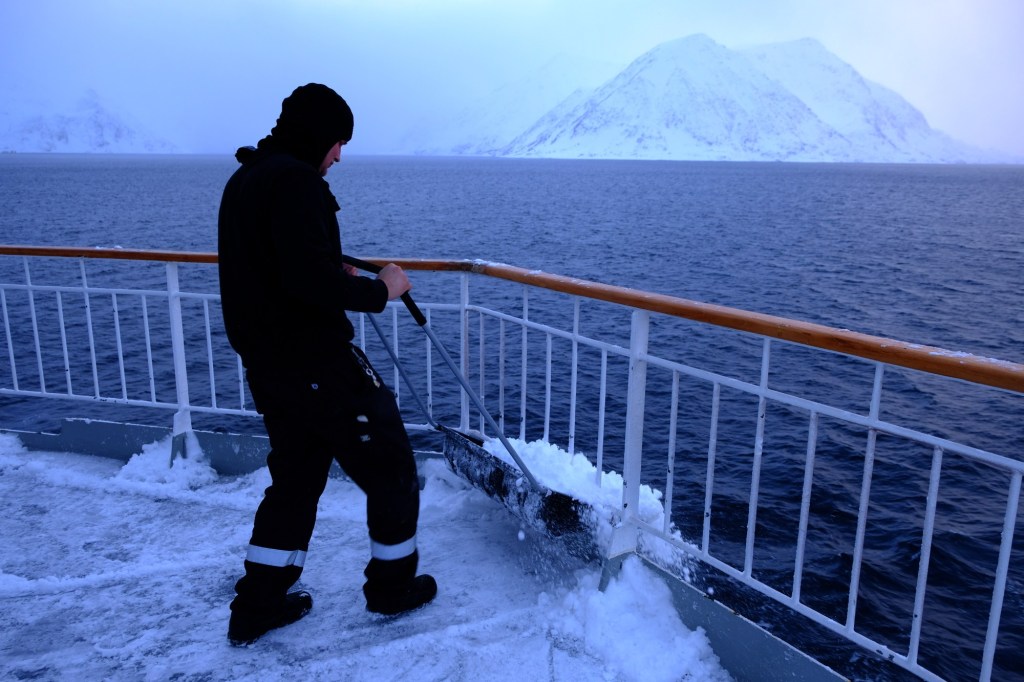 A California high school reunion in the Arctic
That is, until I was standing in front of the ship's hatch waiting to disembark in Tromsø. Standing right behind me were a man and his wife, whom I'd seen in passing over the past two days. Both were clearly of East Asian origin. I'd overheard the man talking now and then, and his manner of speaking sounded deeply familiar, reminding me of my foggy childhood growing up in San Francisco.
"Sorry, where are you from?" I asked.
"San Francisco," he responded.
"No way!" I exclaimed. "Where did you go to high school?" (This is the first question a native San Franciscan will typically ask another native upon meeting them, since the city only has about 15 high schools, each with its own identity.)
"Lowell," he said, naming the very one I graduated from 35 years after him, it turned out. Suddenly, my world aboard the upmarket Norwegian ferry shrunk to the seven-by-seven square mile peninsula of a city I still call home. If the world has arrived in the Arctic, so has my hometown.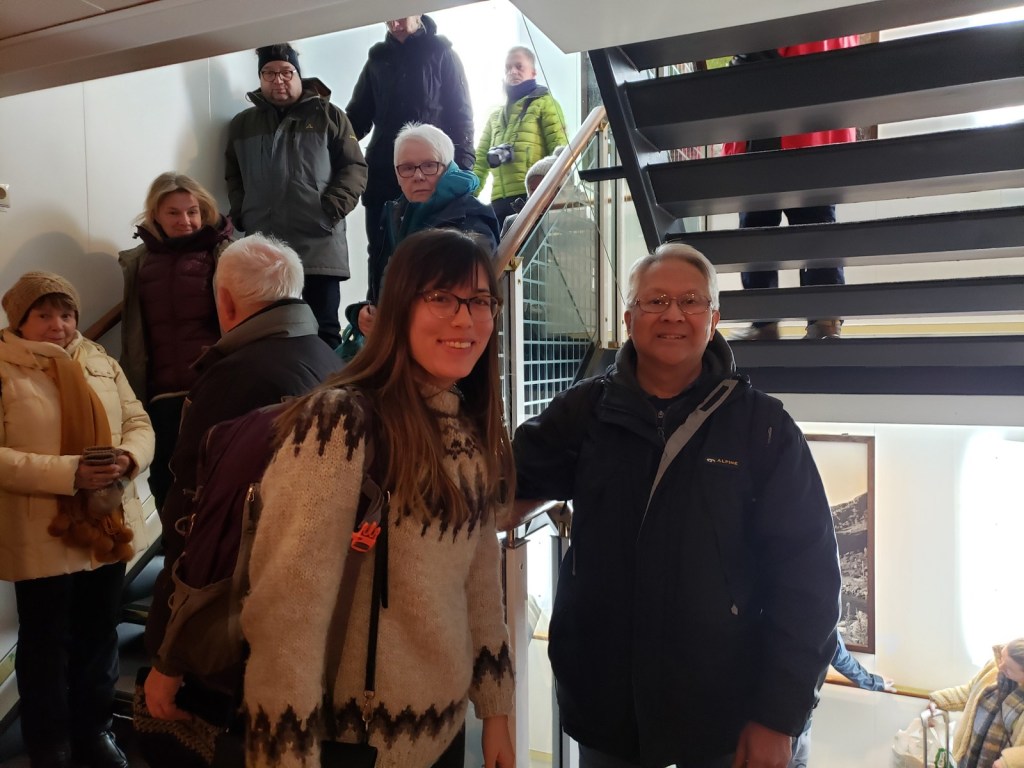 Our chance meeting reminded me of a hot summer day two decades ago, when I saw two neighbors unexpectedly run into each other along Venice's waterfront. Shrieking, they were gobsmacked at how crazy the coincidence was when in fact statistically, it probably wasn't all that bizarre for two neighbors to run into each other in one of the most visited places on Earth. Venice may be sinking and the Arctic melting, but all the world's along for the ride.
This post first appeared on Cryopolitics, an Arctic News and Analysis blog.

Related stories from around the North:
Canada: Small community in Arctic Canada disappointed by cruise ship cancellations, says mayor, CBC News
Finland: Baltic cruise business still booming, Yle News
Iceland: Arctic tourism in the age of Instagram, Eye on the Arctic
Norway: Hurtigruten takes hybrid-electric shift, The Independent Barents Observer
Russia: Luxury cruises lured by Arctic Russia, The Independent Barents Observer
United States: When the ice melts, what will happen to Arctic tourism?, Cryopolitics Blog