Proposed Alaska budget cuts face legal and political hurdles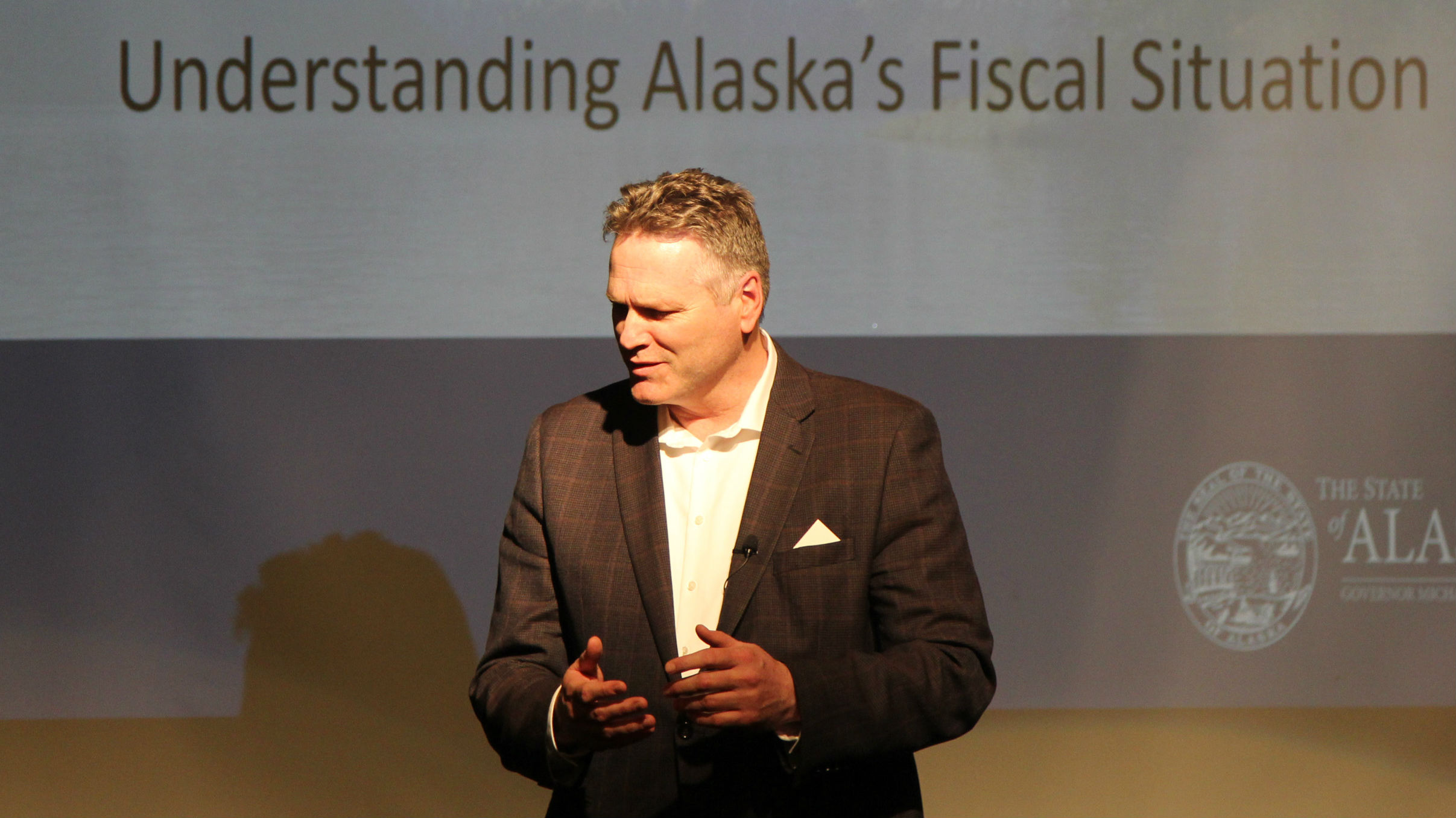 A series of political and legal obstacles could prevent most of Gov. Mike Dunleavy's budget cut proposals from happening this year.
Lawmakers are opposed to key portions of his plan. An action the Legislature took regarding school funds last year — and the challenge of cutting Medicaid costs — also may stop much of Dunleavy's plan.
Dunleavy's budget relies on a few major strategies. As the legislative session has unfolded, the strategies intended to do the most to close the budget increasingly appear to be unachievable.
Dunleavy proposed a $299 million reduction in school funding. It's nearly one-fifth of his plan to close the budget gap.
But the Legislature passed a law last year, when Bill Walker was governor, that said schools must receive a full share of state funding in next year's budget — as well as a $30 million statewide increase.
Education and Medicaid cuts
David Teal, the Legislature's nonpartisan budget analyst, noted that Walker didn't veto it.
"Unless the Legislature revises last year's law, then funding for (fiscal year 2020) stands," he said.
Dunleavy proposed to cut this school funding by roughly a quarter. But the House Finance Committee draft version of the budget bill doesn't include the cut.
With most of the budget, if the Legislature decides to fund more than what the governor wants, he can use his line-item veto to remove the money. But not in the case of the school funds: Because it's already in state law, Dunleavy can't veto it.
The next largest of Dunleavy's proposed cuts is to Medicaid.
Teal noted that when the governor announced the budget in mid-February, there were no details about Medicaid, other than it would spend $249 million less in state money.
"And it seemed like they were trying to cut first and then decide what they were going to cut," he said.
Since then, the administration has put out a plan to achieve some of the cuts. Hospital advocates say that parts of the plan may be difficult to achieve.
Monique Martin worked for the Department of Health and Social Services under Walker and now works on government and regulatory issues for Alaska Regional Hospital. She said that for the changes to be effective, providers and advocates need to work with the state.
"I think there definitely are challenges to get there in the time frame the department's outlined," she said. "But we really need to be involved. So hospitals and patient advocacy groups and other provider organizations really need to be at the table to be a part of the solution, so we avoid any unintended consequences."
No details for Medicaid cut
The administration hasn't put out details of the plan for most of the Medicaid cut. State Medicaid leaders say it will likely require changes to state law that the administration hasn't put forward. And they say that even if the Legislature agrees, these changes are unlikely to go into effect until late in the budget year.
Health care consultant D.J. Wilson said other states have found that Medicaid reductions are easier said than done.
"It's very possible that they could book savings, but those are savings that exist on paper," Wilson said. "It's a different story when you actually have to implement those savings."
The state also will rely on the federal government to approve the rest of the cuts. And it's not clear that, if the Trump administration agrees to changes to Medicaid, they'll withstand a legal challenge. For example, a federal judge on Thursday blocked rule changes in two states requiring that Medicaid recipients work, after the federal government had approved the changes.
Shifting oil property tax
The single largest change that Dunleavy proposed to close the budget gap isn't a cut. Instead, it's a shift in oil property taxes, taking the funds from local governments and redirecting them to the state. It would close more than a quarter of the budget gap. Dunleavy proposed a bill to make that happen. But political opposition may kill it.
The proposed shift prompted an outcry, particularly from North Slope Borough, which would lose about 90 percent of the money.
The bill hasn't had a hearing in either the House or Senate. And other than members of the House minority, few lawmakers have expressed support for it.
Related stories from around the North:
Canada: Federal budget promises $700M for Canada's North over next decade, CBC News
Finland: Budget cuts threaten international Sámi language cooperation, Yle News
Russia: Northern Sea Route needs €143 billion in private funds to meet shipping goals: report, The Independent Barents Observer
Sweden: Swedish PM Stefan Löfven unveils new cabinet, Radio Sweden
United States: Hundreds rally in Anchorage against Alaska governor's proposed budget cuts, Alaska Public Media