Women now lead most Finnish political parties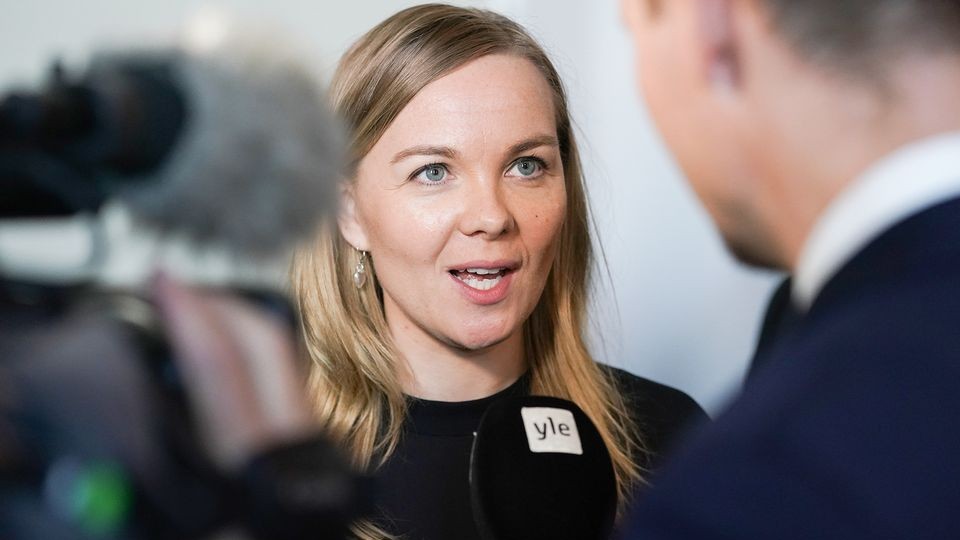 When Finland's Centre Party elected Katri Kulmuni as its new leader last weekend, Finnish political history turned a new page: now a majority of party chairs are women. Of the eight parties in Parliament, five have female leaders.
On Tuesday yet another glass ceiling was shattered as Jutta Urpilainen became the first Finnish woman to be an official nominee to the European Commission. She was previously the first woman to serve as finance minister and to lead the Social Democratic Party (SDP).
Women's progress to the top level of Finnish politics has been slow. In 1907 Finland became one of the world's first countries to allow women in Parliament, electing 19 female MPs that year, while Finland was still a Grand Duchy under the Russian Tsar. The country gained independence a decade later but it was not until the 1990s that women began to hold powerful political positions.
Still, female progress in politics has been relatively fast compared to that in the business sector, for instance, according to Ilkka Ruostetsaari, professor of politics at the University of Tampere.
"Women form a larger share of the political elite than any other elite groups. Politics has been a more open channel for women to rise," he tells Yle.
Women are still under-represented in upper-level corporate management, Ruostetsaari notes. And employment roles are still often split by gender.
"We still have a lot of sectors in working life that are dominated by either men or women. So there is certainly plenty of work to be done to advance equality," Kulmuni says.
NCP and Finns parties stick to male leaders
All five female chairs have been elected by party members at large. Besides Kulmuni, the include three ministers in the current cabinet: Minister of Justice Anna-Maja Henriksson of the Swedish People's Party, Education Minister Li Andersson of the Left Alliance and Interior Minister Maria Ohisalo of the Greens. Sari Essayah is chair of the small opposition Christian Democrats.
Meanwhile the two main opposition parties are the only ones that have never had female leaders: the nationalist Finns Party and the conservative National Coalition Party (NCP).
"Of course different issues make it onto the agenda when people with very different backgrounds make it into Parliament," says Ohisalo. She points out that people with disabilities, for instance, are still under-represented in decision-making processes.
According to Andersson, "there is still work to be done on traditional equality issues such as domestic violence, segregated workplaces, wage equality and family leave."
Centre boasts several firsts
Ohisalo's and Andersson's parties, the Greens and the Left Alliance, have had several female leaders, as has the Centre.
"It's particularly positive that Kulmuni has also become a party chair. The Centre has had female leaders, although from a gender perspective it is a more conservative party," says Johanna Kantola, professor of gender studies at the University of Tampere.
Indeed, the Centre was the first of the traditional 'big three' parties to have a woman as leader when Anneli Jäätteenmäki took over in 2002. She went on to become the first female prime minister, but her term was cut short by a scandal over leaked documents after just two months. The only other female PM, the Centre's Mari Kiviniemi, only held office for a year.
In 2007, Centre prime minister Matti Vanhanen's second cabinet became Finland's first with a female majority. The current government, led by SDP chair Antti Rinne, includes 11 women and eight men.
Three of the parties in the five-party coalition are led by women under the age of 35. Kantola says this a positive development as it shatters and expands Finns' images of young women.
The share of women in Parliament has risen from 9.5 percent in 1907 to 47 percent in the current legislature, elected in April.
"But as long as there are not as many women as men in Parliament, we still have work to do," says Kulmuni.
Related stories from around the North:
Canada: Elections in Canada's Northwest Territories officially underway, CBC News
Finland: Finland's Centre Party elects new leader, Yle News
Russia: Career diplomat to represent Murmansk region in Russian senate, The Independent Barents Observer
Sweden: Ann Linde named Sweden's foreign minister in cabinet shuffle, Radio Sweden
United States: Alaska governor accepts reduced dividends, upholds most vetoes, Alaska Public Media