Leaders take on climate, Indigenous issues, but Arctic absent from Canadian election debate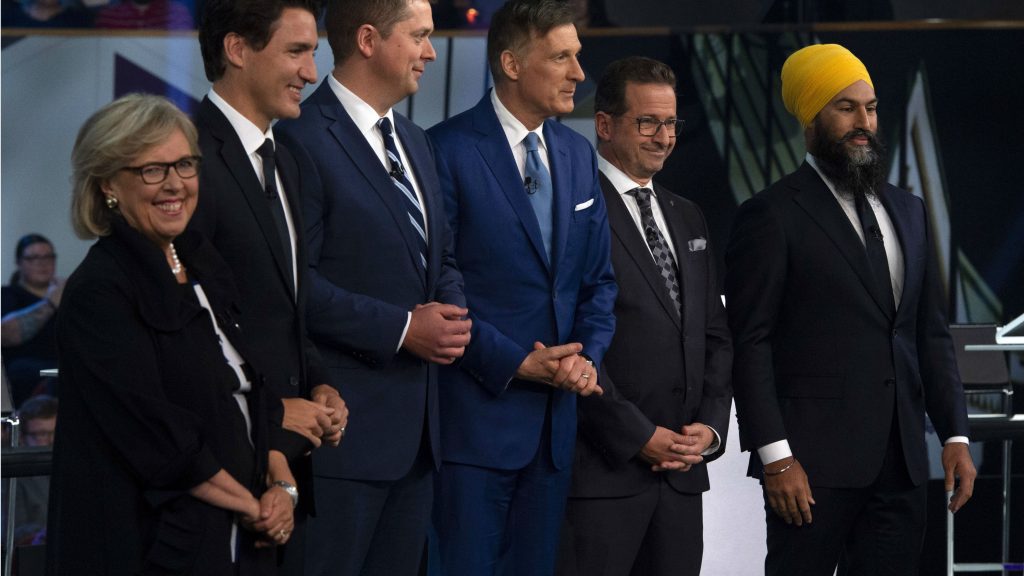 The leaders of Canada's six federal parties took to the debate stage in Gatineau, Quebec Monday night, facing off over everything from Indigenous issues to the environment, but for a debate where climate quickly emerged as one of the main exchange themes, mention of the Arctic was absent.
Liberal Leader Justin Trudeau, whose government made climate and Indigenous issues cornerstone policies, spent the majority of the evening defending his government's record on everything from approving a $7.4 billion oil pipeline between the western Canadian provinces of Alberta and British Columbia, to not moving quickly enough meet international climate targets. 
"You made it sound like you were going to make climate a big priority but the reality is you did all these things: you bought a pipeline, you continue to subsidize oil and gas and you continue to exempt the biggest polluters," said centre-left NDP Leader Jagmeet Singh in one exchange.
"What's it going to take for you to follow through on these commitments cause your words are not good enough any more."
Elizabeth May, leader of the centre-left Green Party, which puts environment at the centre of its platform, also came hard after Trudeau on climate.
"There's a carbon budget and it doesn't budge," May said. "And that's why it's so heartbreaking for me to look at you today and know you could have done so much more the last four years. Please god you don't get  a majority this time around because you don't keep your promises."
Participants in Monday's debate
Bloc Québécois Leader Yves-Francois Blanchet
Conservative Leader Andrew Scheer
Green Party Leader Elizabeth May
Liberal Leader Justin Trudeau
New Democratic Party (NDP) Leader Jagmeet Singh
People's Party of Canada Leader Maxime Bernier
But Trudeau shot back becoming increasingly animated while defending his government's record on climate as the night wore on and touting the Liberal platform that pledges measures like net-zero emissions by 2050 and the planting of two billion trees over 10 years.
"We're going to be surpassing our targets," Trudeau said of the centre Liberals' position.
Andrew Scheer, leader of the centre-right Conservatives, the only party to have not yet released its official platform, said his party's plan was to "take the climate fight global" saying Canada's small population prevented it from making a significant dent in global emissions fighting climate change alone.
Maxime Bernier, leader of the populist People's Party of Canada said it was important to protect the environment but that measures to fight global warming were detrimental to the economy, clarifying at at a news conference after the debate that he didn't believe human activity was responsible for the changing climate.
Climate crisis in Canadian Arctic
Canada's Changing Climate Report (CCCR) commissioned by Environment and Climate Change Canada and released in April 2019 found that Canada was warming at twice the rate of the global average but that in the Canadian North, the rate was almost three times as high.  
Inuit and First Nations communities, the majority in many regions of the Canadian Arctic, are already experiencing drastic changes in everything from traditional hunting routes and animal health, to crumbling infrastructure as the permafrost melts.
But although climate change is being felt most drastically in the North, none of the leaders mentioned the Arctic during the debate even though climate dominated much of the night.
The population of Canada's three northern territories, Yukon, the Northwest Territories and Nunavut is approximately 144,000 compared to Canada's total population of approximately 38 million.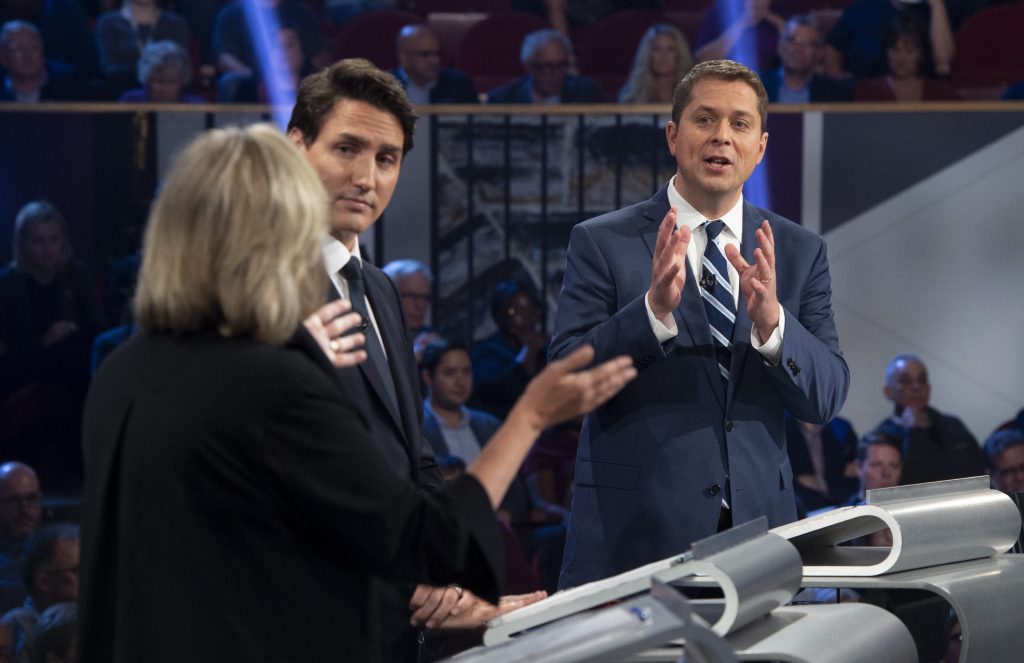 Monday's two-hour debate at the Canadian Museum of History was structured around  five themes:
Affordability
Environment and energy
Indigenous issues
Leadership and Canada on the world stage
Polarization, human rights and immigration
As the only major party leader not to support the implementation of the United Nations Declaration on the Rights of Indigenous Peoples (UNDRIP), Conservative Leader Andrew Scheer was on the defensive in several exchanges around Indigenous issues, while Liberal Leader Justin Trudeau and NDP Leader Jagmeet Singh hammered home their parties commitments to UNDRIP as well as implementing recommendations from the 2208-2015 Truth and Reconciliation Commission (TRC) into Canada's residential school system, and the recent report from Canada's National Inquiry into Missing and Murdered Indigenous Women and Girls (MMWIG), set up by Prime Minister Justin Trudeau in 2015 after calls from many Indigenous leaders, groups and organisations to examine the high rates of violence against indigenous women in Canada.
"We have moved forward on reconciliation in ways that no previous government has been able to but I'm the first to recognize that there's much more to do," said Trudeau.
Singh pledged to implement all recommendations from the TRC and the MMWIG, if elected, as well as tackling the housing and drinking water crisis in many First Nations communities saying "I don't accept any excuses why we can't in 2019."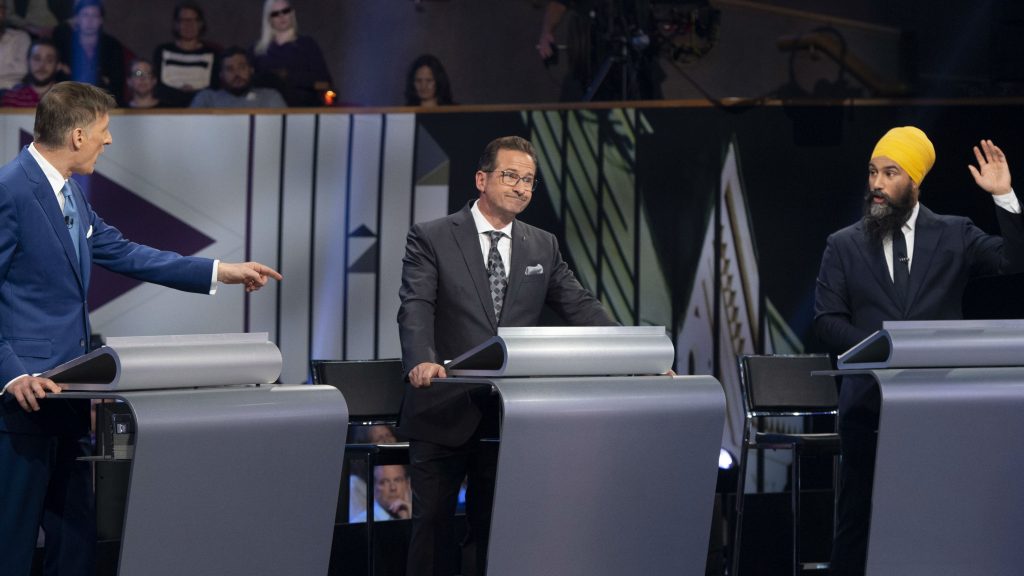 Canadians will go to the polls on October 21.
A debate in French, Canada's other official language besides English, will take place on October 10.
It will cover economy and finance, environment and energy, identity, ethics and governance, foreign policy and immigration, and services to citizens.
Write to Eilís Quinn at eilis.quinn(at)cbc.ca
Related stories from around the North:
Canada: Incoming MLAs in Northern Canada have long list of asks for new federal gov, CBC News
Finland: Finnish EU presidency to work on stronger Arctic policy, climate change mitigation, Yle News
Norway: Norway to focus on civil society, press freedom as chair of Barents Euro-Arctic Council, The Independent Barents Observer
Russia: Andrey Chibis wins governor's elections in Murmansk, Arctic Russia, The Independent Barents Observer
Sweden: Sweden's FM calls for more EU involvement in Arctic as country hosts EU Arctic Forum, Radio Sweden
United States: Finnish and US Presidents agree on Arctic security policies, Eye on the Arctic