Helsinki University christens new vessel for Baltic Sea research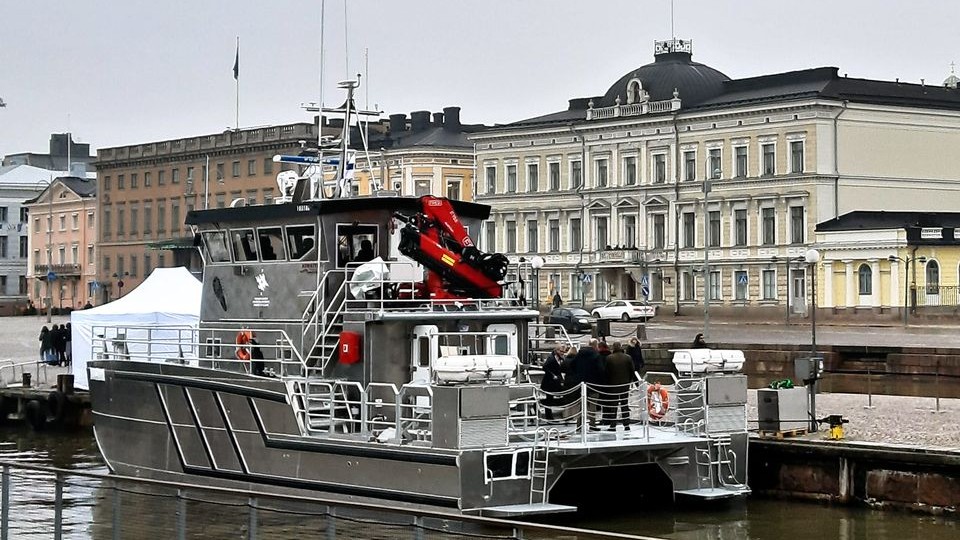 A new research vessel was christened in Helsinki last week that will improve and modernize Finland's Baltic Sea research capabilities. Among other things, the Augusta vessel will help study the sea floor, measure water mass, and keep tabs on blue-green algae in coastal waters.
The 18-meter catamaran will be used by the Tvärminne Zoological Station, part of the Helsinki University's biological and environmental sciences faculty. Located at the entrance of the Gulf of Finland near the municipality of Hanko, the station has conducted scientific research for over a century, providing long-term data for studying environmental changes.
"The catamaran has been specifically designed to navigate Finland's complex archipelago. Coastal areas are rich in marine life and tend to be very diverse. But they have also suffered from eutrophication," said Alf Norkko, professor of Baltic Sea Research at the university, in a Radio Suomi interview.
Rapid algae and cyanobacteria growth have led to a depleted oxygen supply in the waters off of Finland.
"The Baltic Sea has a long history of eutrophication. It is the biggest problem that it has confronted, as it affects coastal diversity," Norkko said.
The professor said that the addition of rising temperatures to the mix will have grave consequence, as the Baltic Sea is relatively shallow.
"We have measured the sea's temperature very closely for almost one hundred years. Because we have such a long timeline, we can detect changes. Ever since around the early 1990s, temperatures have risen by about two degrees Celsius at a depth of 30 metres," he said.
"We can't protect what we don't understand"
The Augusta will make it possible for the Tvärminne team to study coastal marine life and see how its ecosystem works. Norkko told Radio Suomi that this kind of research is essential for marine conservation efforts.
"We can't protect what we don't understand. Basic research plays a central role in decision-making," he said.
The new vessel is equipped with appropriate lifting and winch devices for lifting sampling equipment to and from the sea floor. The deck is large enough to accommodate field courses of up to 30 people, in addition to the crew. The powerful engine will also make it possible to cover more extensive ground on day trips, which will also cut back on expenses.
"We wanted the boat to be fast, so we could make it back to the Tvärminne Zoological Station, where we have special laboratories, that same evening," Norkko explained.
The 1.9-million-euro aluminium catamaran was purchased with 800,000 euros in donated funds, paired with the government's counter-financing programme.
Related stories from around the North: 
Canada: Twin science projects seek to understand impacts of Arctic climate change, Radio Canada International

Finland: Blue-green algae: Finland's best August levels in 20 years, Yle News
Norway: Climate change is about to divide Norway's largest Arctic island, The Independent Barents Observer
Russia: Russia, China to do joint research in Arctic Siberia, Eye on the Arctic
Sweden: Warnings in Sweden about dangerous bacteria in Baltic Sea, Radio Sweden
United States: Heat stress that caused Alaska salmon deaths a sign of things to come, scientist warns, CBC News
United Kingdom: UK's new flagship polar research vessel officially named Sir David Attenborough, Eye on the Arctic