UN sustainable development goals translated into North Saami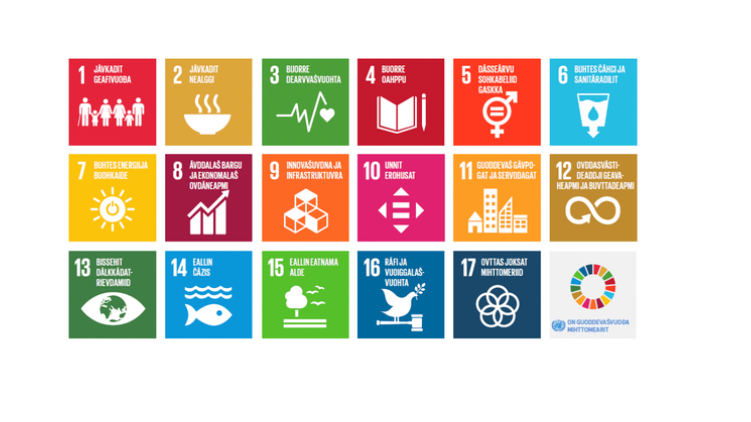 The United Nations sustainable development goals (SDGs) have now been translated into the North Saami language, the most widely spoken Indigenous language of Arctic Europe.
"An important principle of the SDGs is that no one should be left behind," the United Nations Association of Norway said in a news release on Friday. "That is why there should be as many translations of the SDGs as possible. By making the SDGs available in more languages, the number of people who will take part in this global effort will increase."
The 17 United Nations Sustainable Development Goals (SDGs) were established by the UN in 2015 to guide international development. They cover everything from clean water and gender equality to responsible consumption and climate action. The Agenda for Sustainable Development pledge is to implement the goals and eradicate hunger and poverty by 2030.
Reaching out to young people
The United Nations Association of Norway had the SDGs translated with financial help from the Norwegian UNESCO-commission. They say making the goals available to youth in their own language was an important motor for the project.
"It is especially important to reach children and youth with knowledge on the SDGs because this work is so important to their future," said Anne Cathrine da Silva, the general secretary of the United Nations Association of Norway.
"Now Sami youth will also be able to join in on the discussions and help find solutions to the challenges in their own language."
Saami-language SDGs launched in Tromso
The Saami are an Arctic Indigenous group. There's no census just for Saami but most sources estimate their population at between 100,000 to 150,000. Their traditional homeland spans the Arctic regions of Norway, Sweden, Finland and the Kola Peninsula in Russia's western Arctic.
There are numerous Saami languages and dialects spoken across the four countries. North Saami is the most widely spoken one with approximately 25,000 speakers spread between Finland, Norway and Sweden.
The North Saami version of the SDGs was launched on Friday at city hall in Tromso, an Arctic Norwegian city.
Write to Eilís Quinn at eilis.quinn(at)cbc.ca
Related stories from around the North:
Canada: Inuktitut language education terminology developed for Inuit region of Arctic Quebec, Eye on the Arctic
Finland: Budget cuts threaten international Sámi language cooperation, Yle News
Norway: Walt Disney Animation Studios to release Saami-language version of "Frozen 2", Eye on the Arctic
Sweden: Calls for more Indigenous protection in Sweden on Sami national day, Radio Sweden
United States: Indigenous leaders at UN meeting push for decade dedicated to language revitalization, CBC News