Inuktitut language education terminology developed for Inuit region of Arctic Quebec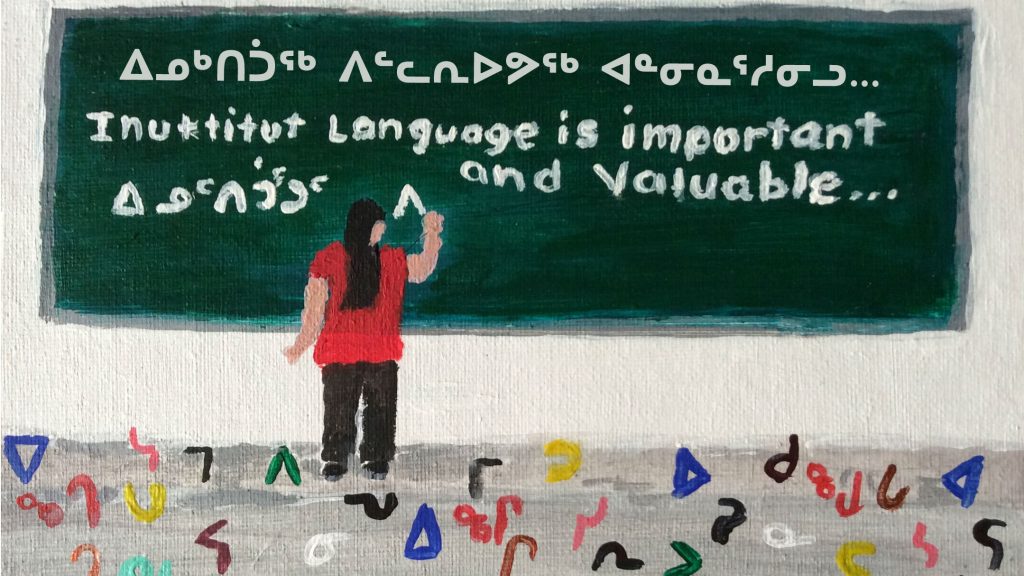 How would you express "professional development" in the Inuit-language dialect of northern Quebec?
What about concepts like "theoretical knowledge" or "child development?"
For Inuit teacher training programs in Quebec, the lack of a formal education vocabulary in Inuktitut, the Inuit-language dialect of the province's North, has dogged both teachers and students for decades.
But now, a group of Quebec educators hopes to have changed that.
On Friday, they launched an Inuktitut education lexicon for the Inuit region of northern Quebec during the 21st Inuit Studies Conference in Montreal, Quebec.
The people behind the project now hope the lexicon will reinforce the Inuit language for both instructor and students.
"It's a tool, like the dictionary," Sarah Angiyou, a teacher in the Inuit community of Puvirnituq, said in a news release on Monday. "We'll use it to perpetuate our mother tongue. It's very important to continue the work and get the lexicon into students' hands. That's how we can keep our language alive." 
35 year-old project
Work on the lexicon began in 1984 when it became apparent that the lack of specialized Inuktitut terminology for the realm of education was a challenge for both teachers and students.
A team that came to be known as the Ivujivik-Puvirnituq-UQAT group then got to work on putting the specialized vocabulary together. Like Puvirnituq, Ivujivik is an Inuit communitiy in Nunavik, the Inuit region of northern Quebec.
UQAT is short for the Université du Québec en Abitibi-Témiscamingue (The University of Quebec in Abitibi-Témiscamingue). The university has specialized programs for Inuit and First Nations students, including preschool and primary teaching as well as primary education for substitute teachers.
"When I first joined the lexicon team, I didn't know it would go this far," said Siaja Mangiuk, a teacher from Ivujivik, said in the news release.
"I thought it would be just for us. I am so proud. We had lots of teleconferences where we created new Inuktitut words. We worked hard and spent many hours over the years, but it's worth it because it will help everyone. It's going to be a lot faster for the new generation of teachers, having this to refer to."
An evolving resource
The lexicon was put together on a consensus basis for everything from the final Inuktitut term, to the definition of the term.
"The lexicon has to be seen as a living, open-ended resource," said Véronique Paul, research agent at the Unit for Research, Training and Development in Education in Inuit and First Nation Contexts (URFDEMIA) of UQAT. "The proposed Inuktitut terms in the lexicon are developed based on the understanding expressed and shared by elders."
The lexicon is available online and is free for anyone to consult.
Write to Eilís Quinn at eilis.quinn(at)cbc.ca
Related stories from around the North:
Canada: Inuit languages declining in Canada's Nunavut territory, stats show, CBC News
Finland: Budget cuts threaten international Sámi language cooperation, Yle News
Norway: Walt Disney Animation Studios to release Saami-language version of "Frozen 2", Eye on the Arctic
Sweden: Calls for more Indigenous protection in Sweden on Sami national day, Radio Sweden
United States: Indigenous leaders at UN meeting push for decade dedicated to language revitalization, CBC News