Questions raised as two species of Arctic seal are spotted in southern Ireland
Two species of seal, whose ranges are typically restricted to the Arctic Ocean and North Atlantic, unexpectedly showed up on the southern coast of Ireland in the New Year, stunning locals and raising questions about what caused the animals to stray so far from their typical habitat.
The first sighting was on January 1, when an adult hooded seal showed up on the coast of Schull, a town in County Cork. The animal stayed for about a day before going back into the ocean.
Hooded seals' typical range is in the Arctic Ocean, and in the North Atlantic around Iceland and Greenland.
That was followed on January 2 by reports of a ringed seal pup on the coastline of County Kerry, just to the west of of County Cork.
Ringed seals live on and below ice and their typical habitat ranges across the Arctic Ocean.
Uncommon sightings
Grey and common seals are the only two seal species native to Ireland, making the New Year's sightings so out of the ordinary.
There's been only four confirmed reports of hooded seals in Ireland since 2001 says Seal Rescue Ireland, a charity that responds to, and rehabilitates, sick, injured or orphaned seals found on the country's coastlines.
But the pup reported on January 2 is the first documented case of a ringed seal in Ireland, the organization said.
"It's highly unusual," Melanie Croce, the executive director of Seal Rescue Ireland, told Eye on the Arctic in a phone interview.
Video of the ringed seal pup, shot by a volunteer, for Seal Rescue Ireland, on the coastline of Ireland's County Kerry:
(Courtesy Seal Rescue Ireland)
"As a three to four week old pup, it should have still been with its mother," Croce said. "It's very far outside its range anyways, but it should have still been with her for another month or so. The fact that it was alone was not a good sign."
Seal Rescue Ireland, based in County Wexford, was in the middle of organizing a rescue operation for the baby animal, but the pup ended up going back into the water.
"It hasn't been spotted since so we are hoping for the best," Croce said. "We're hoping that maybe it's able to survive or maybe make it's way up North."
Video of the hooded seal on the coastline of Ireland's County Cork. The animal's inflatable nose hood indicates it was an adult:
(

Schull Sea Safari/

Courtesy Seal Rescue Ireland)
But unfortunately, the organization received bad news about the fate of the hooded seal.
"We did just get a report this afternoon that it did wash up and it did pass away," Croce said Monday. "It was found on the beach pretty near to where it was originally spotted."
Seal Rescue Ireland is now organizing a necropsy at Cork Regional Vet Lab to find out what contributed to the seal's death. 
Feature Interview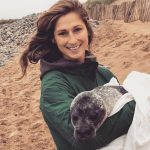 For more on Ireland's surprise New Year's seal sightings, why climate change may be behind them and why Ireland's coast line can be so dangerous for Arctic adapted species, listen to Eye on the Arctic's conversation with Melanie Croce, the executive director of Seal Rescue Ireland:
Write to Eilís Quinn at eilis.quinn(at)cbc.ca
CLARIFICATION
After publication of this story, Seal Rescue Ireland asked that video of the hooded seal found in County Cork be credited to
Schull Sea Safari. Schull Sea Safari has been added to the hooded seal video credit.
Related stories from around the North:
Canada: Invasive species: Fisheries and Oceans Canada has no mandate in Arctic, audit finds, CBC News
Finland: River ice and white hares: Finnish scientists study signs of climate change in nature, Yle News 
Norway: Arctic fox's rapid journey from Svalbard to Northern Canada stuns researchers, The Independent Barents Observer
Russia: Snow crabs invading Russia's Arctic nuclear waste dump, The Independent Barents Observer
United States: Communities wrestle with shark-bite mystery off Alaskan coast, Eye on the Arctic