Davos: Finnish PM stresses importance of Arctic Council for region's stability amidst climate change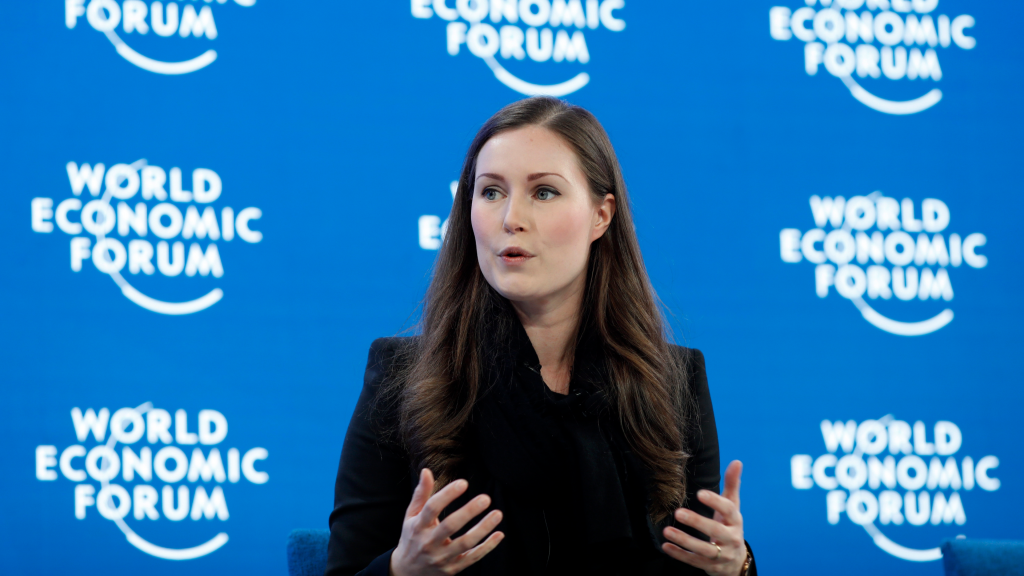 In her international debut at the 51st World Economic Forum in Davos, Switzerland, Finnish Prime Minister
 

Sanna Marin

 

said the world needs to address the melting ice of the Arctic.

Speaking on behalf of Finland – much of which is located within the Arctic Circle – Marin took part in a forum discussion called "What's at Stake: The Arctic" on Wednesday afternoon.

"It's about climate, it's about our future and that's why we need to tackle climate change if we want to save the Arctic and also tackle the risks concerning geopolitical issues," Marin said.

The panel also included former US Vice President Al Gore, who has devoted much of his post-political career to fighting climate change. He welcomed Marin to the discussion as part of the next generation of leaders.

"Most of them also have values that I admire so much," Gore said.

The panel also included US journalist Elena Cherney, who noted that the melting Arctic – due to things like opening of once-frozen shipping routes – is seen by some as a business opportunity rather than an environmental crisis, but Marin pushed back at that notion.
Pm Marin: we should stop seeing melting ice as business opportunity, must focus on climate change. Fossiles is bad business in the long term. #WEF20 pic.twitter.com/pxZ1WbHTGj

— Lauri Voionmaa (@LVoionmaa) January 22, 2020
"I think it's so short-sighted to think of the melting of the Arctic as an opportunity. If we look at the long term situation we should fight climate change, we should do more – we should do it faster," Marin said, noting that Finland has committed to becoming carbon neutral by 2035.
"Our government is committed tackling climate change now. Climate change is the biggest risk that humanity faces. But actually, fighting climate change is a big opportunity for our technology, our businesses, creating new jobs, creating new well being. It's a very short-term [view] to look at the melting of the Arctic as a business opportunity," Marin said.
Arctic Council's role
Marin noted that it is also important to increase the role of the Arctic Council (the intergovernmental forum which promotes cooperation among the Arctic states), saying it is vital for Finland as a nation that the Arctic region remain stable.
Marin also pointed out that the increasing temperatures in the Arctic should not be seen as a business opportunity, saying that the world needs to address climate change and measures need to be taken to save the region from devastation.
The former US VP agreed with Marin that the Arctic Council could be an innovative forum for debate and opportunity for governmental cooperation – despite that the council does not have much actual political power.
Gore also said he lamented that the current US administration had turned its back on the Arctic Council.
Last spring, an Arctic Council ministerial meeting in Rovaniemi ended in disappointment after ministers failed to reach an agreement on the wording of a final joint declaration for the first time in the organisation's 23-year history. The US was the sole council member not to agree to language on fighting climate change in the draft ministerial declaration.
However, Gore hinted that situation in the US could change.
"But hopefully we will soon regain our common sense and be able to return to an Arctic Council which can play a constructive role," Gore said.
Marin is scheduled to continue to speak at high-level events in Davos on Thursday and Friday, on topics ranging from climate change, equality and well-being, the economy, the future of Europe as well as international order, according to the PM's office.
Related stories from around the North:
Canada: Global ocean temperatures hit new record highs in 2019 causing devastating effects in the Arctic, Eye on the Arctic
Finland: Finland far behind climate goals, think tank says, Yle News
Greenland: Greenlanders stay chill as the world reacts to their heatwave, CBC News
Iceland: Former U.S. Secretary of State John Kerry calls for climate action at Arctic Circle assembly, The Independent Barents Observer
Norway: Norway considers size limitation on passenger ships sailing to Svalbard, The Independent Barents Observer
Russia: Russian climate report stresses adaptation but no reduction in fossil fuel extraction, The Independent Barents Observer
Sweden: New report criticises Sweden's climate policies, Radio Sweden
United States: Bering Sea region focus of recent papers on climate risk to northern communities, Eye on the Arctic