Man in violent arrest video in Canadian Arctic later 'viciously attacked' while in police cells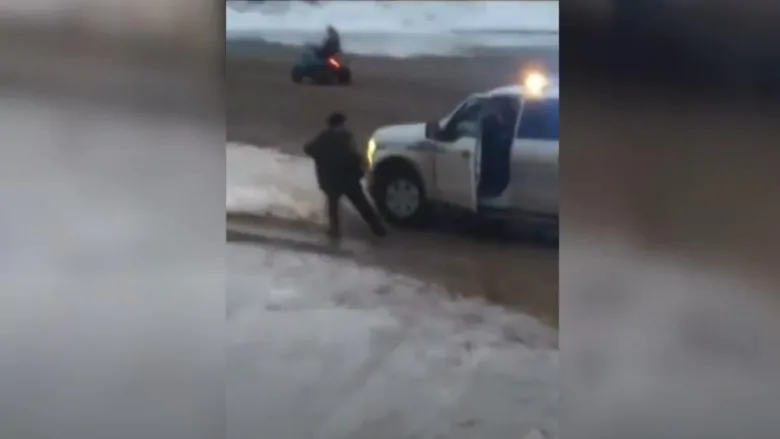 UPDATED – Nunavut RCMP say they will conduct a review of an attack against an Inuk man from Kinngait, Nunavut, who was allegedly assaulted while in police custody by another inmate following his violent arrest captured on video earlier this week.
The video — which prompted RCMP to remove an officer from the community and launched two separate investigations — was shot by a bystander late Monday night, sparking outrage from within the territory and beyond. It shows a police officer using the door of an RCMP truck to knock the man over before he was arrested by five police officers.
Police say an independent and an internal investigation is underway to determine the circumstances of what happened and whether criminal charges are warranted, while the officer has been placed on administrative leave.
Kinngait, formerly known as Cape Dorset, is a hamlet of around 1,500 people.
'Viciously attacked'
A court document obtained by CBC News reveals that after his arrest he was put in cells where he ended up being "viciously attacked" by another inmate.
That individual had been arrested for domestic assault and failing to comply with probation orders. He was described by police as extremely intoxicated and violent at the time he was detained. He was placed inside the same cell as the man struck by the door in the video because police say they were at capacity.
When the man in the video accidentally made contact with him, he was repeatedly punched and kicked.
Police say he was too intoxicated to defend himself and eventually fell to the floor, where he was stomped on while lying helpless before being placed in a chokehold.
Police had to enter "the blood-covered cell" to stop the assault.
WATCH | RCMP officer uses pickup truck to take down man
He was eventually removed from cells and transported to the local health centre for treatment. The document says his right eye had been swollen shut and there was heavy bruising around his orbital bone. Nursing staff also found blood around his ear drum. He was eventually medevaced to Iqaluit for further medical evaluation and has since left hospital. RCMP did not lay any charges against him.
The other man has been charged with aggravated assault.
In a news release Thursday, commanding officer of the V Division RCMP Chief Supt. Amanda Jones said she has ordered an administrative review of the incident in cells alongside the investigations into the actions of the officer in the video.
There are four cells inside Kinngait's RCMP detachment. When the man in the video was brought in, the detachment had seven prisoners, all of who whom were intoxicated at the time, according to the release.
"V Division RCMP continue to work diligently to serve the community of Kinngait in managing the high volume of calls for service while balancing resources and demands placed on the members," she wrote in the release.
'This is not a one-off'
The head of Nunavut's legal aid agency said the RCMP needs to explain what happened.
"Looking at this as two incidents is absurd," said Benson Cowan, executive director of the Legal Services Board. He is calling for an independent investigation.
"That man was only in custody because of the actions of the RCMP and while he was in custody, he was under their care and protection and they failed in that regard significantly."
He said if senior RCMP officers in the territory were aware of the assault, it would be a breach of the public's trust if police did not offer an explanation of what occurred in their original statement Tuesday.
As for the video, Cowan said it speaks for itself.
"That was a highly aggressive and deliberate use of force. It was an act of violence," he said.
"We hear about it in every community, regularly. This is not a one-off."
Cowan said it's time for people in the territory, the federal government and the RCMP to have a conversation about meaningful change, accountability and civilian oversight to policing in the territory.
"Is the RCMP a reliable partner in that conversation? That's what I think they have to explain and be accountable for right now."
Trudeau addresses video
When asked about the video during his daily COVID-19 briefings in Ottawa Thursday, Prime Minister Justin Trudeau sidestepped a question on who should be held accountable.
"We recognize in Canada that there are systemic discrimination problems. We need to address our justice system, we need to address challenges in our society that are a lived reality for racialized Canadians, for Indigenous Canadians," he said.
"Even as we watch with horror what's going on in the United States, we know that we have an awful lot of work to do right here in Canada."
When pressed further by a Globe and Mail reporter on why he had expressed horror at what is going on in the United States, but stopped short of expressing the same thing at what's happening to Indigenous people in Canada, Trudeau said the country is not immune from the things that are going on in the United States.
WATCH | Trudeau pressed by Globe and Mail reporter on Kinngait RCMP video
"Racialized Canadians, Indigenous Canadians have long suffered systemic discrimination in every part of this country. And even though we have taken significant steps over the past years — there is much more to do," he said.
"The events of these past weeks in Canada and in the United States have underlined how much more work we have to do. We will be there to do it hand in hand as allies to the black community, to Indigenous peoples and to all racialized Canadians."
A day after the video surfaced, Nunavut's premier issued a brief statement on Twitter.
"We're all hurting right now. The death of George Floyd in the US and the movement we're seeing in response across the world. But also right here in Nunavut, with the video from Kinngait," Joe Savikataaq wrote.
Systemic racism and unconscious bias are real -painfully real. On behalf of our cabinet and the entire government, please know we will we continue to fight against it. We stand together, and we stand united to make the world better.

— Premier Joe Savikataaq (@JSavikataaq) June 4, 2020
"Systemic racism and unconscious bias are real — painfully real. On behalf of our cabinet and the entire government, please know we will we continue to fight against it. We stand together, and we stand united to make the world better," said the premier.
There have been a series of recent high profile incidents in Nunavut involving RCMP this year. Police shot and killed a 31-year-old man in the hamlet of Clyde River last month after responding to an incident at a home.
With files from Jackie McKay
Related stories from around the North: