Nunavut to get $18.9M from Canada's federal gvt for COVID-19 response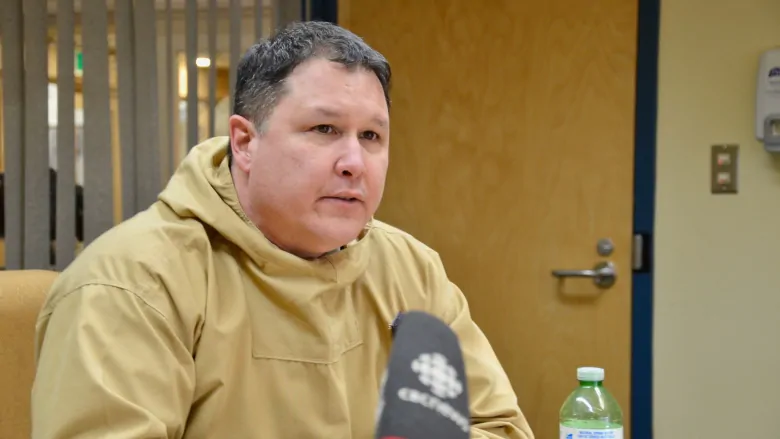 The federal government is giving up to $18.9 million to Nunavut's COVID-19 response efforts, Health and Finance Minister George Hickes announced on Monday during a press conference at the Legislative Assembly.
Part of the money is allocated for testing and personal protective equipment and paid sick leave for Nunavummiut. Of the new money, $5.7 million will be for testing and personal protective equipment, while $1.1 million is for sick leave benefits. There will be a cash transfer of $12.1 million, said Hickes.
As of last week, Nunavut has spent $15 million to isolate travellers returning from out of territory in government-approved hotels. There is no recent update on airline spending from officials, but in early June $49 million in unbudgeted money was allocated for spending this summer. This money was primarily to support airlines, and to isolate out-of-territory construction workers.
As of Friday, when the government's COVID-19 numbers were last updated, public health was investigating 182 people in the territory for the disease. In total, 1,682 have been investigated.
Nunavut residents are awaiting results from two presumptive cases of COVID-19 announced last week at the Mary River Mine outside Pond Inlet. Hickes said Monday that results are not in yet from a southern lab.
Premier given special exemption, like some pilots
Over the weekend, Nunavut's premier defended his actions to isolate at his cabin outside Arviat, instead of a hotel at a southern isolation hub, after travelling to Manitoba earlier this month to pick up a personal float plane.
Chief Public Health Officer Dr. Michael Patterson said there have been a few occasions like this where private pilots have self-isolated at home instead of in the isolation hubs, after flying their planes back into Nunavut.
"The premier was treated as we have some other pilots flying in their personal planes," Patterson said.
Previously, health officials have said isolating on the land is too risky because people would be far from health support if they develop symptoms.
But when it comes to private pilots, Patterson said Monday that those pilots could stop anywhere on their flight path and having them isolate before flying into Nunavut isn't as effective.
Patterson said there have been about two dozen people approved for home isolation plans instead of isolation hotels. These might be for compassionate exemptions because of a family illness, or when it would be more risky to have a person fly to an isolation hub before coming home. Fishing crews coming from Greenland are one example of this, he said.
Iqaluit 'not confirmed' as a hub for isolation: minister
Hickes also spoke to clear up what he called "misinformation" about changes in how the Nunavut government is doing isolation hubs in hotels outside of the territory.
Social media posts have suggested that Iqaluit will become a hub for travel isolation, said Hickes. The minister said isolation in Iqaluit is being considered, but it is "not confirmed."
"There was a perception in the public that it was a done deal," he said. "When we do make a decision, that's when we'll give the information."
The government is also working to open a second hotel isolation space in Winnipeg, as there is up to a three-week wait currently, said Hickes.
Medical travellers are being prioritized over non-essential travellers.
Hickes said the government has heard concerns that Inuit travellers have been treated differently at isolation hotels.
"Having more Inuit on the ground that are bilingual would be optimal," he said. "Contracting the service out and bringing Inuit into the picture is the plan to help alleviate a lot of those concerns."
The Nunavut government now has a contribution agreement with the Qikiqtaaluk Corporation to help make these changes. The Inuit corporation will be organizing the hotel contracts for the government.
Plan on schools coming later this week
A draft plan on Nunavut schools reopening, obtained last week by CBC, states schools will open in the fall with no physical distancing if the territory remains free of cases. The Department of Education is working to update the public on that plan later this week.
Starting Monday, bars and restaurants are allowed to open for regular hours.
Watch the live press conference below.
Related stories from around the North:
Canada: Nunavut schools may open in September with no physical distancing if COVID-19 free, CBC News
Finland: Russian tourists eager to book holidays in Finland despite border closure, Yle News
Greenland: Greenland extends COVID-19 entry requirements until July 20, Eye on the Arctic
Iceland: Iceland revises COVID-19 border screening rules for citizens, residents, Eye on the Arctic
Norway: Norwegian Arctic wilderness tourism hit particularly hard by coronavirus, The Independent Barents Observer
Russia: The city that builds Russia's nuclear submarines now has more than 2,000 COVID-19 cases, The Independent Barents Observer
Sweden: Sweden's top epidemiologist admits he got COVID-19 strategy wrong, Radio Sweden
United States: Alaska Highway travellers might be in for rough ride this summer, CBC News