New COVID-19 testing device in Canada's Arctic territory to reduce waiting times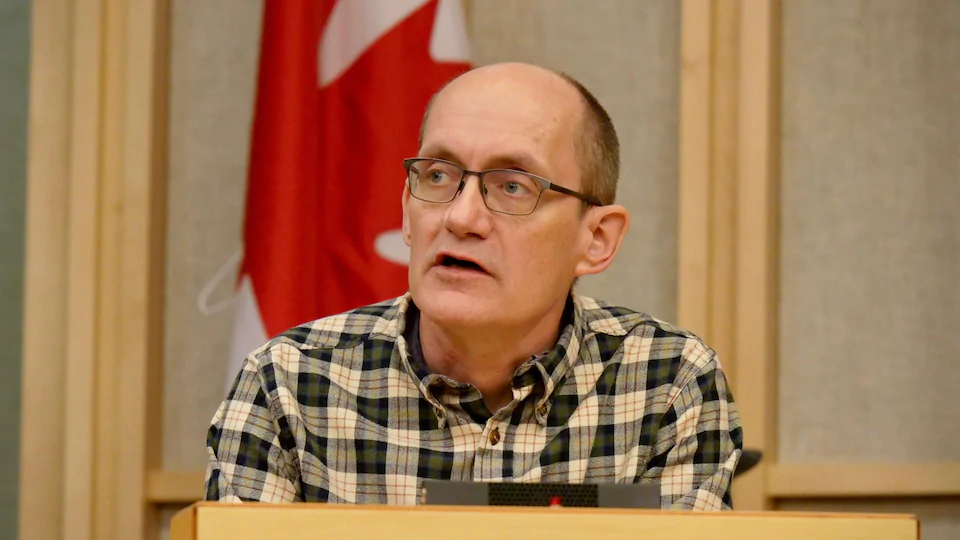 A BioFire testing machine is now operational in Iqaluit to make testing for COVID-19 quicker in the territory.
The Nunavut government is piloting a program that will charter COVID-19 tests from communities in the Qikiqtaaluk region to be tested with the machine in Iqaluit, according to its Chief Public Health Officer Dr. Michael Patterson at a news conference Tuesday.
The goal of the pilot program is to reduce the amount of time it takes to get test results in the region to five days or less, said Patterson.
Once this system has been honed, the same system will be put in place in the Kivalliq region, which will use a BioFire machine the government is working to make operational in Rankin Inlet.
It's expected that machine will be working next week, according to Patterson.
Patterson said the Qikiqtaaluk pilot project is expected to take two weeks, but if problems are found it may take longer.
The government has contracted a logistics company to help track and organize tests to be transported through scheduled flights or a charter. A company will have a plane on standby to pick up COVID-19 tests from community health centres. In communities, arrangements have been made for people to go to the health centres and bring tests to the airport, said Patterson.
Missed the live press conference? Watch it here: 
BioFire unlike GeneXpert: Patterson
The BioFire is a better machine for Nunavut, because Patterson says that in addition to testing for COVID-19, the machine tests for more than a dozen additional respiratory infections that can mimic the symptoms of COVID-19.
It will work alongside the GeneXpert machines, which can analyze a nasal swab in under 45 minutes, to increase rapid testing in the territory. Unlike the GeneXpert, Patterson says it's much less likely there will be a shortage of cartridges for the BioFire.
Increased testing capacity and will improve Nunavut's ability to combat outbreaks, but Patterson says that more and faster testing capacity is only part of the territory's strategy.
Once the new testing is in place, the government will be looking at varying isolation requirements to get into the territory, but Patterson cautioned there are many factors that affect this decision.
He said if changes occur, isolation will still be required, but an isolation hub may be allowed in territory. Currently there are isolation hubs in Ottawa, Winnipeg, Edmonton or Yellowknife.
Contacts with Ottawa security guard no longer at risk
In late August, a security guard at an isolation hub hotel in Ottawa tested positive for COVID-19.
Patterson said at a news conference in August that after contact tracing, 24 Nunavut residents were identified as having "low risk" contact with the security guard. Those people were asked to monitor for symptoms.
On Tuesday, he said over the weekend those identified had completely their 14 days, and were no longer at risk for COVID-19.
On Thursday, the territory's public health emergency was extended again into mid-September.
Related stories from around the North:
Canada: Canada's Northwest Territories announce new $67M body to manage COVID-19 response, CBC News
Finland: Finland and Russia discuss cooperation between Arctic and Barents structures, The Independent Barents Observer
Greenland: Greenland changes COVID-19 rules for travellers from Iceland, Faroe Islands, Eye on the Arctic
Iceland: Iceland cancels largest Arctic conference due to COVID-19, The Independent Barents Observer
Norway: Washington pulls 700 US marines out of Norway, The Independent Barents Observer
Russia: Kremlin-critic soldier tells his story about military service in Russia's Arctic, The Independent Barents Observer
Sweden: Swedish military ramps up presence in Baltic Sea due to Russian activity, Radio Sweden
United States: U.S. wants to keep the Arctic an area of low tensions, top official, Radio Canada International