Kremlin-critic soldier tells his story about military service in Russia's Arctic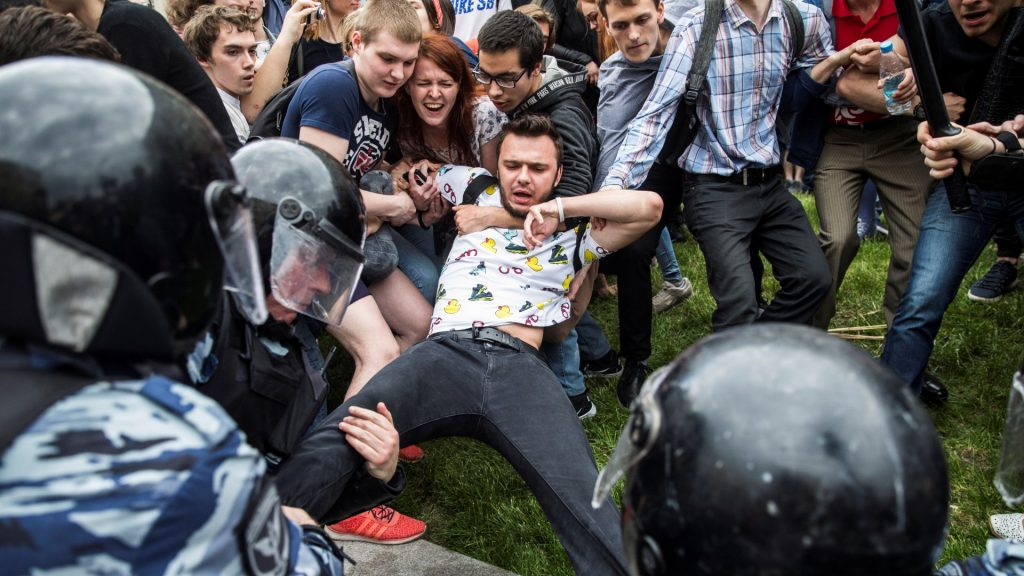 After months of total isolation in a remote military post in the Arctic archipelago of Novaya Zemlya, Ruslan Shaveddinov last week appeared in a court hearing in Arkhangelsk.
It was an opportunity to bring testimony for the young man, who was forcefully detained by police in Moscow in late December and sent to military service in the remote north.
Court case
The hearing in the Arkhangelsk military court was held as Shaveddinov appealed a ban on access to telephone and communication with the outside world. Normally, conscripts are allowed to use telephone a certain number of times during their service. But Shaveddinov has been deprived that right.
Aleksey Navalny's Anti-Corruption Fund early this year took the case to court, arguing that its employee is unlawfully being deprived possibility to connect with the outside world, but on the 26th February lost the case in a Moscow court.
Political exile
In his testimony, the activist-conscript underlined that his service must be considered a political exile and that it is meant to frighten not only himself, but all politically active young men in Russia that oppose the current regime.
"This is a very bad tendency, and very bad times are coming when the Ministry of Defense is used as a branch office of the penitentiary services," Shaveddinov said in the hearing, a transcript published by Mediazona reads.
Militarized island
After a period of service at an air defense unit in Rogachevo, Shaveddinov was transferred to a remote post about 300 km further north.
The place is called Chirakina, Shaveddinov explained. Service life is harsh with little or no facilities.
The number of the unit is 26984, and there is no running water, nor electricity. Water is taken from local streams or from snow melting, and power comes from an old tractor generator. On site are both officers and conscripts and they all live in a "box", which is freezing cold in winter and that has a leaking roof.
Once every second month comes a helicopter with a sack of flour and supplies, Shaveddinov said.
Chirakina is believed to be located on the coast of Matochkin Shar, the channel that separates the northern and southern islands of the archipelago.
Not far away are the training grounds that for decades were used by Soviet authorities for nuclear weapons testing.
More activists sent to Army
According to Shaveddinov, he is far from the only anti-regime activist that now is being forced to serve in remote military units.
Recently, the Russian Armed Forces forcefully sent Artyem Ionov, another colleague at the Anti-Corruption Fund, to the remote far eastern region of Chukotka. Ionov, who works as internet technician at the fund, is believed to have asthma and be physically unfit for military service.
Also Ivan Konovalov, who serves as press secretary at the Doctor's Alliance, has recently been detained and sent to Arkhangelsk. He is believed to be sent further to a remote military post similar to the one in Chirakina, Shaveddinov argues.
The Doctor's Alliance is a regime-critical medical organization that is actively engaged in fighting the coronavirus.
Back to the USSR
It is a flashback to Soviet times, when it was not uncommon that "disloyal" young men were sent to Novaya Zemlya to serve in local military-construction brigades.
The far northern archipelago is today again a strategically key area in the Russian Arctic. Military capacities on site are bolstered with new hardware including the S-400 air defense system. The remote archipelago is also believed to be used for advanced new weapons testing.
Will not give up
Ruslan Shaveddinov is due to be released from his "Arctic exile" in December. He does not, however, exclude that the authorities will find an excuse for keeping him longer in captivity.
But in the end, I will walk free and will be able to tell about these outrageous violation of basic rights, he says.
"I will not be silent, I am not afraid. I will continue my activities."
Related stories around the North:
Canada: Why a Soviet-built polar cruise vessel left Atlantic Canada as a derelict ghost ship, CBC News
China: Gazprom to build new pipelines between Arctic Russia and China, The Independent Barents Observer
Finland: Finland investigates oil leak risks from Baltic Sea shipwrecks, Yle News
Iceland: Iceland to restrict heavy fuel oil use in territorial waters, Eye on the Arctic
Norway: Norway strengthens its Arctic military in new defense plan as security concerns grow in the region, The Independent Barents Observer
Russia: Russia's Arctic Nenets Autonomous Okrug only region to vote against Putin's constitutional reform, The Independent Barents Observer
United States: Wells Fargo becomes third major US bank to nix Arctic oil investment, Alaska Public Media