Canadian Coast Guard wraps up 2020 Arctic operations season
The Canadian Coast Guard wrapped up its operations in the Arctic on Dec. 1, marking the end of an operational season "unlike any other" due to the COVID-19 pandemic, according to federal officials.
The federal government deployed eight icebreakers to the Arctic this year, with the Canadian Coast Guard Ship (CCGS) Henry Larsen being the last to leave northern waters, Coast Guard officials said Friday.
The Coast Guard worked closely with Inuit, First Nations, and Métis organizations and governments, territorial governments, communities, industry, and other partners to maintain normal operational levels while also following stringent health procedures to prevent the spread of the virus among crews, shore-based personnel and in host communities, officials said.
There have been no cases of COVID-19 to date on any Coast Guard vessel across the country, according to officials.
"Despite a season like no other, the Canadian Coast Guard members and crews promptly and successfully adapted to the new reality of operating during a worldwide pandemic," said in a statement Bernadette Jordan, Minister of Fisheries, Oceans and the Canadian Coast Guard.
"The Canadian Coast Guard efficiently implemented extra safety precautions to prevent the potential spread of the COVID-19 virus to and from northern communities all while effectively providing search and rescue services, essential icebreaking support, and our regular programs in the Arctic."
As of Dec. 9, the Marine Communications and Traffic Services (MCTS) Centre in Iqaluit provided support for 128 vessels in the Northern Canada Vessel Traffic Services Zone (NORDREG), Coast Guard officials said. These vessels include cargo ships, research vessels, bulk carriers, fishing vessels, and Canadian Coast Guard ships.
Busy season despite drop in Arctic traffic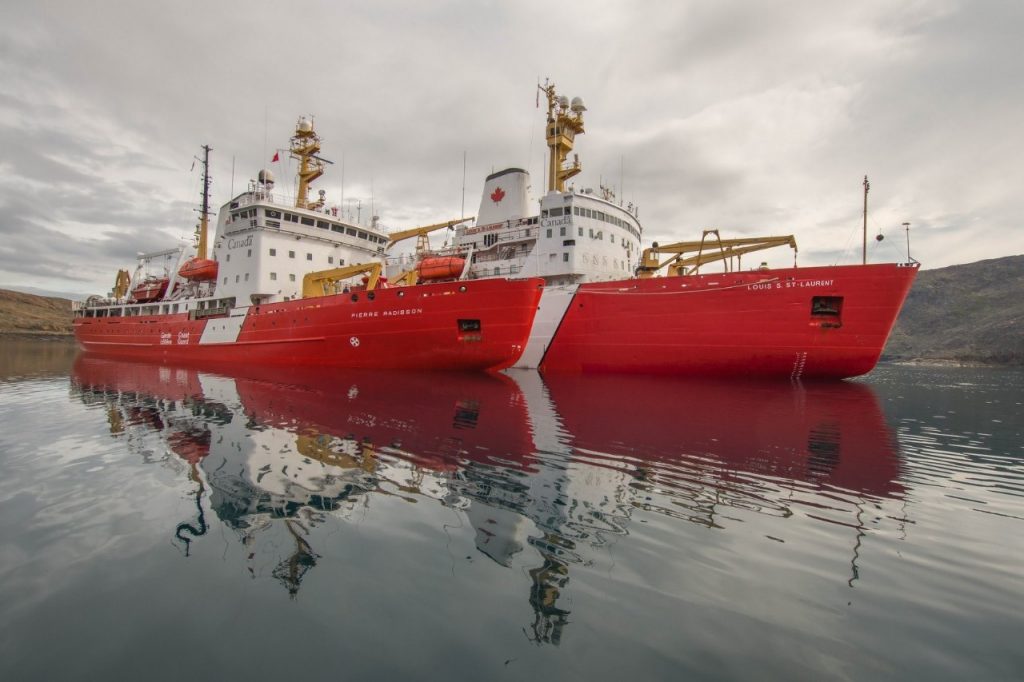 Because of the ban on shipping by adventure-seeking pleasure craft and cruise ships in Canada's Arctic waters as well as in the coastal areas of northern Quebec and Labrador, there was a marked decline in transits through the Northwest Passage.
As of Dec. 9, 2020, only eight vessels, including general cargo and coast guard icebreakers, made full transits of the Northwest Passage, compared to 27 vessels as of Nov. 27, last year, Coast Guard officials said.
The Coast Guard was involved in responding to 77 distress calls in the Arctic, including 32 cases responded to by the Canadian Coast Guard Auxiliary, officials said.
As part of the Arctic Region's search and rescue programs, Rankin Inlet's Inshore Rescue Boat station crew carried out three training exercises, responded to six distress cases, and travelled over 2,062 nautical miles this season, officials said. The station closed on Oct. 27 and will reopen in June 2021.
The Coast Guard also participated in seven exercises involving various government and industry groups, as well as partners such as the Canadian Red Cross and northern Hunters and Trappers organizations.
In addition, the Coast Guard also provided seasonal aids to navigation services on the Mackenzie River and Great Slave Lake in Northwest Territories and supplied five icebreakers to the Canadian Hydrographic Service's seabed mapping and charting program's 2020 season.
In total, as of Dec. 9, the Canadian Coast Guard provided 45 commercial escorts; 20 helo-based ice reconnaissance missions; and one commercial harbour breakout, while its icebreakers travelled over 117,000 nautical miles.
The MCTS Centre in Iqaluit will continue to serve Arctic mariners until Dec. 21, 2020, and will reopen in May 2021. The MCTS Centre in Prescott, Ontario, will take over its duties during the seasonal closure.
Related stories from around the North:
Canada: Canadian Coast Guard marks mid-season point of 2020 Arctic operations, Eye on the Arctic

Norway: Norway to build three large Coast Guard ships for Arctic, The Independent Barents Observer

Russia: Russia extends lifetime of nuclear icebreakers to meet rising demand, The Independent Barents Observer

Sweden: Local shipping generates more emissions than domestic flights, Radio Sweden
United States: New U.S. icebreaker will focus on Antarctic, says Coast Guard boss, Alaska Public Media