Study reveals new life under Antarctic ice shlef, raises new questions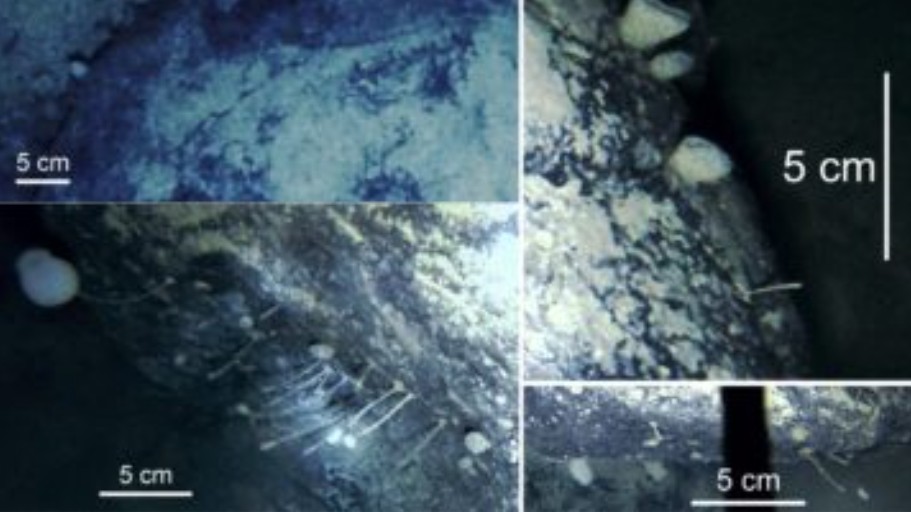 New life found under ice shelves in Antarctica raises new questions about diversity types under the ice as well as factors that control their distribution and vulnerability to climate change, says a new study.
"This is the first recorded observation of an in situ hard substrate sessile community beneath an ice shelf," the paper's authors said.  "The discovery of this suspension feeding community 260 km under a floating ice shelf in an area of outflow is remarkable in itself and goes against the existing paradigm."
Researchers detected sessile organisms, like sponges, on a boulder after drilling 387–890 metres through the Filchner Ice Shelf near Anarctica's Weddell Sea.
The study's findings "Breaking All the Rules: The First Recorded Hard Substrate Sessile Benthic Community Far Beneath an Antarctic Ice Shelf" were published in the journal Frontiers in Marine Science on February 15.
"This discovery is one of those fortunate accidents that pushes ideas in a different direction and shows us that Antarctic marine life is incredibly special and amazingly adapted to a frozen world," said biogeographer and lead author, Huw Griffiths of the British Antarctic Survey, in a news release. 
"Our discovery raises so many more questions than it answers, such as how did they get there? What are they eating? How long have they been there? How common are these boulders covered in life? Are these the same species as we see outside the ice shelf or are they new species? And what would happen to these communities if the ice shelf collapsed?"
"We never expected these kinds of animals, animals that filter feed their food from the water column, to be found this far from a source of food or daylight," Griffiths said in a British Antarctic Survey YouTube video discussing the find.
The geologists had drilled through the ice to collect sediment. Expecting mud, they say they were surprised when they hit rock instead.
"We were expecting to retrieve a sediment core from under the ice shelf, so it came as a bit of a surprise when we hit the boulder and saw from the video footage that there were animals living on it," said James Smith, a geologist at the British Antarctic Survey who was part of the drilling team.
Urgency to learn more as climate changes region
Griffiths said it's imperative to better understand the life forms as climate change and the collapse of ice shelves mean these ecosystems are increasingly at risk.
"To answer our questions we will have to find a way of getting up close with these animals and their environment – and that's under 900 m of ice, 260 km away from the ships where our labs are," Griffiths said.
"This means that as polar scientists we are going to have to find new and innovative ways to study them and answer all the new questions we have."
Write to Eilis Quinn at Eilis.Quinn(at)cbc.ca
Related stories from around the North:
Canada: New research chair at Laval University to help better understand permafrost changes in Arctic Quebec, Eye on the Arctic
reenland: Oldest Arctic sea ice vanishes twice as fast as rest of region, study shows, Eye on the Arctic
Norway: Thawing permafrost melts ground under homes and around Global Seed Vault in Svalbard, The Independent Barents Observer
Russia: Remains of ice age woolly rhinoceros found in melting Siberian permafrost, The Associated Press
United States: Bering Sea ice at lowest extent in at least 5,500 years, study says, Alaska Public Media