Arctic high on the agenda of Blinken's phone call with Danish FM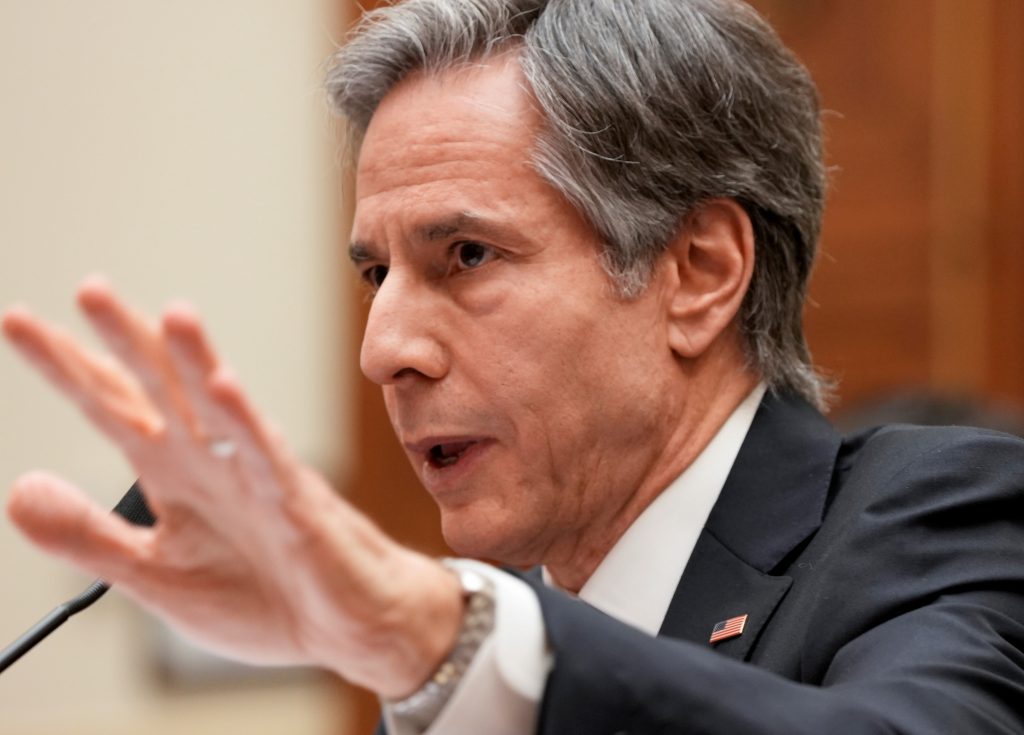 Enhancing defence cooperation and continuing "common efforts" in the Arctic was top of the agenda during Sunday's phone call between U.S. Secretary of State Antony J. Blinken and Danish Foreign Minister Jeppe Kofod, according to U.S. officials.
In a readout of the call released on Sunday, State Department spokesperson Ned Price said Blinken and Kofod "emphasized the importance of advancing mutual goals, including combating climate change, developing green technology, enhancing defence cooperation, and continuing common efforts with the Kingdom of Denmark on the Arctic."
The two top diplomats also noted their "shared commitment to strengthen the NATO alliance and support Secretary General Stoltenberg's NATO 2030 agenda as well as to cooperate to address other challenges, including COVID-19 and energy security," the statement added.
Great call today with Danish Foreign Minister @JeppeKofod. We agree on the importance of addressing climate change, enhancing defense cooperation, ensuring energy security, and partnering in the Arctic. I look forward to deepening our partnership on these issues.

— Secretary Antony Blinken (@SecBlinken) March 14, 2021
"I look forward to continue and advance our close cooperation on #ClimateAction, the #Arctic, security and defending democratic rights & values," Kofod tweeted following the phone call with Blinken.
🇩🇰🤝🇺🇸
Appreciate tonight's great conversation with @ABlinken

The US & Denmark are the closest of friends and allies

I look forward to continue and advance our close cooperation on #ClimateAction, the #Arctic, security and defending democratic rights & values#dkpol #WeAreNATO pic.twitter.com/2GrUwLnS8W

— Jeppe Kofod (@JeppeKofod) March 14, 2021
The United States reopened its consulate in Greenland's capital Nuuk in June of last year after a 67-year hiatus, indicating renewed American interest in reaffirming its military, diplomatic and economic interests in the self-governing Danish territory that hosts Thule Air Base, the northernmost U.S. military installation.
This was Blinken's second call with one of his Arctic counterparts this month, as the Biden administration signaled that it is working to re-engage with NATO allies and rebuild some of the frayed relationships but also to continue the Trump administration's focus on the Arctic. On March 2, Blinken spoke with Norwegian Foreign Minister Ine Marie Eriksen Søreide.
"Secretary Blinken and Foreign Minister Søreide discussed efforts to defeat the global pandemic and to deepen cooperation on the United Nations Security Council, climate change, human rights, Arctic issues, Transatlantic security, and global peace efforts, including Afghanistan peace negotiations," said a readout of the call released by the State Department.
On the same day, Blinken also took part via secure teleconference link in the annual strategic dialogue with Icelandic officials.
And on Feb. 26, Blinken had a virtual meeting with Canadian Prime Minister Justin Trudeau and Foreign Minister Marc Garneau where Arctic issues, particularly the modernization of the bilateral North American Aerospace Defence Command (NORAD) was discussed.
Rebecca Pincus, an expert on Arctic defence and security who teaches at the U.S. Navy War College, said the diplomatic engagement with Arctic nations and NATO allies is a sign of the diplomacy-first approach of the Biden-Harris administration, which has signaled its principles of working with allies and partners, and through international institutions.
"NATO is clearly a priority. President Biden has also taken a firm line on Russia, and indicated his desire to coordinate with allies on this subject," Pincus said.
"So, these conversations are consistent with the administration's statements about their intentions and guiding principles."
With Russia assuming the chairmanship of the Arctic Council in May, Pincus said she expects to see more lower-level talks between the U.S. State Department desks and counterparts on Arctic issues.
Minding the GIUK Gap
Troy Bouffard, director of the Center for Arctic Security and Resilience at the University of Alaska Fairbanks, echoed the assessement by Pincus that part of the importance of Blinken's recent calls to the various foreign ministers involves the renewed commitments to revitalize the Transatlantic Alliance.
"This, as a strategic focus and priority, helps to solve other critical issues and serves as an effective vehicle to pursue related U.S.-European partnership goals," Bouffard said.
"The connection to the Arctic includes the North Atlantic and above, where Transatlantic security benefits from an institutional approach to managing issues and Euro-Atlantic interests, versus the Eurasian interests that Putin has been developing and offering for many years as a solution toward a superior civilization over the so-called decadent West."
In addition, the re-emergence of the Cold War anxiety over the control of the so-called GIUK Gap, a strategic maritime gateway stretching from Greenland, Iceland, to the U.K., has forced U.S. policy makers to bring back the U.S. Navy 2nd Fleet into service as well as establish the 3rd NATO Joint Forces Command (JFC-NF), co-located in Norfolk, Virginia, he said.
"Bolstering the Transatlantic Alliance will provide the most stable and effective means from which to pursue Western Arctic interests on the Atlantic side," Bouffard said.
Related stories from around the North:
Arctic: NATO's Arctic dilemma: Two visions of the Arctic collide as NATO and Russia flex muscles, Eye on the Arctic
Canada: Experts warn of potentially 'deadly' great power games in the Arctic, Radio Canada International
China: China, Russia singled out in new U.S. Arctic defense strategy, Eye on the Arctic
Denmark: Pompeo to talk Arctic at upcoming meeting with Danish Foreign Minister, Eye on the Arctic
Iceland: Nordics should aim for common approach to China's Arctic involvement says report, Eye on the Arctic
Norway: Increase in NATO scrambled jets from Norway, The Independent Barents Observer
Russia: Russian navy conducts major manoeuvres near Alaska, The Associated Press
Sweden: Sweden's FM calls for more EU involvement in Arctic as country hosts EU Arctic Forum, Radio Sweden
United States: U.S. Coast Guard to send icebreaker through Northwest Passage with Canada's consent, Eye on the Arctic