Government in Arctic Canadian territory of Nunavut working to bring Pfizer vaccine to territory for teens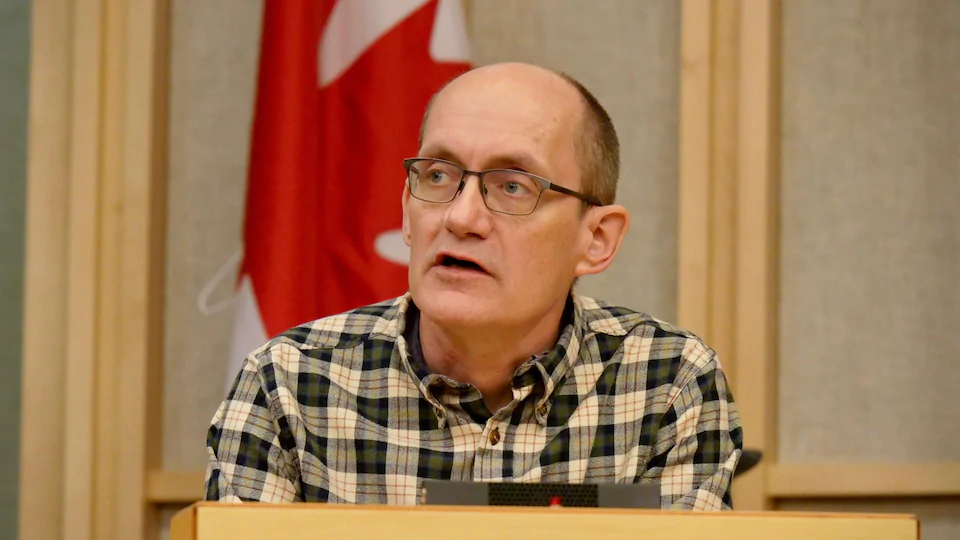 Chief public health officer confirms outdoor transmission of COVID-19 in Iqaluit
The Nunavut government is working to get the Pfizer vaccine to Nunavut, Chief Public Health Officer Dr. Michael Patterson said at a news conference on Wednesday.
There is no timeline yet for when that will happen, but when it does it will be offered to youth aged 12 and up. Nunavut is considering a similar arrangement to the Northwest Territories, which swapped some of its Moderna vaccine doses for Pfizer with British Columbia.
The Pfizer vaccine will be administered in communities experiencing an outbreak or at higher risk of spread, which Patterson said means Iqaluit will likely be the first community to get access to it.
Patterson said both the Moderna and Pfizer vaccines are safe for pregnant women. He referenced studies in the Lancet and the New England Medical Journal that found the vaccine safe.
More than 90,000 women have received the vaccine during pregnancy, with no ill effects, Patterson said.
Despite the outbreak, women from across the Qikiqtaaluk region are still being flown to the city to give birth.
Over the last couple of months there have been changes to how Pfizer can be stored and shipped, which Patterson says might make it easier to get it to some communities.
It can stay in a thermal shipping container, which requires dry ice, for up to 30 days and can stay at –20 C for up to two weeks. Once it's thawed, it's only good for five days.
Communities where it remains difficult to manage Pfizer vaccine may have to wait until the Moderna shot is approved for children, Patterson said.
Health officials say people who get vaccinated are much less likely to get infected, and if they do get infected they don't get as sick. There is also increasing evidence that vaccinated people don't spread the virus as much as those who aren't vaccinated.
Patterson said how much the vaccine helps is still being measured, but there's preliminary research that says it cuts the spread by at least half in a house where one person is infected.
Public health confirms outdoor virus transmission
There are 69 cases in the territory — all in Iqaluit. Eight new cases were reported Wednesday along with 14 recoveries.
"We continue to see spread of the virus in Iqaluit including some from outdoor contact. If you are getting with others from outside your household, please wear a mask and do it outdoors," Patterson said.
Outdoor transmission has occurred during work breaks, when people go outside to have cigarettes, Patterson said. Another case appears to have happened with two children who were playing outside.
Patterson said people who attended parties in the last few weeks and can't get through to book a test on the COVID-19 hotline, can go to the Cadet Hall in Iqaluit any weekday afternoon between 2 and 5 p.m. People who show up and haven't been to a party will be turned away, a spokesperson for the Department of Health said.
Of Iqaluit's positive COVID-19 cases, 23 per cent are under 18 years old and the oldest person to have the virus is in their 70s.
The cases are being identified in a variety of ways, Patterson said. Surveillance testing accounts for about 10 per cent of cases identified, 67 per cent are identified through contact tracing, and the rest are people with symptoms showing up at the hospital or calling for testing.
It's not known how a few cases from early in the outbreak were identified because the territory does not have that information.
39 complaints to RCMP of breached public health orders
Government officials from the Department of Executive and Intergovernmental Affairs met last week with Iqaluit's bylaw officers, sheriffs from the Nunavut Court of Justice, and the RCMP to figure out how to manage public health order enforcement.
Premier Joe Savikataaq said the main goal of enforcement is to educate the public with warnings and then tickets.
He said anyone who sees a violation should still call the RCMP, who will decide which agency will respond to a call and what should be done.
So far, 39 complaints have been acted on by law enforcement, Savikataaq said:
16 calls were related to indoor gatherings
Five calls have been about outdoor gatherings
4 calls were for people breaching isolation
2 calls have been about masks
10 calls were deemed not applicable by the Nunavut government
2 calls were about unknown issues
No tickets have been issued as a result of these calls, Savikataaq said.
When asked about the possibility of introducing a curfew, Patterson said he didn't think he had the ability to do that under the government-enacted public health emergency.
Under current public health orders, people aren't allowed to have parties. Patterson said a curfew would just be an additional rule people might not listen to.
For calls about those breaching isolating, Patterson said it's more useful for the government to know why someone left isolation, and what they might have needed.
In one case, the government has created special public health orders for a person in isolation.
Related stories from around the North: 
Canada: 1st court date for southern couple accused of sneaking into northern Canadian community for vaccines, CBC News
Finland: Mysterious coronavirus variant in Arctic Finland is rare US-Mexican strain, Yle News
Denmark/Greenland: Greenland authorities buoyed by high demand for COVID-19 vaccine, Eye on the Arctic
Iceland: Iceland's revised COVID-19 border criteria seems to be working, some domestic restrictions relaxed, Eye on the Arctic
Norway: Norway extends border closure with Finland due to pandemic, The Independent Barents Observer
Russia: Norway closes borders over fears of virus, but exempts Russian fishermen from severely infected border region, The Independent Barents Observer
Sweden:  At least 16,000 in Sweden have long COVID, Radio Sweden
United States: Alaska politicians send Trudeau letter saying they're "shocked" over Canada's COVID-19 cruise ship ban, Eye on the Arctic