Canada's Arctic territory of Nunavut requests enough Pfizer-BioNTech vaccine for all teens in region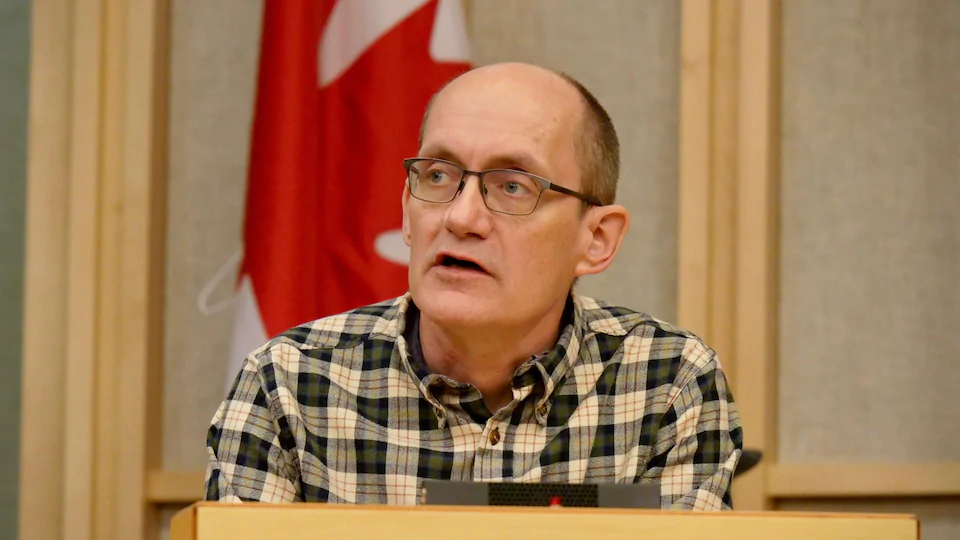 The territory has about 4,300 teenagers
The Nunavut government has requested enough of the Pfizer-Biotech vaccine for all teenagers in the territory, Chief Public Health Officer Dr. Michael Patterson said at a news conference on Monday.
The request went to the federal government and Patterson said he expects to hear back from the central office coordinating the shipping of vaccine later this week.
With around 4,300 teenagers in the territory, each needing two doses, it means Nunavut will need about 8,600 doses.
Sixty-four per cent of Nunavut's population is over the age of 18. With the addition of teens to the population eligible to be vaccinated, about 75 per cent of the territory can get the jab.
Nunavut has a young population compared to the rest of the country, meaning less of its population is eligible to be vaccinated making mass protection harder to reach.
Vaccinating teens will help the territory's vaccination statistics, but Patterson cautioned there isn't a specific number that people should be waiting for to feel safe.
"Herd immunity isn't a switch, where you reach a magic number and the light goes on … and everybody's protected. We know that as more and more people get the vaccines, there's going to be less and less spread of the infection," he said.
However, vaccination rates are already changing how the virus spreads when compared to the territory's fall outbreaks, he added.
For example, in one day in Arviat there were 20 people diagnosed with COVID-19, which is about one per cent of that community's population, Patterson said. For equivalency one per cent of Iqaluit's population would be 80 people and the city has not seen new case numbers anywhere in that realm.
Patterson said the scientific community is still trying to quantify the effect of the vaccine in quashing transmission. As that research progresses, Patterson said it will inform Nunavut's decisions.
When it comes to how teens will be vaccinated, Patterson said it will be up to health-care workers to decide if teens can give informed consent for the vaccine without their parents present.
That decision will be based on the circumstances of the teenager and whether they can demonstrate that they understand the pros and cons.
There will eventually be vaccines available to those 11 and under, Patterson said as both the Pfizer and Moderna companies are studying if the vaccine will work for children.
Recoveries outpace new cases
While recoveries outpaced new cases this weekend in the capital, Patterson said restrictions will continue in order to flatten the curve and end the outbreak in the city.
In the past, Patterson said he's seen a trend of cases trending down as the week ends, and swelling of cases mid-week after weekend activities cause transmission of the virus.
On Monday, Nunavut reported no new COVID-19 cases and three recoveries, all in Iqaluit. There are 65 active cases in the territory, as of Monday, with 64 of those cases in Iqaluit and one in Kinngait.
The case in Kinngait, announced Saturday, was a result of household transmission from the original cases in the community.
After somebody recovers from COVID-19, Patterson said there's a 14-day incubation where people they live with or were in close contact with could develop COVID-19. So as the isolation period is ending, Patterson said individuals are swabbed, which is how this case was discovered.
All the cases in Kinngait have been in the same household. Because of this Patterson said the risk of the virus spreading in the community at large is low, so restrictions in the community will remain the same.
Monday case counts:
There have been four hospitalizations associated with the outbreak, three of whom are still in the hospital, one has been discharged.
Three active cases remain in correctional facilities in the territory.
There are nine or 10 cases that can't be linked to other cases in the city at the moment. Unlinked cases are considered incidents of community transmission.
About 100 people in Iqaluit are being tested per day.
No plans to return Nunavummiut mine staff to work
While the Nunavut government remains in contact with the mines, there are no plans yet to send Nunavummiut mine staff back to work any time soon.
Efforts are being made to vaccinate miners, not just Nunavummiut, but staff at the sites and enacting protocols to minimize the chance of an outbreak and further spread to communities.
All positive results are still being sent South for gene sequencing to determine the variant of COVID-19, so far all results have been for the B117 variant.
Patterson said Nunavut is working on a reopening plan similar to what other jurisdictions are doing as vaccination rates rise, but a lot of the effort right now is focused on managing the Iqaluit outbreak.
For now he says outdoor gatherings between households or close friends in groups of five or under, if everyone is wearing masks has a low risk.
When the outbreak began, a higher than average percentage of people were symptomatic, which Patterson said meant public health was behind the outbreak. Over the last week or two, he said there's been a shift, where more people are asymptomatic.
"That's a good sign, that means we're more likely to identify them before there's been a lot of transmission," Patterson said
At Friday's COVID-19 news conference, officials scolded Iqaluit residents who were not following public health rules, as unsafe gatherings, like parties and playing outside without masks, continued to spread COVID-19 last week, Patterson said.
"If people want to go to your house for a party, tell them to go away, come back in a couple weeks, stay away from going to parties yourselves," Kusugak said.  "This is pretty simple stuff, it has to stop."
Related stories from around the North: 
Canada: 1st court date for southern couple accused of sneaking into northern Canadian community for vaccines, CBC News
Finland: Mysterious coronavirus variant in Arctic Finland is rare US-Mexican strain, Yle News
Denmark/Greenland: Greenland authorities buoyed by high demand for COVID-19 vaccine, Eye on the Arctic
Iceland: Iceland's revised COVID-19 border criteria seems to be working, some domestic restrictions relaxed, Eye on the Arctic
Norway: Norway extends border closure with Finland due to pandemic, The Independent Barents Observer
Russia: Norway closes borders over fears of virus, but exempts Russian fishermen from severely infected border region, The Independent Barents Observer
Sweden:  At least 16,000 in Sweden have long COVID, Radio Sweden
United States: Alaska politicians send Trudeau letter saying they're "shocked" over Canada's COVID-19 cruise ship ban, Eye on the Arctic