Nunavik health board cancels non-critical health trips to South, active COVID cases rise to 20, third community put on red alert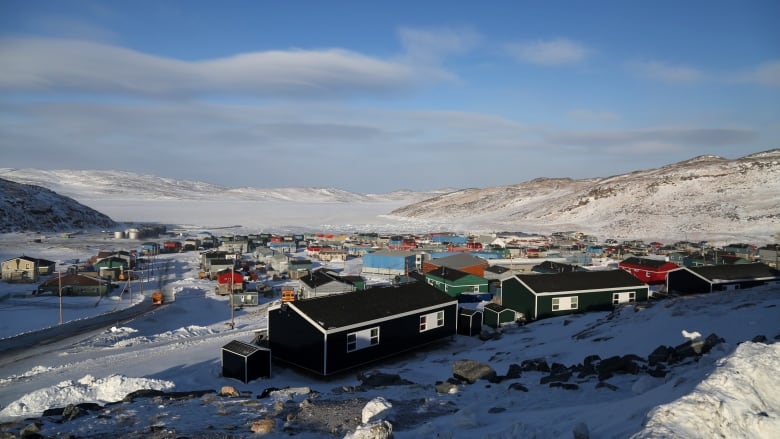 The regional health board for Nunavik, Quebec has temporarily cancelled all non-essential medical trips to Montreal as case numbers in the region rise to 20 and a third community has been put on red alert.
The cancellations include stays at Ullivik ,the residence in the Montreal suburb of Dorval used for Nunavik residents in the region to access health services.
"Non-critical appointments in the South and scheduled trips to Ullivik have been canceled until further notice," the Nunavik Regional Board of Health and Social Services (NRBHSS) said in a Facebook post Tuesday afternoon.
"This is a preventive measure to limit contact, reduce traffic in the establishment and protect everyone."
Nunavik is the Inuit region of Arctic Quebec and is made up of 14 fly-in only communities.
Two villages have small hospitals with the rest served by nursing stations. With the limited health infrastructure in the region, many Nunavik residents have to travel to Montreal to access more extensive health services.  
Nunavik Case Counts as of noon October 20
As of Wednesday at noon, the most recent community case counts in Nunavik were:
Ivujivik – 11 active cases
Inukjuak – 2 active cases that are not linked
Kangirsuk – 6 active cases
Salluit – 1 active case
There are also seven active cases outside of Nunavik:
4 are linked to airports within the region
3 are at Ullivik, the Dorval residence used for Nunavik residents in Montreal for health services
The NRBHSS says several people are still under observation in Ivujivik, Inukjuak, Kangirsuk and Salluit and updated numbers are expected soon.
-Source: Nunavik Regional Board of Health and Social Services
Local nursing stations will contact residents in the coming days to reschedule appointments.
The NRBHSS is asking residents in the communities not to contact local nursing stations themselves, saying health care staff are already "extremely solicited" rescheduling appointments, coping with the uptick of COVID-19 in the region and maintaining current services. 
Salluit on lock down
A third Nunavik community was put on red alert Wednesday after an active COVID-19 case was reported in Salluit, a village of approximately 1,400 located near the Hudson Strait in Arctic Quebec.
The case is not travel related, prompting the entire community to be put on lock down which includes canceling flights in and out of the airport, shutting down all non-essential services, and prohibiting visits between people living in different households.
Health authorities are also asking residents to keep visits to the store and local clinic to the bare minimum.
"The investigation is ongoing to find out how the person got the infection and to identify contacts, screen them and ask them to isolate," the NRBHSS said in a Facebook post Wednesday morning.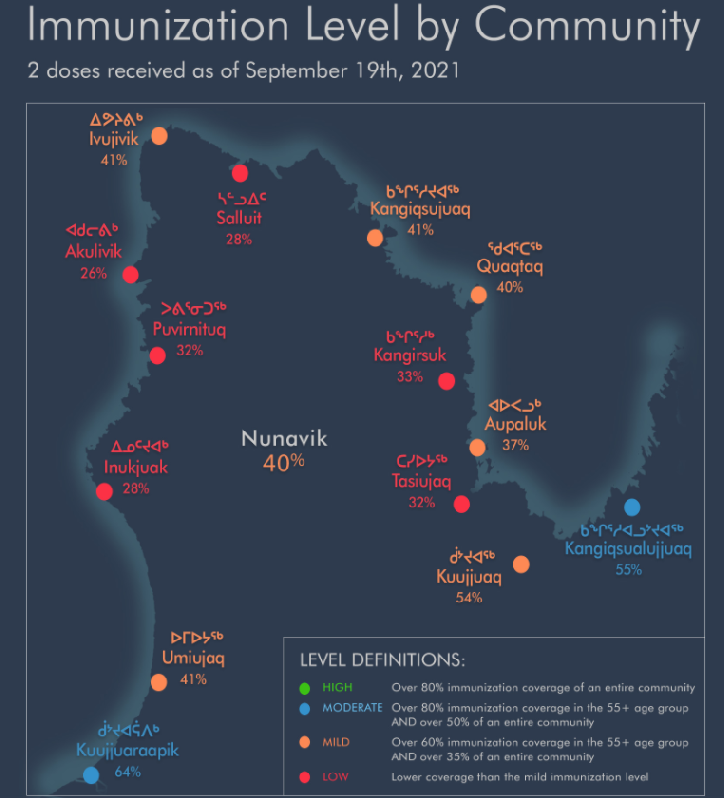 Region-wide, only 40 per cent of Nunavik's total population of approximately 13,000 was fully vaccinated as of September 19th, according to the most recent data released September 29.
Fifty-two percent of the eligible population has received two doses. The health board's goal is 75 per cent. 
In Salluit, only 28 per cent of the total population had received two doses of COVID-19 vaccine as of September 19. Thirty-eight per cent of the eligible population 12 years old and older was fully vaccinated.
The other two Nunavik communities on lock down are Ivujivik and Kangirsuk.
Masks are currently mandatory for everyone throughout Nunavik at indoor public places.
Write to Eilís Quinn at eilis.quinn(at)cbc.ca 
Related stories from around the North:
Canada: Ottawa sending more help to deal with COVID-19 surge in the Northwest Territories, The Canadian Press
Greenland: Greenland lifts COVID-19 restrictions on direct travel to small communities, Eye on the Arctic
Iceland: Iceland to soften COVID-19 rules on Oct. 20, plans full lifting of restrictions next month, Eye on the Arctic
United States: Rural Alaska at risk as COVID-19 surge swamps faraway hospitals, The Associated Press
Antarctica: U.K. delivers COVID-19 vaccine to British station in Antarctica, Eye on the Arctic