"If we lose the Arctic, we lose the globe," says Finnish president at UN Climate Summit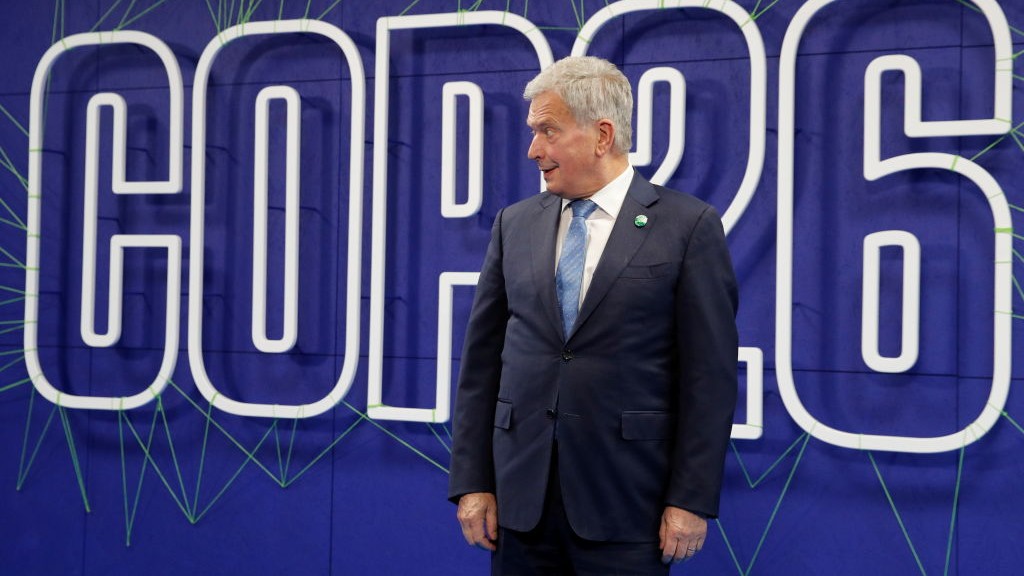 World leaders and policymakers are meeting in the Scottish city of Glasgow to expedite climate commitments.
In an address on Tuesday at the United Nations Climate Change Conference (COP26) in Glasgow, Scotland, Finnish President Sauli Niinistö said that after more than 40 years of discussing climate change, the world needs to act now.
"We have reached a point where we need to move beyond goals and pledges. Change may seem inconceivable but only until we act. Combating climate change is one of our weightiest human responsibilities," he said, adding that the effort will cost money.
"Ensuring adequate climate finance is crucial. Finland is doing its part by almost doubling its climate finance to developing countries. By co-chairing the Coalition of Finance Ministers for Climate Action, we also encourage the integration of climate action into national budgeting. Many truly impactful measures lie in this domain," he said.
"As an arctic country, Finland is particularly concerned about the fast-warming Arctic region. Everyone else should be concerned too: if we lose the Arctic, we lose the globe. In the Arctic, reducing black carbon and methane emissions is essential," Niinistö said.
A transcript of this speech can be found here.
Forestry's role
In an earlier address on Tuesday Niinistö spoke about the important role that forestry plays in efforts to tackle the crises of climate change and biodiversity loss.
He also spoke at the at the world leaders summit about the vital role forests play in Finland's economic and social development.
"For Finland, this topic is particularly close to heart. Seventy five percent of our area is covered with forests. In many ways, forests are our lifeline. They have been fundamental to our economic and social development – and are perhaps one of the reasons Finland is the happiest country in the world. Moreover, forests play a big role in achieving our target of climate neutrality by 2035," Niinistö said.
"Finland's forest resources are continuously growing. The annual increment of forests has more than doubled since the 1950s. Every year, 150 million trees are planted in Finland. During a decade, that means more than a billion. In the EU, the aim is to double the amount of trees grown annually from 300 million to 600 million," he said, adding that Finland has shown that sustainable forestry can also be profitable while increasing their positive climate impact.
Niinistö noted that Finland is currently running a 96 million euro programme which aims to "investigate and pilot climate mitigation and adaptation measures in the land-use sector."
During the summit on Tuesday, more than 100 leaders from around the world vowed to stop and reverse deforestation and land degradation by the end of this decade, according to Reuters. The leaders backed the pledge with more than 16.3 billion euros in funding from private and public sources for the investment in protecting the world's forests.
Leaders also pledged to slash emissions of the greenhouse gas methane, in order to slow climate change.
A transcript of this speech can be found here.
Related stories from around the North: 
Canada: Continued sea ice loss could alter food web for some Arctic marine predators, says Canadian study, Eye on the Arctic
Finland: Climate change worries Finland's young reindeer herders, Yle News
Greenland: Greenland to join Paris climate agreement, Eye on the Arctic