In Russia's North, locals are starting to feel the new war economy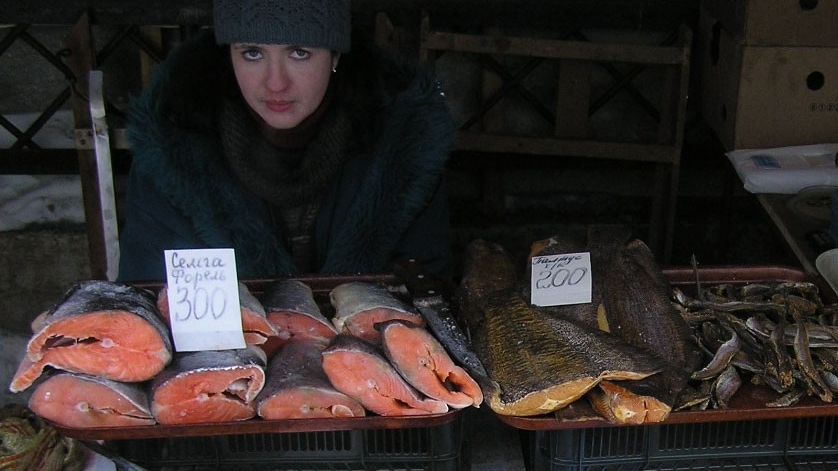 Five weeks after the onslaught against Ukraine, dire consequences of war are increasingly being felt by ordinary Russians. Inflation is growing, the ruble plummets, western brands are leaving the country, and it is increasingly hard to obtain certain goods.
And prices are rising rapidly.
In the north Russian region of Murmansk, locals have seen the price level on several key commodities increase by more than 30 percent in only few weeks.
On the VKontakt page of regional governor Andrei Chibis, people express frustration over what they see as reluctance of regional authorities to handle the situation.
"Andrei Vladimirovich [Chibis], prices, prices!!!! Why do prices increase every day? When will you start controlling them? Or will you again send a complaint to the President? Cabbage is now 100 [rubles], potatoes – more than 60, sugar – 81 and all vegetables have become more expensive!!!!!" a woman writes to the governor.
According to the participants in regional online debate fora, prices are rapidly increasing also on goods. A woman complains that fuel for her snowmobile has almost doubled in price. "How come such a price?" she wonders.
There is also a growing concern over the price hike on drugs and pharmacy goods.
"In the drugstores products have increased by an average of 30 percent," a local man says. "And housing equipment has jumped from 50 to 100 percent," another man adds.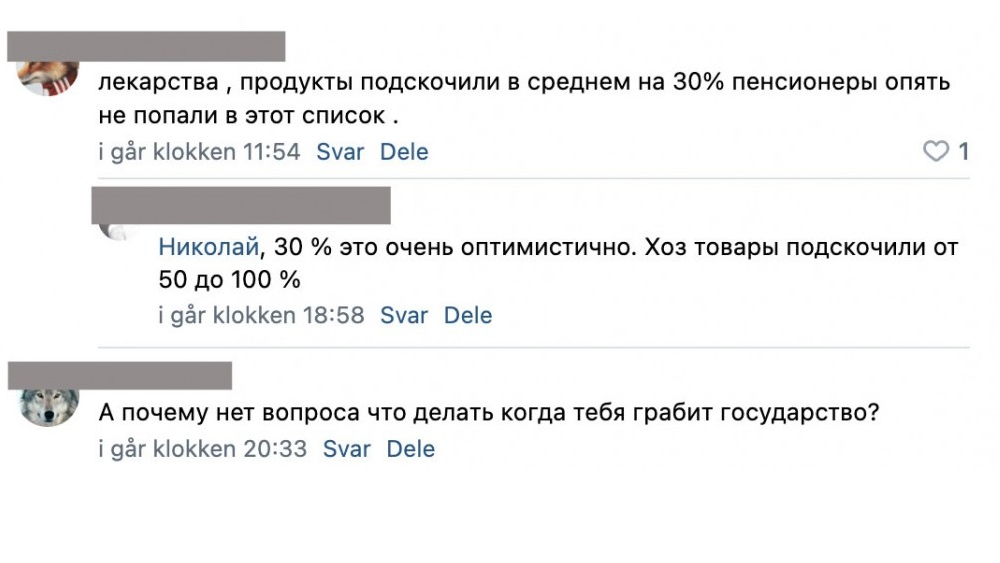 Governor Chibis has repeatedly assured that he is closely monitoring the price levels. But locals now increasingly question his ability to act.
Figures presented by Russian media show that the price on key foodstuff like fruits and vegetables has surged. In less than a week the price on sugar increased by 31,5 percent, tomatoes, 8,4 percent, and onions, 7 percent, a newspaper from the Republic of Komi reported in the middle of March.
A survey undertaken by newspaper Novaya Gazeta shortly before it closed down, shows that kitchen equipment like stoves and refrigerators in general since the start of the war had doubled in price.
The supply situation could soon deteriorate and the northern regions with the longest logistical chains are likely to be the ones hit the hardest.
The regions are already grappling with the situation. In the far northern region of Nenets Autonomous Okrug, the regional government this week proudly announced that it had obtained 40 tons of sugar.
Head of the regional government Yuri Bezdudy admits that more goods could soon be in deficiency. Among them salt and flour.
"There might be turmoil not only with sugar, but also salt and flour [and] if demands increase then it will be vital to cooperate with the producer regions of those products and bring them to the shop shelves of our region," Bezdudy says in a comment.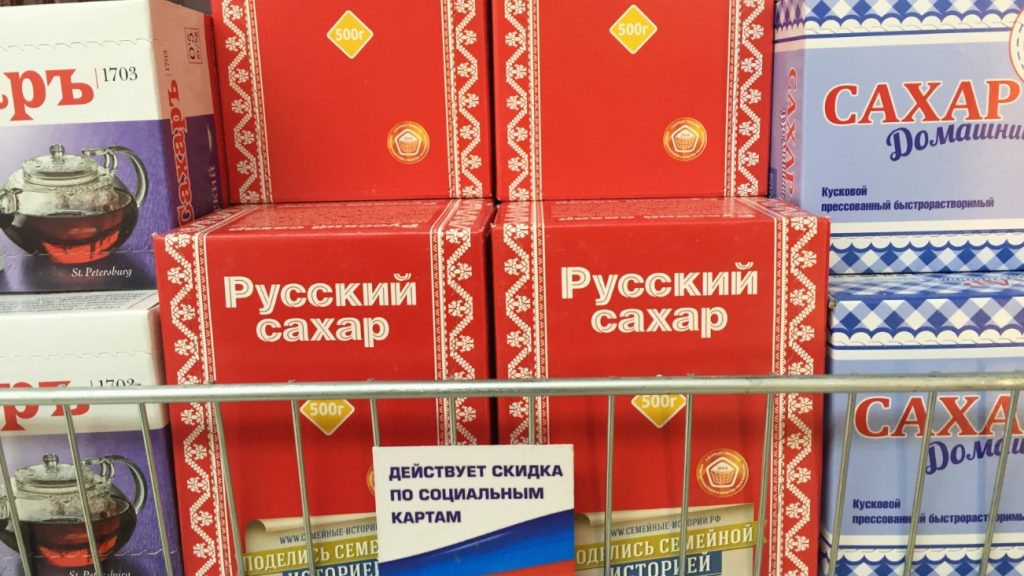 The price hike is straining the private economy of the population and millions more in Russia could soon be cast into poverty. From before, millions of Russians live below the official poverty limit.
Figures from the Russian Statistical Service show that the median monthly income in Russia in 2020 amounted to 28,036 rubles, while pensioners made an average of only about 15,000 per month (2019).
There are about 46 million pensioners in Russia, and many of them make less than the official minimum wage of 10,000 rubles.
Russian authorities are putting up a brave face, arguing that the western sanctions will be smoothly overcome by so-called import-replacement (importzameshchanie).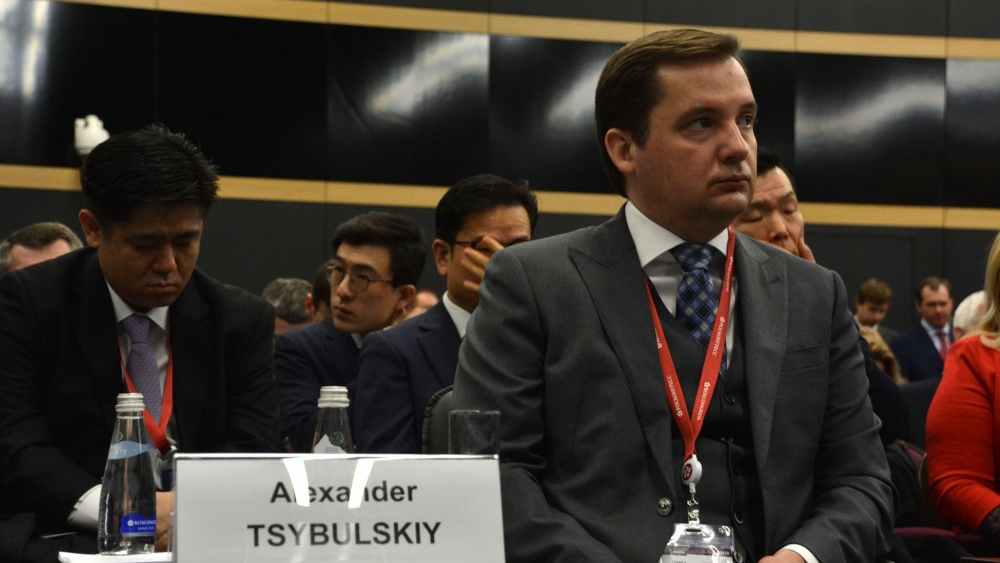 Governor of Arkhangelsk Aleksandr Tsybulsky this week confidently underlined that his regional industry will easily overcome the sanctions. In a post on his Telegram channel he argues that the West, and not Russia, has most to lose.
"Our response to the futile attempts to crush Russia is more powerful: the situation will lead to a collapse in the economies of countries hostile to Russia, and not our's," he underlines.
Tsybulsky leads a region that depends heavily on shipbuilding and ship repair. Although operating primarily for the Armed Forces, the regional shipyards rely on foreign technology and equipment that they now might not obtain.
"Now has come the time to boost efforts, and we are seriously prepared," Tsybulsky underlines. However, the north Russian region like the rest of Russia will soon feel the full effects of the war economy.
It will not be sweet like sugar.
Related stories from around the North:
Canada: An orange's journey from the orchard to the Arctic highlights food insecurity in the North, CBC News
Finland: Finland's regional inequality laid bare in new report, with rural North amongst lowest scoring areas, Yle News
United States: New farm bill program aims to fight food insecurity in Alaska, Eric McKinstry, Alaska Public Media