Yukon MP, public safety minister, get an earful at roundtable discussion on Bill C-21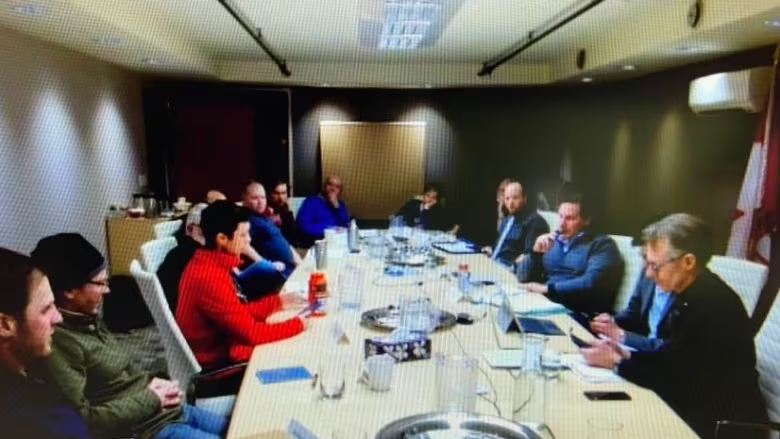 Yukon trappers, sport shooters, and gun collectors spoke against the bill Thursday
Liberal MP Brendan Hanley hosted a roundtable with Yukoners on Thursday evening to discuss Bill C-21 and proposed amendments that could see long guns, such as rifles and shotguns, banned in Canada.
The roundtable was the first of two Hanley promised to hold after an outcry from people unhappy that the bill originally intended to ban handguns has been modified to include some long guns.
Canada's minister of public safety Marco Mendicino was in Whitehorse to attend the meeting in person. Fifteen Yukoners were also invited to attend in person while many more watched via Zoom.
One thing was made very clear by each of the people who were there to share their thoughts: none of them agree with the proposed amendments.
In attendance were trappers, hunters, sport shooters, and gun collectors.
First to speak was long time Yukon resident Bill Klassen.
"I came to Yukon in 1966 as a very young constable in the RCMP," Klassen said. "I worked as a game guardian and a wildlife technician … and in those three roles I carried a sidearm."
Klassen went on to share his long history using and collecting firearms. He said that some of the guns in his collection would be banned if the proposed amendments are passed — something he was not happy about.
"I intend no offence, Minister Mendicino, but I can't agree with your description of the laws," he said. "I've obeyed the law. I've enforced the laws as a former deputy minister at the Yukon Government. And I recognize a bad law when I see it.
"And so I'm saying that I will purposely indulge in civil disobedience. I will not surrender my Parker shotgun, my Weatherby rifle or my Ruger."
'Firearms are a way of life'
Indigenous hunter Lewis Wilson had his own reasons for taking issue with the proposed amendments.
"Personally, firearms are a way of life," he said. "I live 110 miles from the nearest city. There's only one way to get there, either a plane or helicopter. I live out there with my partner."
Wilson told Mendicino about an incident in 2018 involving a grizzly bear that killed a mother and her infant child at their trapping cabin.
"We take it very seriously," Wilson said. "When the conservation officer isn't there. When the RCMP officer isn't there to help. My partner is 102 pounds. She has a 45-70 bolt action rifle. A semi-automatic rifle is the only rifle that's she's able to shoot that is strong enough [for her] to defend herself."
Former conservation officer and firearms instructor Tony Grabowski also weighed in.
He said gun owners whose weapons end up banned under the new firearms bill could be eligible for compensation.
He also said that the money used to "expropriate and compensate firearms owners" could be put to better use.
"If that money was spent to deal with mental health issues, counselling services, funding to do with addiction issues … improving social programming initiatives to address criminal behaviour, and increased staffing for law enforcement agencies, you would over time see real enhancement of public safety."
Mendicino took the time to address the concerns raised by those who were sitting around the table. He noted that there is still much work that needs to be done and is keen on keeping the discussion going.
Hanley ended the two-hour meeting by telling everyone that all of the questions and comments would be reviewed and thanking those who provided feedback.
The second roundtable with a Yukon focus has yet to be scheduled.
Related stories from around the North: 
Canada: 'This type of a ban will affect the hunters': Yukon leaders say of federal gun bill, CBC News