Nunavut projects operating deficit for the 2023-2024 fiscal year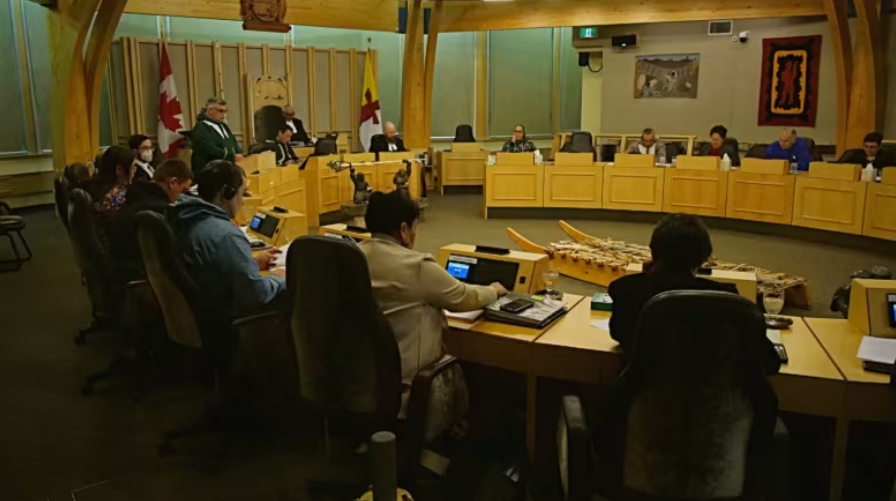 Nunavut's finance minister tabled the territory's budget for the 2023-2024 fiscal year on Thursday, pledging it will ensure a bright future for Nunavummiut despite a projected operating deficit and challenges posed by carbon pricing changes.
"With this new budget, we continue toward the ambitious goals we set out to realize in partnership with others over the next few years," Lorne Kusugak said in a budget address.
The latest budget proposes nearly $2.8 billion in operations spending, down more than five per cent compared to last year, which the territorial government says is primarily due to lower COVID-19-related spending. The territory has budgeted an additional $50 million to cover any unanticipated costs and manage increasing construction costs.
Spending highlights include a $23.5 million increase in operations funding for the Department of Health and $2.2 million to implement a virtual nurse practitioner program and online clinics.
The Nunavut government has also budgeted $7 million to increase income assistance to provide relief against inflation, $6.2 million for local housing authorities to operate and maintain new public housing, $5 million for mental health supports, $17.4 million to continue development of its new enterprise resource planning system and $3.6 million to operate it.
The territorial government approved a $338 million capital budget in October, which Kusugak said was the largest ever for Nunavut, with roughly a third of funding allocated to the Nunavut Housing Corporation.
Budget proposes $8.2M operational deficit
The Nunavut government expects to generate seven per cent lower revenues in 2023-2024 compared to last year, at roughly $2.84 billion, due to the "extraordinary nature" of one-time federal funding for COVID-19 relief. It says this will place Nunavut in a "modest" operational deficit of $8.2 million, if the $50 million for unanticipated costs is fully spent.
"There is a cost to all of the progress we are making, even if the benefits are worth it," Kusugak said.
Taxes, meanwhile, are projected to increase 3.8 per cent, with increases to fuel and property taxes.
Kusugak noted the territory must cancel its direct subsidy on fuel due to the federal government's new carbon pricing rules. Many Nunavummiut are reliant on diesel for electricity, heating and transportation.
"Despite our government's best efforts to shield Nunavummiut from higher prices at the pump, these new federal rules no longer allow us to offer them a direct discount," he said.
As a solution, the budget proposes $12 million to introduce a new refundable tax credit, which would use carbon tax money to provide Nunavummiut with a cash payment every three months to help offset higher fuel costs. Kusugak said the territorial government also plans to offer a one-time homeowner fuel subsidy this spring, up to a maximum of $1,000.
The 2022-2023 budget projected the territory would end the fiscal year with a $40 million operating surplus. Kusugak said on Monday that due to higher than forecasted revenues, the territory was now expected to have an operating surplus closer to $75 million.
As of Oct. 31, 2022, the territory's total debt was $398 million, below the federally imposed borrowing limit of $750 million.
Emily Blake
Related stories from around the North:
Canada: Canada needs new approach to meet Arctic challenges, conference hears, Eye on the Arctic
Iceland: Climate, integration & Arctic among priorities in Iceland's Nordic Council of Ministers program, Eye on the Arctic
Norway: Last Norwegian businessmen in Murmansk mum on customers, The Independent Barents Observer
Russia: Russian oil company makes it through Arctic ice to Cape Tanalau, The Independent Barents Observer
Sweden: Sweden, Norway and Finland cooperating to attract workers to the Far North, Radio Sweden
United States: A year after Russia invaded Ukraine, a walrus discovery is caught up in geopolitics, Alaska Public News