Massive spill at N.W.T. diamond mine went unreported for 1 month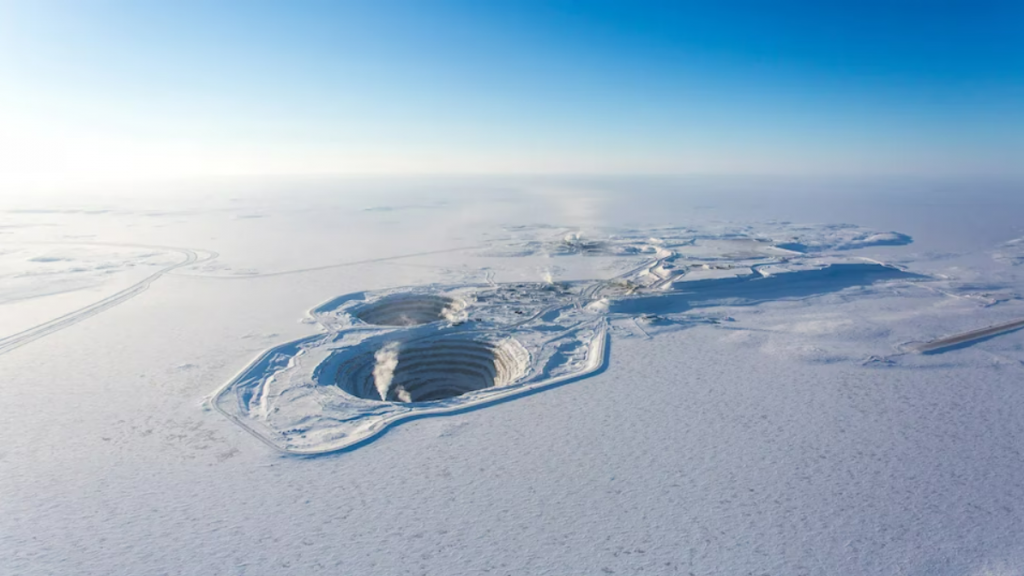 A broken pipeline that spilled a massive amount of groundwater at an N.W.T. mine can't be fixed until extreme weather dies down. But according to a company spokesperson, that's no cause for alarm because flow through that pipeline has been diverted to another. 
In an emailed statement Tuesday morning, the N.W.T.'s Department of Lands said a 450,000 cubic metre spill at Diavik diamond mine on Feb. 7 wasn't reported to them — or the mine's own environmental team — until a month after it started.
The spill would fill 180 Olympic sized swimming pools.
Simon Letendre, director of media relations for Rio Tinto, which owns Diavik diamond mine, said in an email to CBC News the pipeline won't be fixed until weather conditions make it possible to access the site safely. But he said, the flow has been diverted to another line and even while it was running through the broken pipe — it was ending up at the containment area it was supposed to reach.
Letendre said Diavik was designed so that if lines fail there are routes for leaks to travel away from Lac de Gras and into containment facilities. He said the leak was fully contained and at no stage was any of the water released into the nearby Lac de Gras or the environment.
The broken pipeline carried groundwater mixed with a small quantity of water used for dust suppression and drilling, and did not contain tailings or sewage. In an email to CBC News, Ashley Makohoniuk, a communications manager for the Department of Lands, described it as "seep water" that enters the ground from Lac de Gras, and which is regularly pumped out of the underground to ensure safe working conditions at the mine.
Spill not immediately reported
Makohoniuk said the territory found out about the spill on March 14 — more than a month after it had started.
In its statement, the Department of Lands explained why the spill may not have been reported immediately.
"The operators of the pipeline believed the spill was not categorized as reportable as the mine-impacted water was leaking into the North Inlet Containment Pond area," it said.
Inspectors went to the site 300 kilometres northeast of Yellowknife on March 15, said Makohoniuk, and confirmed the entire spill was within an established containment pond at the mine site and that none of the water was released into the environment.
The Department of Lands initially said Diavik's own environmental team was made aware of the spill on March 16. It later clarified that the environmental team found out about it on March 14. A report was submitted to the territory's spill database on March 16.
A more fulsome report from the territory's inspection has not yet been uploaded to the Mackenzie Valley Land and Water Board's public registry. Makohoniuk said it usually takes 10 days for an inspection report to be completed and posted there.
CBC News requested an interview with an inspector who went to Diavik following the spill, but Makohoniuk said the department would not give interviews until the final report was finished.
She said the territory issued its public service announcement before the report was finished to be proactive in its communication to the public.
This comes weeks after the N.W.T. found out that a tailings pond near Fort McMurray, Alta., had been leaking for months. There were fears that toxins might have reached the river system that ultimately feeds Great Slave Lake, but it wasn't reported to the N.W.T. — sparking outrage.
There was an inspection at one of Diavik's pits after the spill happened. According to a report filed March 2, an inspector visited the mine's A418 pit on Feb. 21 and said they found no major concerns.
Related stories from around the North: 
Canada: Climate change could fuel increase in mosquito-borne viruses in Canada's Northwest Territories, say officials, CBC News