Federal budget makes little specific mention of the North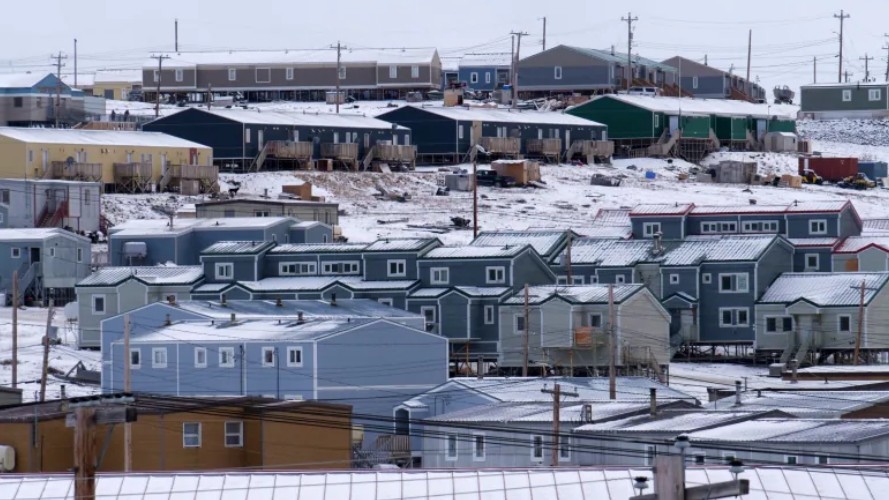 The federal government's latest budget contained little that's new or specific for the North, despite an ongoing housing crunch in the territories, some major infrastructure projects looking for investment, and a warming climate.
Finance Minister Chrystia Freeland tabled the 2023 federal budget on Tuesday in Ottawa. The budget is being pitched as a focused plan to address inflation and to position the economy for the future through multi-billion-dollar tax credits to stimulate the clean energy sector.
The relatively brief 250-page document includes no major new funding for housing, even as the population grows and many Northern communities grapple with a generational housing crisis. Both Nunavut and Yukon saw population growth in 2022, and Yukon has been seeing some of the most rapid growth in the country in recent years.
Here are some of the budget investments specific to the North:
$19.4 million over five years to increase participation of Indigenous peoples and other Northerners in environmental and regulatory assessments of major projects.
$1.6 million over two years to increase federal participation in environmental assessments in the territories.
$16.2 million over three years to reduce rates of tuberculosis in Inuit communities.
$350 million over 10 years for the Territorial Health Investment Fund, based on an agreement

 

reached with the premiers earlier this year.
$7 million over five years for Crown-Indigenous Relations and Northern Affairs Canada to begin five-year climate and marine science-based assessments in Canada's Arctic waters.
Other initiatives not specific to the North include:
$4 billion over seven years, starting in 2024-25, to implement an urban, rural Indigenous housing strategy.
$40 million over five years to develop the NATO Climate Change and Security Centre of Excellence in Montreal.
$158 million over three years to implement a national 988 suicide prevention and crisis support hotline, starting in November.
A promise to work with territories and provinces to reduce "junk fees" such as excessive baggage fees, and "unjustified shipping and freight charges."
Clean electricity measures "to support projects across the North that support the transition away from diesel," such as the Atlin Hydro Expansion Project, the Taltson Hydro Expansion Project and the Kivalliq Hydro-Fibre Project — though no funds are specifically earmarked for those projects.
Brendan Hanley, Yukon's Liberal MP, acknowledged it as a "budget of restraint," without as many "regional wins" as there were in previous federal budgets.
"It doesn't have the kind of bells and whistles that we did have a year ago, even with some Yukon-specific items in the budget a year ago. So this is a bit more, I would say, a budget for our times," Hanley said.
"This is more focused on Canada as a whole, where we have a chance as regions to tap into some of these opportunities."
In a statement on Tuesday, Nunavut Premier P.J. Akeeagok highlighted some of the budget investments applicable to that territory, including health funding and the Indigenous housing strategy.
The budget initiatives will "contribute to our government's efforts to improve access to housing and health care services here in Nunavut," Akeeagok said.
N.W.T. Premier Caroline Cochrane also issued a statement on Tuesday, listing some of the budget initiatives relevant to her territory, including the health care funding, the introduction of a national suicide prevention line, and investments in clean energy that could support the Taltson Hydro Expansion Project.
She also highlighted the Indigenous housing strategy and said she wants to ensure it benefits the N.W.T.
"The N.W.T.'s housing situation is in dire need of investment, and it is my hope that this new money is a step toward making a significant difference in meaningfully addressing the lack of appropriate housing," Cochrane said.
With files from George Maratos
Related stories from around the North:
Canada: Arctic Security: Will Canada's federal budget deliver for NORAD?, Eilís Quinn, Eye on the Arctic
United States: Budget cuts threaten transitional housing program in Alaska's largest city, Alaska Public Media
Finland: Report highlights Finland's top 5 housing problems, Yle News
Norway: From dirty coal mining to protected land, Norway expands national park on Svalbard, Thomas Nilsen, The Independent Barents Observer
Russia: Bolstered by battery boom, British mining company to dig nine new open pits in Russian Arctic, Atle Staalesen, The Independent Barents Observer
Sweden: UN experts call on Sweden to halt mining project on Indigenous Sami land, Mathiew Leiser, Eye on the Arctic
United States: Budget cuts threaten transitional housing program in Alaska's largest city, Alaska Public Media