'Brown blob' found in Yukon is a well-preserved Ice Age squirrel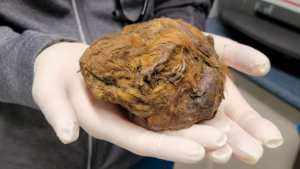 It's a debut that's been about 30,000 years in the making.
Yukon paleontologists have this week unveiled another unusual find from the goldfields near Dawson City: a mummified Arctic ground squirrel from the Ice Age, curled up in a ball as though it died while hibernating.
It was found a few years ago, but it's being shown off now because the government is preparing the dead rodent for display at the Yukon Beringia Interpretive Centre in Whitehorse, expected to reopen later this spring after a redesign.
At first glance, the mummified animal doesn't look like much more than a dried-up clump of brown fur and skin.
"It's not quite recognizable until you see these little hands and these claws, and you see a little tail, and then you see ears," said Grant Zazula, a Yukon government paleontologist.
"I study bones all the time and they're exciting, they're really neat. But when you see an animal that's perfectly preserved, that's 30,000 years old, and you can see its face and its skin and its hair and all that, it's just so visceral. It brings it so to life."
The animal was actually found in 2018, by a placer miner working at Hester Creek near Dawson City, Yukon.
Miners are routinely finding Ice Age bones and fossils in the Klondike goldfields. Two of the most exciting finds in recent years have been a mummified wolf pup and a baby mammoth.
Arctic ground squirrels — still common in Yukon today — make nests, or middens, underground for hibernation and Zazula says Ice Age nests are regularly found preserved in the Klondike permafrost. A full squirrel, though, is far more unusual.
"Some people get really, really excited when they find that giant woolly mammoth leg or, you know, the big tusks or the big skulls. But for me, the Arctic ground squirrel fossils, the nests, and now this mummified squirrel, are really the coolest things that we do have. They're my favourites, for sure."
Zazula said squirrels are an especially interesting species to study because unlike mammoths or Scimitar cats, they survived in the Yukon after the Ice Age.
"Animals that we have here today are actually pretty tough, because they've had to endure these numerous changes in the past. So that's a really important lesson in terms of trying to think about how future climate change will impact these animals," Zazula said.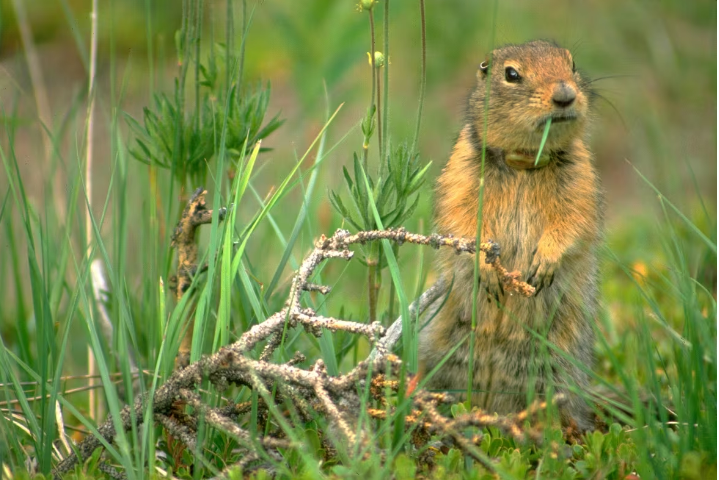 X-ray shows specimen in 'great condition'
Zazula wanted to get a better look at the inside of the squirrel, so he brought it to Dr. Jess Heath, a veterinarian in Whitehorse, for an X-ray.
"We're fortunate in that it's already deceased, and so it's not trying to wiggle too much," Heath said.
"I'm really impressed that someone recognized it for what it was. From the outside, it just kind of looks like a brown blob. It looks a bit like a brown rock."
Heath wasn't sure an X-ray would show much. The animal was so "bunched up," she said, and sometimes the bones of mummified animals have lost calcium over time, making X-rays less clear.
That wasn't a problem with this critter. The X-rays clearly showed a solid bone structure inside the brown blob.
"We could see that it was in great condition and it was just curled up like it was sleeping," Heath said.
The X-ray suggested that it was actually a young squirrel, possibly in its first year of hibernation when it died. What killed it, though, is unclear.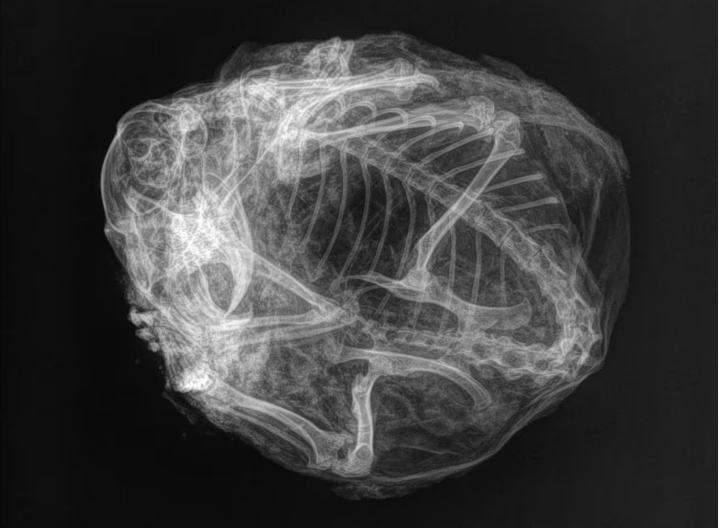 Zazula said he's excited for people to see the squirrel when the Beringia Centre reopens. It's going to be displayed alongside a mummified black-footed ferret found decades ago in the Klondike, which was recently returned to Yukon from a collection in Ottawa.
"I'm really excited for kids. They'll be able to see these animals and be able to really ponder, you know, life during the Ice Age. And we often see these big animals like woolly mammoths and everything, but there's a lot to be learned about the small critters that were living beneath the feet of these wooly mammoths as well," Zazula said.
The squirrel doesn't yet have a name — at least not an official one. Zazula said workers at the vet clinic gave it a sort of unofficial name, based on where it was found.
"So I think that name might stick — we might end up calling this little guy Hester the ground squirrel, based on Hester Creek," he said.
With files from Dave White and Elyn Jones
Related stories from around the North: 
Antarctic: Antarctic expedition gets up close and personal with a melting glacier, CBC News
Canada: Climate change driving narwhals to change migration timings, Eye on the Arctic
Russia:  Perfectly preserved cave lion cub found in Siberian permafrost, CBC News
United States: Scientists retrace steps of Ice Age mammoth over its entire lifetime, The Canadian Press