Alleged drug dealer temporarily barred from Selkirk First Nation land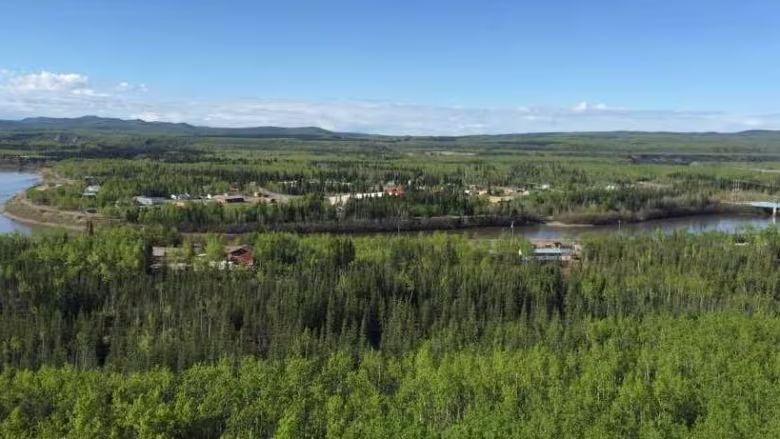 As Yukon court considers longer injunction, Brent Nibecker must leave Pelly Crossing by May 5
An alleged drug dealer in the Yukon has agreed to stay off Selkirk First Nation land temporarily.
Brent Nibecker has accepted the terms of a temporary injunction while the Yukon Supreme Court considers whether to bar him from the First Nation community permanently.
Selkirk First Nation (SFN) filed a petition to the court last month, asking that Nibecker be declared a trespasser for causing mischief on settlement lands. That petition says community safety officers have heard "numerous reliable information reports" saying Nibecker has been involved in drug-trafficking, theft and, in one instance, a fight in Pelly Crossing since the fall.
Selkirk's chief and council have called Nibecker a "threat to public order and the safety of SFN citizens in Pelly Crossing." They passed a resolution in February to keep him out of Pelly Crossing, but that hasn't kept Nibecker away.
Nibecker lives near Dawson City and is not a member of Selkirk First Nation, but the court petition claims he sometimes stays at a residence in Pelly Crossing.
May 5 deadline 
On Monday, the court told Nibecker he now has until May 5 to leave Pelly Crossing, where the First Nation is based. Should he return after that date, he could be arrested for trespassing.
Selkirk First Nation would like to see those conditions in place permanently. It's waiting for a final decision from the Supreme Court. Barring an appeal from either party, Nibecker's temporary injunction will remain in place until that decision comes.
No date has been set for that decision yet. The next court date is set for May 16. Nibecker is still trying to acquire legal counsel, and the purpose of that date is to provide an update for the court.
Injunctions of this nature are rare, but Selkirk isn't the only First Nation in Canada to consider them as a response to a substance use emergency.
Substance-use crisis
Mikisew Cree First Nation (MCFN) is looking at banning drug dealers from Fort Chipewyan, Alta. Chief Billy-Joe Tuccaro says illicit drugs are contributing to a suicide crisis in the remote northern town. The band declared a state of emergency last week.
MCFN has issued a community bylaw that gives band leadership the power to evict people it suspects are involved in illegal drug trafficking.
Pelly Crossing, like Fort Chipewyan and a number of neighbouring Yukon communities, is in the midst of its own substance-use crisis.
In an affidavit filed with Selkirk's petition, former chief Darin Isaac said non-residents coming into Pelly Crossing to sell drugs, "primarily opioids and crack cocaine," have exacerbated longstanding problems of drug and alcohol abuse in the community.
Related stories from around the North: 
Canada: Town hall meeting called in Mayo, Yukon, to talk about drug crisis, CBC News
Finland: Finland's alcohol consumption declines by 15%, Yle News
United States: Alaska's drug problem worsening as police resources strained, Alaska Public Media