Russia's Kirkenes Consulate remains open, but for how long?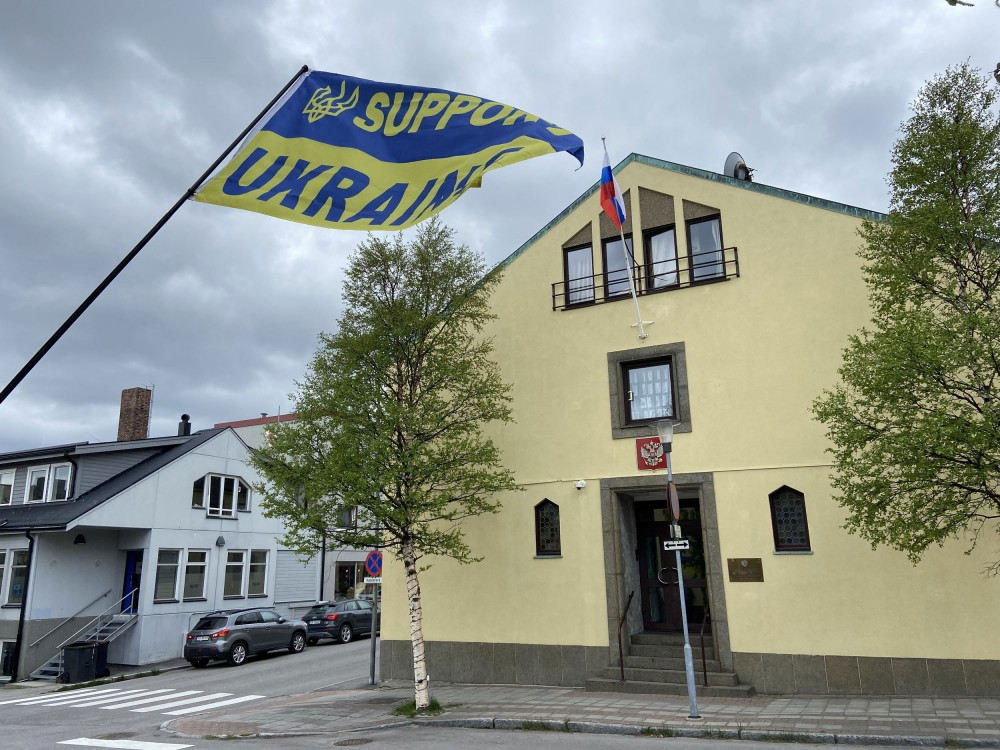 Consulates across Europe and Russia are hit by a wave of closure as diplomatic relations worsen.
The yellow building is the only one in Kirkenes with burglar bars on all ground-floor windows. Surveillance cameras keep an eye on people walking the street outside on their way to and from the town hall next building. A satellite antenna on the roof presumably links the diplomatic outpost with Moscow.
Russia's Consulate General in the Norwegian border town had a key role in issuing visas. Nowadays, locals crossing the border to the Kola Peninsula are for the most people with dual citizenship. With outbreak of the full-scale war against Ukraine last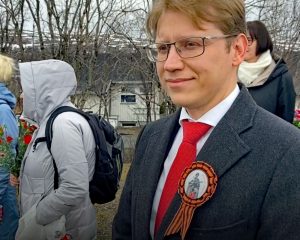 February, officials ended most public cross-border project cooperation. From the Russian side, Putin had then already forced an end to almost all civil society initiatives involving Nordic neighbors. Western tourists stay away; cheap gas, restaurants and nightclubs in Murmansk were no longer tempting.
Today, the Kirkenes consulate serves as a transit hub for Russian diplomats on their way to Oslo, Barentsburg, Reykjavik. The land border up north is an easy journey from Moscow.
For how long it will remain open is unclear. Relationship is reduced to a minimum and consulates seem to be the next big hit in deterioration.
Last two weeks in brief:
Russia tells Sweden to close the consulate in St. Petersburg and closes its own consulate in Gothenburg.
Russia revokes agreement with Finland on consulate in Petrozavodsk and consulate office in Murmansk. Closes its own consulate in Lappeenranta.
Germany orders Russia to close four out of five consulates in Germany. Moscow's response means closure of German consulates in Kaliningrad, Yekaterinburg and Novosibirsk.
Iceland closes its Moscow Embassy and tells Russia to minimize its activity in Reykjavik, including the departure of the Ambassador.
Russia's Ambassador to Reykjavik, Mikhail Noskov, was formerly Consul General in Kirkenes.
The foreign ministry in Moscow is today unwilling to answer questions from the Barents Observer about the future of Russia's diplomatic mission to Kirkenes. Our inquiry to the embassy in Oslo remains unanswered. Up North, the current Consul General, Nikolay Konygin, neither wants to talk about his future.
Hundreds of Russian diplomatic officials are kicked out of Europe since the full-scale invasion of Ukraine last year, with Moscow expelling Western diplomates in retaliatory moves.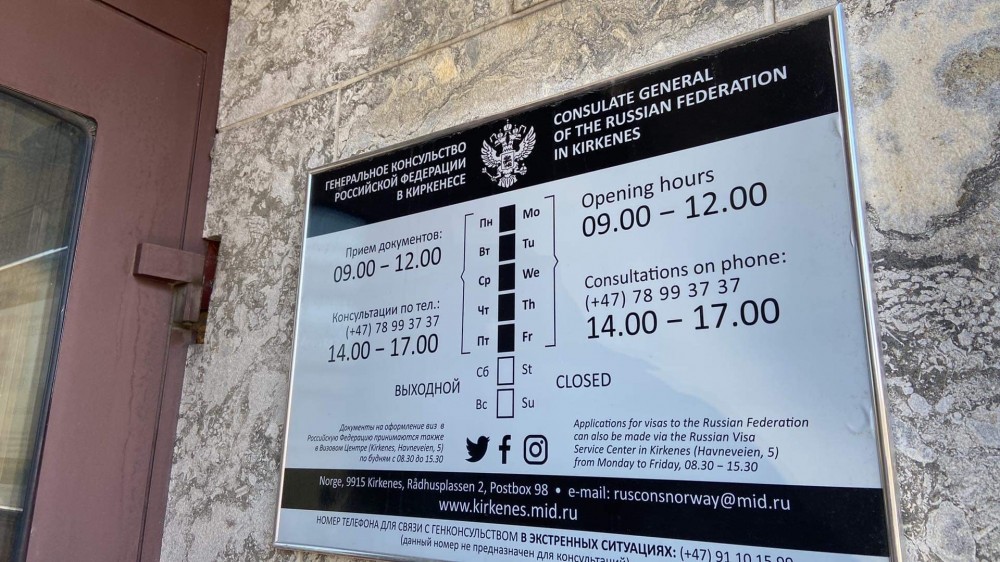 The Norwegians, though, have no desire for Russia to shut the doors at the diplomatic mission in Kirkenes.
"As of now, we have no plans to close foreign missions in either Russia or Norway," says Ane Haavardsdatter Lunde, spokesperson for the Foreign Ministry in Oslo.
When Foreign Minister Anniken Huitfeldt in April announced that 15 Russian intelligence officers, working undercover with diplomatic immunity, were declared unwanted in Norway, the list did not include anyone from the yellow building in Kirkenes.
Visa trouble  
Escalating tensions by revoking agreements on Nordic and German consulate generals, the Russian foreign ministry makes it harder for Russian citizens to book a slot for visa applications. Like in Karelia, where operations at Finland's Consulate General stopped in April and the staff has got until July 1 to leave Petrozavodsk.
Not happy with NATO, the Russian Foreign Ministry said in a statement: "Responsibility for the current situation lies entirely with the Finnish side." Finland became a member of the North Atlantic Alliance on April 4 this year.
Before pandemic, the Consulate General in Petrozavodsk had busy days issuing multiple entry visas as there were hundreds of thousands of border crossings between Karelia and Finland annually.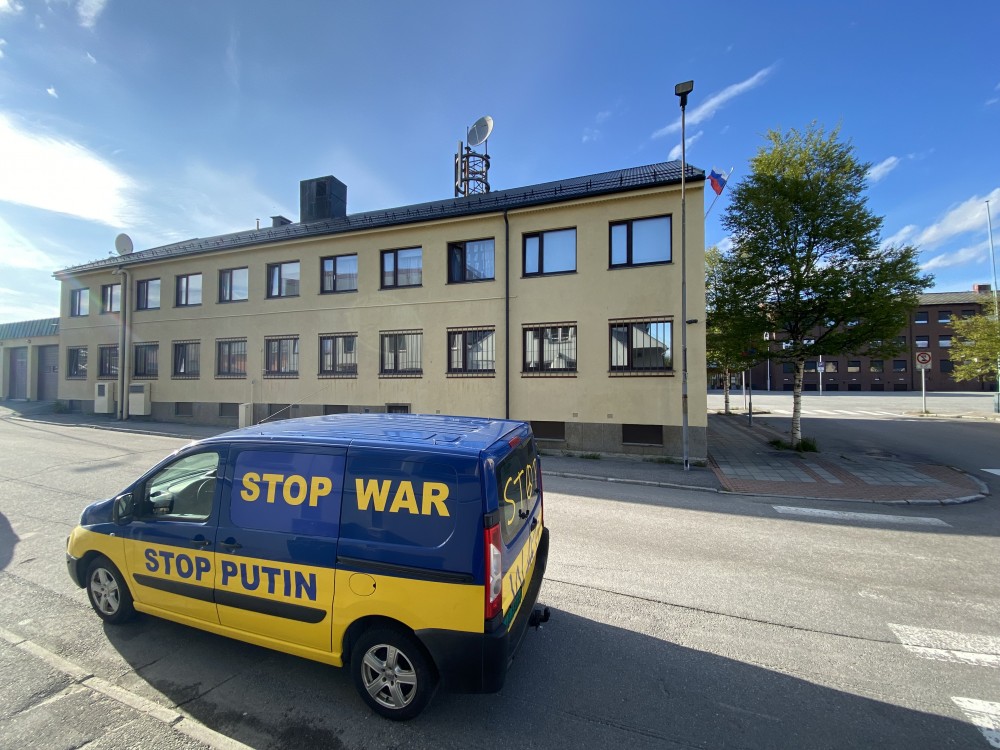 Turku and Mariehamn 
In Turku, on Finland's western coast, the Mayor has suggested shutting down the Russian Consulate in the city. Finland's former ambassador to Moscow, Hannu Himanen, has urged for the closure of Russia's Åland consulate in Mariehamn.
For Norway, the Consulate General in Russia's Arctic capital of Murmansk was on top of the list among foreign missions in issuing visas. At its peak in 2013, the year before Moscow's illegal annexation of Crimea, a new visa application center opened with big bravura. A total of 59,730 Norwegian Schengen visas were granted to Russians that year. The Kingdom's representation in Murmansk also served as an important bridge-builder to regional authorities. One delegation after the other came north to establish ties with Russia; military, ministries, parliament committees and different study groups.
Closed after harassment 
Last summer, Oslo decided to close its Consulate General, arguing Norwegian interests have over time been "significantly reduced" with no need to have regular operations. Sources close to the matter told the Barents Observer about frequent harassment of the staff, both local employees and diplomatic personnel.
It was back in 1993 that Oslo and Moscow agreed to open Consulate Generals in the north. The agreement included Murmansk and Kirkenes, with options to have consulate branch offices in Nikel and Tromsø. The latter never materialized. Norway pushed for a possible honorary consulate in Nikel, but the idea was not welcomed by FSB. Instead, an honorary consulate was established in Arkhangelsk in 2010.
Related stories from around the North: 
Canada: Norway committed to keeping Arctic Council as leading forum on North says ambassador, CBC News 
Denmark: Danish policy prioritizes low-conflict Arctic amidst Russian tensions, Eye on the Arctic
Finland: Finland expels nine Russian diplomats, The Independent Barents Observer\
Greenland: Growing focus on Arctic puts Greenland at higher risk of cyber attacks: assessment, Eye on the Arctic
Iceland: Iceland to suspend embassy operations in Moscow as of August 1, Eye on the Arctic
Norway: And in Between, There Are Doors'—Europe, the Arctic, and shared spaces, Blog by Marc Lanteigne
Russia: Moscow expels five Swedish diplomats, orders closure of Consulate General, The Independent Barents Observer
Sweden: Blinken to visit Luleå amid Arctic fighter jet exercise, The Independent Barents Observer
United States: U.S.set to open sole diplomatic post above Arctic Circle—Location? Tromso, Norway, Eye on the Arctic