Nearly 50 people flee Wekweètì as wildfire rages near community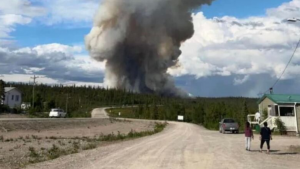 Nearly 50 people fled Wekweètì, N.W.T., Thursday after a wildfire erupted about two kilometres away, said the community's senior administrative officer.
Fred Behrens said most of the 47 or 48 people are staying with friends and family in Yellowknife.
"I would suspect they're all doing pretty good," he said.
The community of around 140 people, roughly 200 kilometres north of Yellowknife, was evacuated Thursday afternoon, as three wildfires burned close by. Wekweètì is accessible by road only in winter, and there is a risk that a wildfire could block access to the airport.
The blaze of most concern is burning between the airport and the community, within two kilometres of homes. N.W.T. Fire estimates it to be just under 110 hectares in size.
Around 20 to 25 people remain in the community right now, said Behrens, who also stayed behind, on Friday. Wekweètì Chief Adeline Football met evacuees when they landed in Yellowknife.
Behrens said firefighting efforts have been "quite a sight to see." 
Five water bombers were attacking the blaze from the air, he said, and fire crews set up sprinklers on some properties at the edge of the community. 
N.W.T. Fire reported Thursday night that five air tankers, two helicopters and four fire crews had been assigned to the Wekweètì blaze. 
"Our priorities are managing this fire, preventing the loss of structures, and limiting the spread of that fire towards the community and the airport as much as possible," said Mike Westwick, a fire information officer with the Northwest Territories government.
Westwick said firefighters are expecting winds from the east to blow the fire west on Friday, which would push the blaze toward the community.
"So we'll be working very hard to get good work done on the ground there," he said. "We're just going to be focused very much on keeping that community safe."
With files from Jared Monkman
Related stories from around the North: 
Norway: Smoke from Canadian wildfires forecast to reach Norway, The Associated Press
Russia: New NOAA report finds vast Siberian wildfires linked to Arctic warming, The Associated Press
Sweden: Fire bans in force across large parts of Sweden, Radio Sweden
United States: Wildfires in Anchorage? Climate change sparks disaster fears, The Associated Press