Iceland authorities warn hikers of rockfall risk after post-eruption earthquakes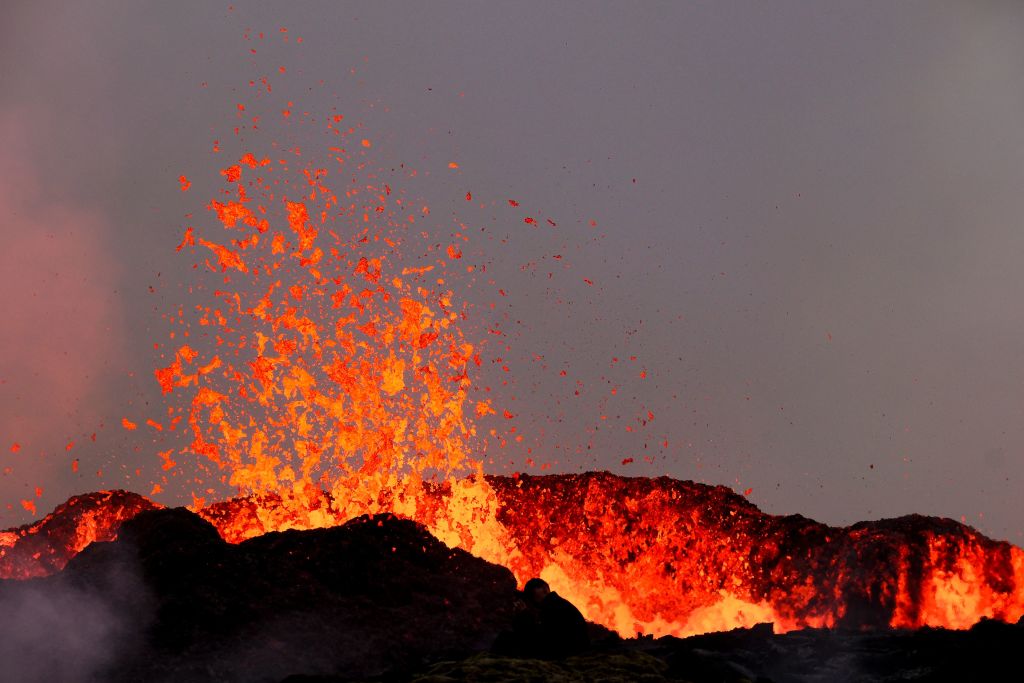 Icelandic authorities are warning hikers of an increased rock fall risk on the Reykjanes Peninsula, after the volcanic eruption at Litla-Hrút triggered hundreds of earthquakes in the region. 
"A total of around 300 earthquakes have been recorded on the Reykjanes Peninsula since the eruption at Litla-Hrút began yesterday," the Icelandic Meteorological Office said in an update Tuesday evening. "By far most of the earthquakes have been below 2.0 in magnitude, but two have been measured larger, they were 2.0 and 2.1 in magnitude."
Lava started to flow at the site from a 1km-long ground fissure on Monday, near to where previous eruptions have occurred over the last two years.
Significant seismic activity was recorded in the run up to the eruption, but the Icelandic government said fissure eruptions do not typically cause large explosions or project ash.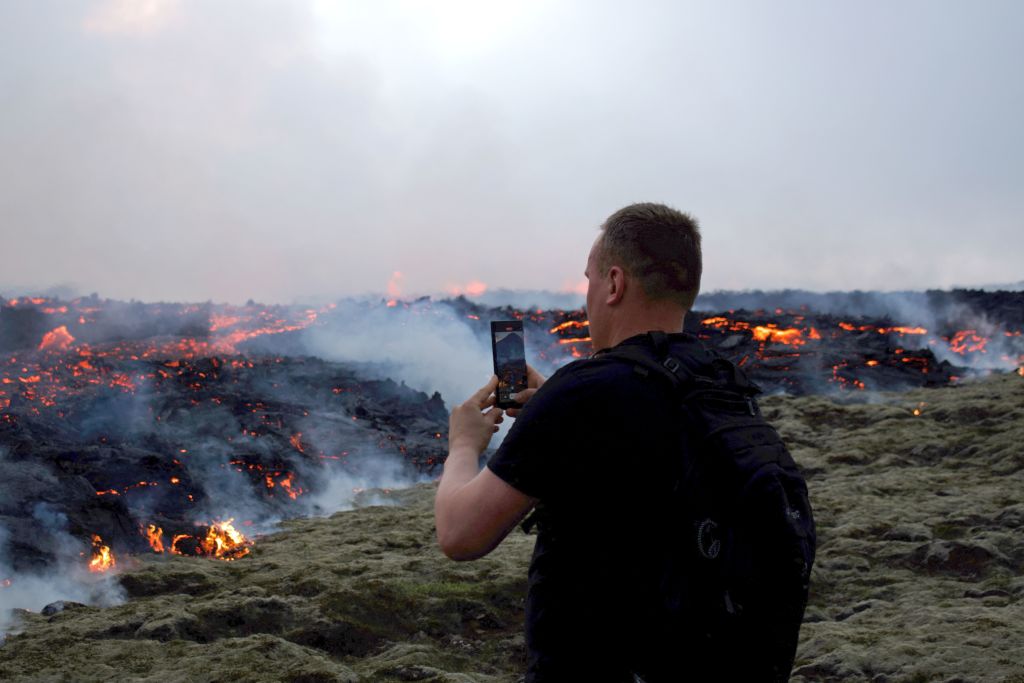 The area is not near population centres or critical infrastructure and there have been no flight disruptions.
Police warn of gas risks and possibility of new fissures 
The eruption took place between Litli-Hrútur peak and Mt. Keilir in southwest Iceland. 
Icelandic authorities said activity at the site was decreasing on Tuesday but warned that toxic gases were still a risk and strongly advised people to stay away from the eruption until officials give the OK.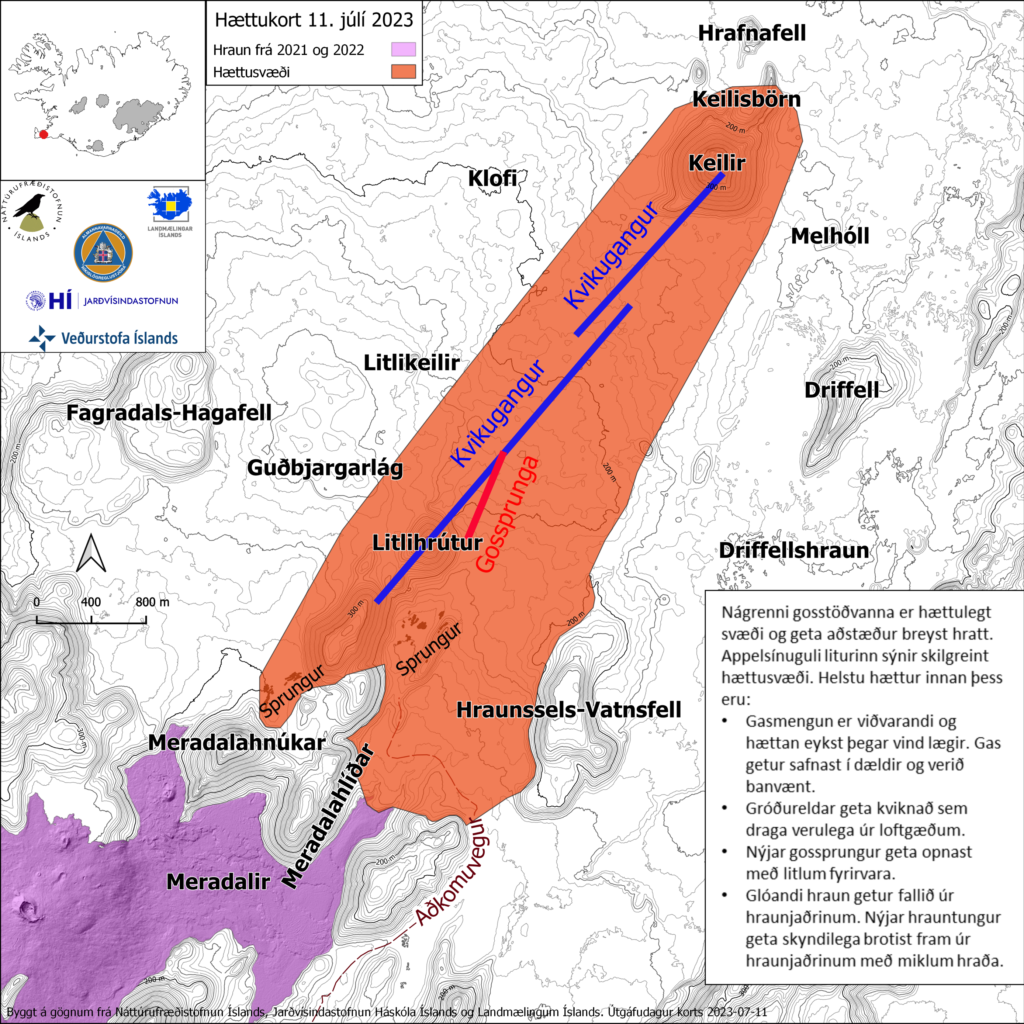 "The eruption area is a dangerous area where conditions can change suddenly," regional police said in a statement posted on the Department of Civil Protection and Emergency Management website.
"Police are warning people to stay away from the eruptions due to gas pollution. The danger increases when the wind dies down. Then life-threatening gases can collect in depressions and can prove fatal. 
Mt. Keilir is currently marked a danger zone and gas pollution may spread further around the catchment area Wednesday morning.
Wildfires are also a risk because of magma.
New vent could form without notice : police
Activity at the eruption site continues to decrease, but authorities warned the area is still unstable.
"Lava is now flowing from several vents on the original fissure that opened northeast of Litla-Hrút. It is therefore a fissure eruption that behaves not unlike previous eruptions in the same areas.
"The latest data, however, indicate that the magma tunnel has moved about 1km to the northeast and reaches under Keili. Deformation is measured across the magma tunnel, so it cannot be ruled out that a new vent will form there at short notice."
Authorities warned would-be spectors this could happen without them having the time to get away.
"New fissures can open [quickly], and lava can fall from the rim causing a rapid and sudden advance that can be difficult to avoid while running," the police said. 
Comments, tips or story ideas? Contact Eilís at eilis.quinn(at)cbc.ca 
Related stories from around the North: 
United States: Alaska's tiny, restless Bogoslof volcano erupts again – and researchers won't be going there anytime soon, Alaska Dispatch News