Fibre optic line coming to Arctic community in N.W.T.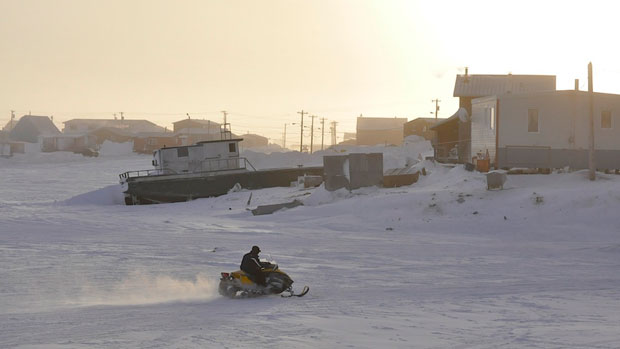 More than $19.7 million was announced on Monday to bring high-speed internet to the Arctic community of Tuktoyaktuk in Canada's Northwest Territories. 
"This project will bring benefits to Tuktoyaktuk and support the Inuvialuit Energy Security Project," Duane Smith, Chair and CEO of the Inuvialuit Regional Corporation (IRC), said in a statement. 
 "IRC looks forward to working with the GNWT to ensure construction proceeds in a way the protects Inuvialuit lands, wildlife, and upholds the goals of the IFA."
The bulk of the money, $14,803,500 , will come from the federal government with the territorial government kicking in the remaining $4,934,500.
"Reliable broadband infrastructure for northern families and businesses must not be a luxury. It is critically important for economic growth, keeping people connected, and ensuring Northerners have the same access to Internet as the rest of Canada," N.W.T. MP Michael McLeod said. 
"The expansion of the Mackenzie Valley Fibre Link between Inuvik and Tuktoyaktuk will contribute to our government's commitment to connect all Canadians to high-speed internet by 2030."
Line will be built from Inuvik
The fibre optic line will be built from the arctic town of Inuvik, to Tuktoyaktuk, a predominantly Inuvialuit community 150km away on the coast of the Arctic Ocean. 
The line will replace the community's current internet service provided through a microwave radio link.
"The GNWT is strongly focused on increasing the broadband accessibility and speed through large-scale infrastructure investment in projects like the Inuvik-Tuk Fibre Line that in turn provide opportunities for private Internet providers to deliver the services that NWT residents need in their homes and communities," Diane Archie, N.W.T.'s Minister of Infrastructure, said.
Access to reliable, high-speed internet is a critical part of any modern society, that helps create economic opportunities for residents and lets governments deliver important programs like education and health care."
Comments, tips or story ideas? Contact Eilís at eilis.quinn(at)cbc.ca 
Related stories from around the North: 
Canada: $123.9 million additional funding announced for high-speed internet in Arctic Quebec, Eye on the Arctic
Norway: New satellites to boost communications in Arctic Norway, The Independent Barents Observer
Russia: Russian military to get fast, secure internet through trans-Arctic cable, The Independent Barents Observer
United States: $30.3 million grant announced to build up high-speed internet in rural Alaska, Eye on the Arctic