Yellowknife's emergency plans lacks details, needs testing, says expert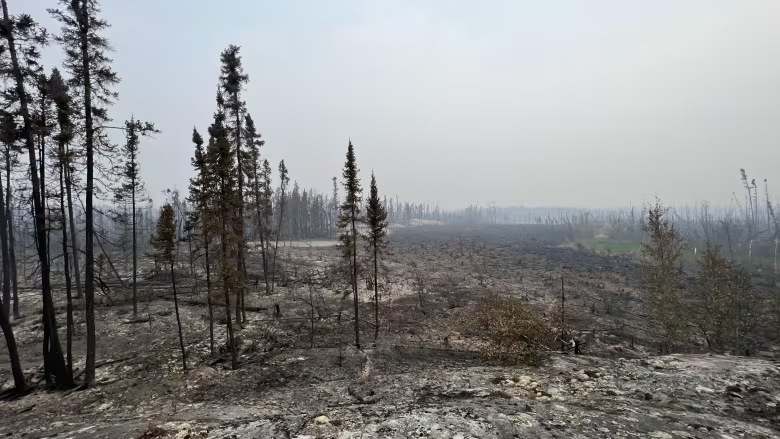 'If the plan can be written and put aside, it's not going to cut it,' says York University professor
A professor who studies emergency preparedness says Yellowknife's evacuation framework could use some fleshing out.
Last week, the city published a framework for how it would respond to an emergency that prompts an evacuation, like a wildfire.
The framework does not go into detail about how the city would do that, however. Rather, city officials said, it gives them flexibility to adapt to the emergency when it happens.
Nirupama Agrawal is a founding faculty member of the department of disaster and emergency studies at York University, and she read Yellowknife's Emergency Evacuation Framework.
"[A plan] should contain concrete details, micro-level details," said Agrawal. "People should be part of it. People should know what the city is planning in case the fire approaches their community."
She said having a framework is a good start, but residents should be given information on who is in charge during an emergency, what services will be available, and the city's capacity to respond.
"[That] should all be in place and actually not just in place but tested," she said.
"Most learning happens when these plans in place are tested and then you understand, 'Oh those elements actually failed.' So if the plan can be written and put aside, it's not going to cut it."
Agrawal also said the public has a responsibility to know its role in an emergency, like where to go and what to take with them.
Need to discuss threat response before it happens
That means keeping emergency preparedness as a regular part of conversation, not just when there's a threat on the city's doorstep, like a wildfire on Highway 3.
Sarah Sibley, a spokesperson for the City of Yellowknife, says the city has regular meetings "not just during emergency situations" on emergency preparedness.
"This framework outlines the approaches the city would take if an evacuation was necessary, but an exact strategy for an evacuation is dependent on the situation, as is a dynamic approach that can address ongoing changes based on the nature and scope of the event," she wrote via email.
Prior to the pandemic, Sibley said, the city had "planned and participated in both desktop exercises and mock scenarios" with other levels of government.
It has also planned for "business continuity and emergency response" since 2020, but there have not been any trial runs to test these plans.
"Residents may need to be sheltered in a safe area of the community and/or in a shelter that can withstand the potential impacts of the emergency," reads the city's framework.
It identifies the Multiplex and Fieldhouse as evacuation centres in the event of a wildfire that would displace parts of the city.
Sibley said the total capacity for both facilities is 772 cots.
"In an emergency situation, the orders of government would take into account the situation and devise a plan to ensure if more space was needed, a solution could be found," she said.
The most immediate threat to the city is a wildfire burning about 43 kilometres away that closed Highway 3 multiple times last week. Still, N.W.T. Fire says the city is not at risk.
Fort Smith publishes new plan
Fort Smith recently issued an evacuation notice to residents as a large wildfire burns about 23 kilometres north of the community.
The notice was the first step in a possible evacuation process, says Adam McNab, Fort Smith's director of protective services.
If the fire continues to move closer to the community, officials will issue an evacuation alert, and later an order if there is an immediate risk to the community.
"There's no immediate concern of even escalating to an alert at this point," said McNab.
The notice was also a chance to enact the community's latest emergency management plan, drafted this spring.
The plan exists in contrast to Yellowknife's framework. It goes into detail about official roles and responsibilities, and includes contact information. It even has several sections on managing pets.
"We recognize that that fire is still quite a ways away and we do not want to alarm our residents, but because of the way that fires are behaving, we felt that it would be prudent to get out ahead of this, make sure that people are prepared well in advance in case fires did move in an unpredictable or rapid manner," said McNab.
The entire plan is on Fort Smith's website. McNab says they've also made an evacuation and emergency response guide that's "more bite sized" and posted those at the community and recreation centres.
He says the town will also debrief after the fire season to work on any improvements.
"We watched what happened very recently in the Hay River and Kátł'odeeche [First Nation reserve] area and there's definitely some lessons to be learned about the fact that a wildfire may not give you much notice," said McNab.
One of those lessons is ensuring residents have enough fuel.
To address that, he said the town and its partners would try to set up a station with fuel trucks and other supplies on the highway.
"Absolutely, there's a lack of infrastructure, a lack of cell phone reception and those do pose a risk to people as they leave."