Wildfire burns structures south of Hay River, N.W.T., through Enterprise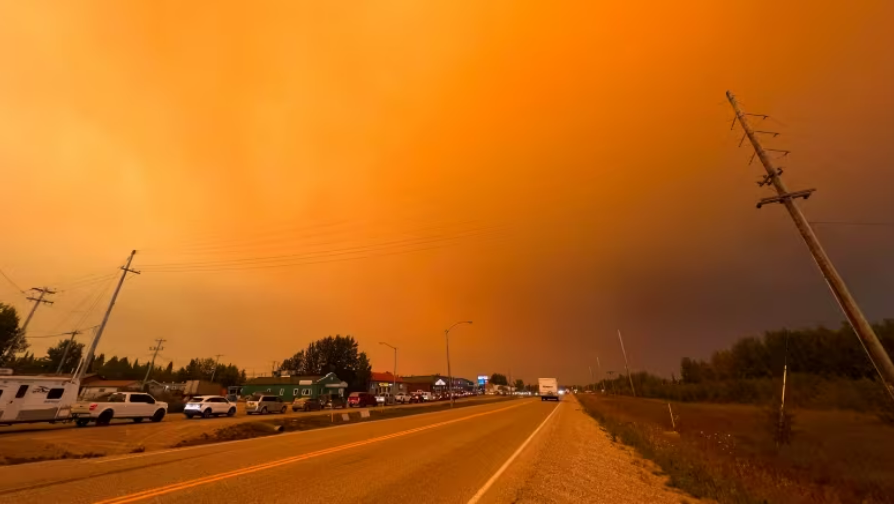 The Town of Hay River says wildfires have burned property and structures in the area of Paradise Gardens south through Enterprise.
The update, at about 11:30 p.m., noted there were no known fires within Hay River, north of Patterson's Road. Anyone still in Hay River should go to the airport.
Flights are set to depart throughout the night, headed for Fort McMurray.
The update said winds have calmed down and the town hopes the fire will only have limited growth into Hay River overnight.
On Sunday evening, 215 people were flown from Hay River to Grande Prairie. Healthcare patients were also flown out.
People are using a Facebook page named NWT Wildfires Safety Check to mark themselves safe from the wildfires, and to check that friends and family members are safe.
It's the second time this summer residents of Hay River, N.W.T., are fleeing a nearby wildfire; this comes as the community was hosting evacuees from Fort Smith fleeing their own wildfire.
Those who have not yet left Hay River were told earlier Sunday evening to head for the airport instead of driving out. A fire had started near Paradise Gardens and Garden Road, affecting traffic from Hay River to Enterprise.
Hay River, a town of about 3,500 residents on the southern shore of Great Slave Lake, was one of five N.W.T. communities evacuating Sunday as wildfires, blown by heavy winds, threaten them.
Residents of K'atl'odeeche First Nation and Enterprise were also ordered to leave.
Residents remaining in Fort Smith, N.W.T. were told to stop sheltering in place and head for the community's recreation centre, as the fire may reach the west end of the community Sunday night.
Wood Buffalo National Park posted on their Facebook page that the fire was expected to reach within five kilometres of the community's west end by midnight.
N.W.T. Fire and the Town of Hay River were telling evacuees to travel to Alberta, in Facebook posts on Sunday afternoon.
Rita and Bill Plunkett left their home in K'atl'odeeche First Nation Sunday, heading to Grande Prairie. They said it's the third time they've had to leave. The reserve was evacuated in May, and last year residents had to flee floodwaters.
"Hoping it's going to be safe," Rita said. "It's just hard when you look back there, to see all the fire, the redness, the darkness … It just makes you feel like you're in another world."
Bill said the situation has been overwhelming. The couple was in Enterprise south of Hay River earlier in the day. Shortly after getting home, they were told to pack up and leave the reserve.
"We still have to think positive," Rita said. "The positive thing is that everybody's safe."
N.W.T. officials said last week this was the worst wildfire season the territory has experienced on record.
Hay River's Mayor Kandis Jameson told Fort Smith evacuees at the evacuation centre about the escalating situation. She told people if you can, leave immediately, but to stay calm and that they have time to leave. She added people with respiratory issues should leave as quickly as possible.
The wildfire is near Kakisa and Enterprise and is expected to reach Highway 1 this afternoon. The fire is 60 km from Hay River.
This is the second time the community has evacuated this summer due to a wildfire.
The community was serving as an evacuation centre for residents who needed to leave Fort Smith on Saturday due to a wildfire near that community.
The community of Jean Marie River First Nation is also in the midst of evacuating due to a nearby wildfire.
Flora Abraham is a Fort Smith evacuee who was staying in Hay River.
"I am shocked that we got to this point and I'm surprised that we have to vacate here after being here maybe 20 hours," she said.
She'll be heading to High Level, Alta., and expects to be there by the early evening. Abraham said that as the family matriarch, it's her role to stay positive and keep her family's spirits up.
Abraham said she's happy that there's been no injuries or deaths from the fires.
Rocky Simpson, MLA for Hay River South, said that residents are asked to meet at the arena in downtown Hay River. He said school buses are lining up to take evacuees south. While he said people should keep calm, he also urges residents to follow the evacuation order.
"We want you to leave for two reasons, the safety of yourself and your family but also the safety of others that are in town protecting the community and firefighters as well," Simpson said.
The federal government has promised assistance to the N.W.T., according to a post from federal Minister of Emergency Preparedness Harjit Sajjan.
He doesn't specify what assistance they'll be providing but says that the Canadian Forces are mobilizing.
For those that require fuel, Alberta Transport has fuel services at Steen River — about 160 km south of Hay River. Staff from Alberta Transport will also travel north on the highway with jerry cans for those who need.