N.W.T. reveals phased return plan for wildfire evacuees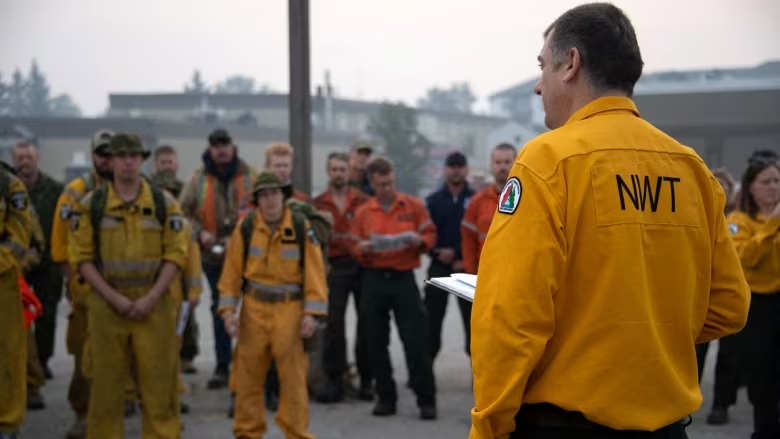 Nearly 70% of N.W.T. residents have been displaced by wildfires
Firefighting efforts have halted the spread of a wildfire near Yellowknife, but N.W.T. officials said Monday the city is still not ready for evacuees to return and that they will be implementing a phased re-entry plan.
N.W.T. Fire posted on Facebook that the wildfire near the capital is classified as "being held," meaning it was not likely to to spread beyond its current boundaries, but noted the status does not mean it's safe yet for residents to return.
"I must stress that we are still under an evacuation order and this is not a call for people to return to Yellowknife," Mayor Rebecca Alty said in a statement on Monday.
"I know that it's been a stressful and difficult time, and we look forward to welcoming everyone home soon. Until then, please stay where you have settled and take care."
70 per cent of N.W.T. residents displaced
Wildfires in the Northwest Territories have triggered evacuation orders in the capital Yellowknife along with the communities of Ndilǫ, Dettah, Fort Smith, Enterprise, Hay River, Kátł'odeeche First Nation, Kakisa and Jean Marie River.
Nearly 70 per cent of N.W.T. residents are displaced.
Also on Monday, N.W.T. officials announced a five-phase re-entry plan for residents to return home.
The phases, in order, are:
Making sure the community is safe from wildfire (i.e. the wildfire is under control and air quality is acceptable).
Checking the community for damage (i.e. making sure buildings and infrastructure are structurally sound).
Returning essential personnel (e.g. health-care and municipal workers) to communities.
Re-establishing basic services to communities (e.g. grocery stores and gas stations).
Returning displaced residents to communities.
"We don't have a date for when the fires will be declared under control [or] when it will be safe for community governments and the territory to welcome their residents," said Jay Boast, spokesperson for the territorial department of Municipal and Community Affairs.
"It was a monumental task to get everyone out and it's going to require a thoughtful and staged approach to bring everyone back."
Related stories from around the North: 
Canada: MLAs in N.W.T. postpone upcoming election, add $75M to wildfire budget, CBC News
Norway: Smoke from Canadian wildfires forecast to reach Norway, The Associated Press
Russia: New NOAA report finds vast Siberian wildfires linked to Arctic warming, The Associated Press
United States: Wildfires in Anchorage? Climate change sparks disaster fears, The Associated Press