No highway fire risk expected as public prepares Yellowknife return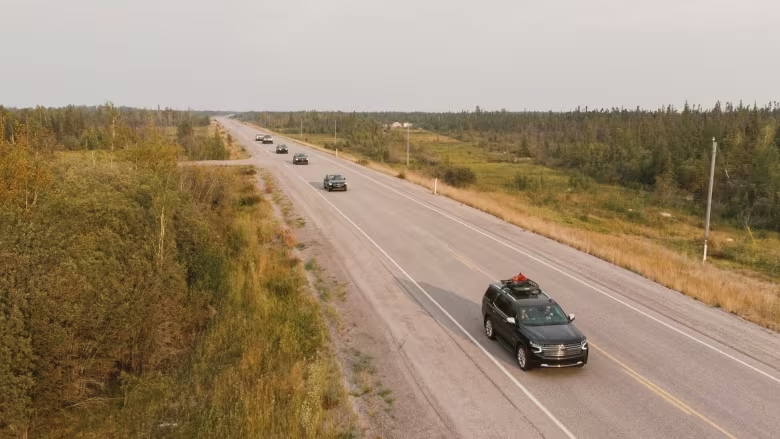 By Luke Carroll, Liny Lamberink · CBC News ·
Officials also fielded questions about evacuees forced to re-locate in Calgary
Wildfires are not expected to pose challenges along the route from Alberta up into the N.W.T. as people make their way back to homes in Yellowknife, Dettah, Ndilǫ and along the Ingraham Trail in the coming days, according to the territorial government.
Mike Westwick, a fire information officer for the N.W.T., said Monday afternoon the wind event that had been "causing some concern" along Highway 1 had passed.
Over the weekend, strong winds had been expected to whip up fires along the highway. The conditions forced the territory to pause the return of some essential workers about 2.5 weeks after the city's 20,000 workers had been forced to leave because of wildfires.
"As you get ready to travel we don't see any imminent risks of fire causing challenges on Highway 1 for at least the next three days," said Westwick.
Essential workers arriving 
Westwick also said the fire between Yellowknife and Behchokǫ̀, as well as the one along the Ingraham Trail are still being held. That means they are no longer considered to be out of control, but they aren't completely under control either.
Essential workers continued to arrive in Yellowknife Monday, while the general public makes plans to head back to the N.W.T. capital with the evacuation order set to be lifted at noon Wednesday. It'll be replaced by an evacuation alert.
Westwick said Monday the evacuation order for people living along Highway 3, between Behchokǫ̀ and Yellowknife, would be downgraded to an alert on Wednesday as well.
'Massive logistical undertaking'
Earlier Monday, CBC News learned that evacuees staying at some hotels in Calgary were being asked to leave before the evacuation order was officially lifted. During the press conference, officials said seven hotels no longer had capacity to accommodate evacuees, and that they arranged alternate accommodations for people right away.
The return to Yellowknife is a massive logistical undertaking — with residents deciding whether to make the journey back on flights organized by the territorial government or by vehicle. Officials have warned wildfire and weather conditions may cause delays on the highway, and that once people get home, some services will be lacking.
Elsewhere, recent rain in the N.W.T.'s South Slave region dampened massive wildfires burning near Hay River and Fort Smith, though officials say hot, dry conditions are expected to return later this week.
We've compiled a Q + A where we've answered people's questions about the return. You can also send us your questions at webnorth@cbc.ca.
Below are live updates from Monday afternoon's news conference. They'll appear in descending order, from newest to oldest.
---
5:01 p.m. – That's the end of the news conference, thank you for reading.
4:59 p.m.: NNSL asks if the RCMP have had to charge anyone trying to re-enter Yellowknife while the evacuation order remains in place. Corporal Matt Halstead, a spokesperson for the RCMP, says that they have not had to charge anyone under the Emergency Management Act.
4:58 p.m.: CBC News asks about a timeline for Enterprise residents to return. Bobby Bourque, with the South Slave Regional Emergency Management Organization says there is still a lot of work to do throughout the community. He says there's no timeline for return.
4:56 p.m.: Cabin Radio asks for how many Canadian Armed Forces (CAF) members were involved in the firefighting effort, and what resources will remain as the CAF prepares to leave. The agreement for CAF support ends on Tuesday.
Major Bonnie Wilken, a public affairs officer with Joint Task Force North (JTFN), says there will still be some forces in Yellowknife. She says all of JTFN will remain, and a total of 350 members had been involved in the territory's firefighting efforts.
4:51 p.m.: Asked why people in hotels weren't notified earlier they were going to have to relocate from their hotel accommodations, Tordiff says they waited until Monday because they wanted to have solutions for people first.
4:42 p.m.: Robert Tordiff, with the territory's Executive and Indigenous Affairs, says the moment they found out the hotel rooms were no longer available to them, they acted right away. Tordiff says the territory found out that Calgary hotels were at capacity on Saturday evening.
4:41 p.m.: Another question is asked about the hotel situation. Some people in Calgary are being forced to relocate because of capacity issues. Jay Boast, an information officer with the Emergency Management Organization, says there was a "wrinkle" on Monday but that they are grateful for Alberta.
4:34 p.m.: True North Now asks about the potential for holdover fires. (Environment and Climate Change Minister Shane Thompson made comments about this to CBC News Network earlier Monday.)
Westwick says holdover fires are a reality in the boreal forest. "But certainly when you get large fires" they become more likely, he says.
4:31 p.m.: CKLB Radio asks how many people were affected by the hotel shuffle. Boast says they don't know exactly how many.
4:30 p.m.: Bassi-Kellett adds that they've been looking at what services the city really needs right away when determining how many workers they need.
4:27 p.m.: Radio-Canada asks how many essential workers are expected to be back in Yellowknife by Wednesday. Sheila Bassi-Kellett, Yellowknife's city manager, says they don't have an estimate.
4:26 p.m.: "We do have mechanisms to track people," Tordiff says, referring to people who are homeless. He says they also have the choice to stay if they want to, but said hopefully they will come home to where their friends and family are.
4:25 p.m. NNSL asks about unhoused people, and what is being done to contact them to bring home. Robert Tordiff, deputy minister with the territory's Executive and Indigenous Affairs, says they've been working with non-government organizations in Calgary to keep track of unhoused N.W.T. residents.
4:23 p.m.: Eric Bowling, from NNSL, asks if the N.W.T. will cover people who aren't coming back right away. Boast says that evacuees will have accommodations covered until Sept. 8, but there may be further discussions on this.
4:21 p.m.: Cabin Radio asks how many hotels in Calgary stopped having room for N.W.T. evacuees.
Jay Boast, a spokesperson for the Emergency Management Organization, said seven hotels were affected by vacancy issues.
4:17 p.m.: Cabin Radio asks for an update on the airport being up and running for commercial flights.
Jeffrey Edison, an official with the territory's Department of Infrastructure, says they will consider the airport open for commercial operations by Wednesday, but there's a lot of challenges. Edison said a lot of staff need to travel to Yellowknife.
4:15 p.m.: Luke Carroll, a reporter with CBC North, asks about people who are being asked to leave their hotels on Sept 5. Boast says the hotels are private businesses and N.W.T. evacuees are guests, but also says the territorial government was able to respond quickly and ensure everyone has accommodations.
4:13 p.m.: Speaking about Fort Smith, Westwick said crews have also managed to hold the fire from reaching the community. "It was a well organized defence under really challenging conditions." Westwick reminds people its still not safe to return to Fort Smith.
4:12 p.m.: Westwick says they've managed to protect structures in Hay River despite high wind conditions and the fire's close proximity to the town. He says rain will help allow crews to put in more protections around the town.
But Westwick says there are more dry conditions coming. "We have hot, deep burning fire" near the community, he said.
4:10 p.m: For those driving home in the coming days: Westwick says there will be highway crews on Highway 1 for the foreseeable future. He says this means people need to be careful while driving.
4:08 p.m.: Mike Westwick, an N.W.T. fire information officer, says there is good news for those from Yellowknife, Dettah, Ndilǫ and the Ingraham Trail. He says two fires in the area remain held and that there isn't expected to be any dangerous conditions along the highway over the next three days.
4:07 p.m.: Boast says there will be one flight out of Winnipeg and out of Whitehorse on Thursday, because of the low numbers of people in both communities.
Boast also talks about people who were kicked out of their hotels in Calgary. You can read more about that here.
4:06 p.m.: Boast, speaking about the return to Yellowknife, says there will be supports along the highway to ensure a safe drive back.
4:05 p.m.: Jay Boast, information officer for the N.W.T. Emergency Management Organization, starts the news conference by saying the recent rain in the South Slave region are "welcoming" and "promising" but reminds people it's still not safe to return.
---
The territorial government has provided the following links for residents:
Related stories from around the North: 
Canada: Yellowknife re-entry paused as winds expected to 'accelerate' fires near highway, CBC News
Norway: Smoke from Canadian wildfires forecast to reach Norway, The Associated Press
Russia: New NOAA report finds vast Siberian wildfires linked to Arctic warming, The Associated Press
United States: Wildfires in Anchorage? Climate change sparks disaster fears, The Associated Press