Poor visibility to greet returning Hay River workers Wednesday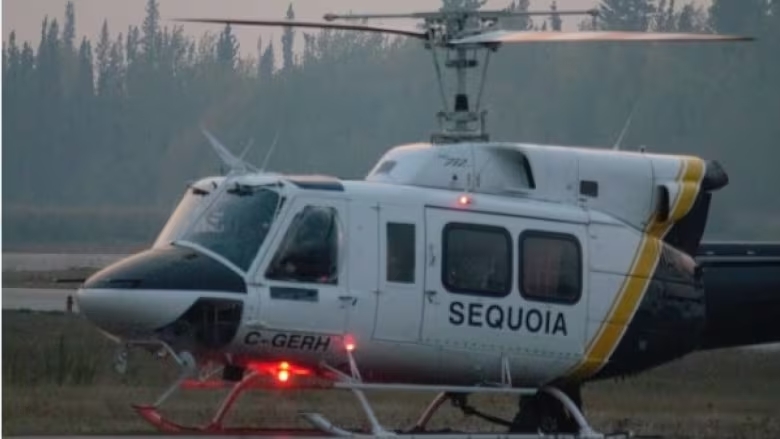 Weather conditions will make for a smoky day in parts of the Northwest Territories on Wednesday.
An atmospheric inversion is holding wildfire smoke close to the ground, explained Mike Westwick, a territorial fire information officer.
Westwick advised essential workers returning to Hay River along Highway 1 to use caution, as they begin the gradual return to the community that was evacuated one month ago. The general public is now expected to follow on Sept. 17 if conditions hold.
"Visibility may be not ideal," Westwick said, addressing those driving in Wednesday.
"Be cautious, stay safe and, you know, drive slower than you would normally if you're in smoke."
Temperatures expected to drop
Conditions are similar in Yellowknife, Westwick said.
Temperatures are expected to cool off on Wednesday with highs reaching 20 C, according to a written update provided by Westwick on Tuesday night.
In Hay River, winds from the south, southwest and west of 10 to 15 kilometres per hour will gust up to 20 or 25 kilometres per hour and may continue to cause the fire to grow to the east.
However, those are favourable wind conditions for crews working on ignition operations to burn off vegetation to the west of the easternmost finger of fire in the K'atl'odeeche First Nation Reserve, Westwick said.
Those operations are key to securing the reserve and the Hay River corridor as they will prevent the fire from growing to the west.
Fire crews faced another day of challenging conditions on Tuesday with temperatures reaching 27 C, brisk winds, and relative humidity at just 25 per cent.
Those conditions caused the fire to expand east past Birch Creek and forced the closure of Highway 5 for a period of time, Westwick said.
Crews to continue the battle in Hay River area
However, defences throughout the Hay River corridor held once again.
Air tankers were active for part of the day, but poor visibility limited their activity in the afternoon, Westwick said.
Helicopters and crews, meanwhile, battled hotspots along Highway 1 and the Hay River corridor as they flared up, holding them back and preventing additional progression.
On Wednesday, they will continue to hit targets in the Hay River corridor and along Highway 5 to tamp down hotspots and keep the area secure, he said.
They also continue to use information from nightly heat scans to seek and destroy hot spots.
Direct attack crews have now completed their first blacklining objective in most of the Hay River corridor, Westwick said. That objective was to follow the path of heavy machinery and extinguish anything hot or burning 100 feet in from the edge of the fire.
Related stories arounf the North:
Canada: Some N.W.T. evacuees consider staying put after wildfire crisis, CBC News
Russie: Russia allocates $7.4 million to help fight forest fires in Yakutia, Eye on the arctic
Suède: Sweden ill-equipped to deal with forest fires, report says, Radio Sweden