With about one year until four giant pandas on loan from China arrive in the city, construction of their elaborate new digs is well underway at the Calgary Zoo.
CBC News, April 26 2017
Crews have cleared the way for Panda Passage, demolishing several older features within the construction zone and laying the new foundation, officials said at a news conference Wednesday.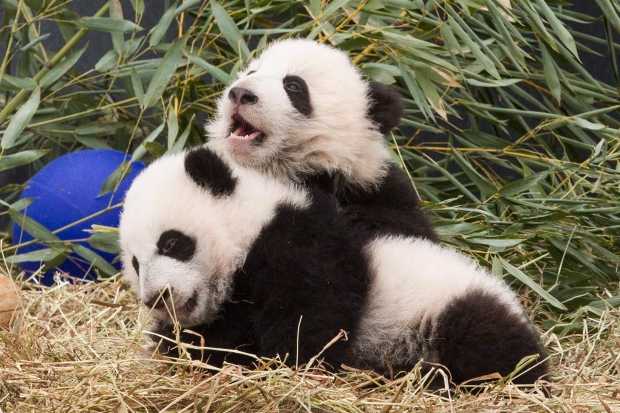 The Eurasian Gateway building — which used to house the rhinos and komodo dragons — is being renovated to become the interior space of the new panda habitat.
"Today, we're marking a one-year countdown to the opening of one of the most exciting things the zoo has ever done," said Len Wolstenholme, the zoo's senior advisor for external relations.
"In spring 2018, the four giant pandas will be here, and it's going to be an exciting time for us."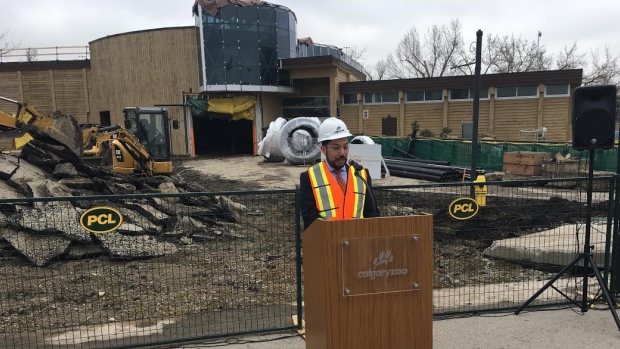 Jia Panpan (Canadian Hope) and Jia Yueyue (Canadian Joy) were born at the Toronto Zoo in October 2015. 
Their births came more than two years after their mother, Er Shun, along with an adult male panda named Da Mao, arrived on loan from China as part of a 10-year, $10-million agreement that will see the animals spend half the time in Toronto and the other half at the Calgary Zoo.
Ricardo Miranda, Alberta's minister of Culture and Tourism, said the extra draw created by the panda exhibit in Calgary could create $50 million in spinoff benefits for the province.
"The Panda Passage exhibit and the new Land of Lemurs exhibit opening this summer are expected to increase the zoo's annual economic impact from $79 million to more than $95 million," he said.
The province is putting up $10 million, which it announced last year, while Calgary is contributing $8.15 million from its share of the province's municipal sustainability funding.
Last fall, the giant pandas were downgraded from "endangered" to a "vulnerable" species, as their worldwide population has grown to 1,864 — up nearly 270 pandas — since 2004.
Clement Lanthier, president of the Calgary Zoo, says that's a reason for optimism.
"So there is hope for endangered species and we're working on it every day," he said.
CBC News