His name was William King Lowd Lore. He was born in Victoria, British Columbia in 1909.
At the time, and for decades previously and for decades afterward, anyone of Chinese decent in Canada faced major discrimination hurdles.  This amazingly included being denied the right to vote which was not granted until 1947.  They had also been denied access to act in certain professions such as lawyers and pharmacists which required that someone be "a citizen of Canada".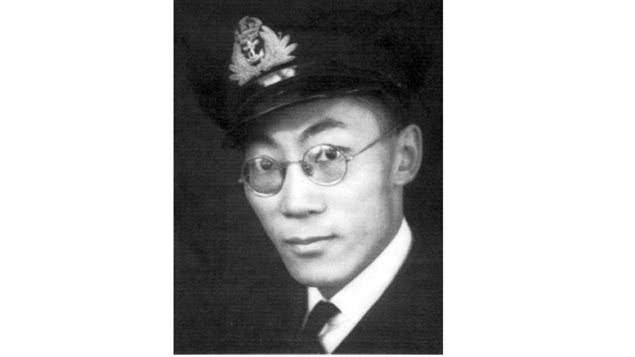 Thus, the career and accomplishments of William Lore were quite simply exceptionally amazing feats.
Through his obviously hard work and intelligence, one of the first of those huge barriers was being accepted into McGill University's engineering programme in Montreal.
However, the stock market crash of 1929, and the Depression forced him to return home.
Back in British Columbia, he worked as a reporter for a local Chinese newspaper where again hard work, and dedicated attitude gained him professional respect by all.
In 1939, another barrier was breached as he became the first Chinese-Canadian to enter the civil service, accepting work as a wireless operator for the Department of Transport.
When war was declared he tried to join the Royal Canadian Navy (RCN) but was rejected due to his race; not once, but three times.
In 1943 however, the RCN policy changed and at the personal behest of Vice-Admiral Percy F. Nelles, Chief of Naval Staff, Lore once again applied and this time was accepted.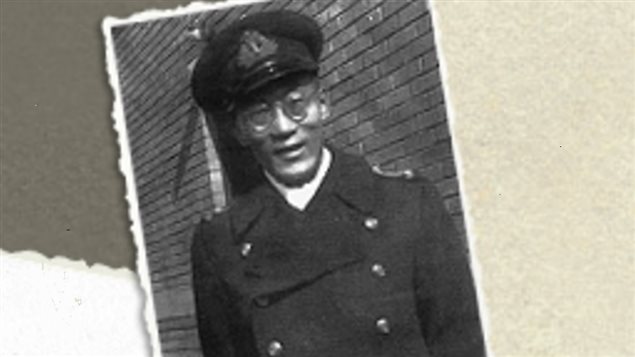 Lo Lore graduated from the Officers Training Course in June of 1943 and was at first appointed a temporary sub-lieutenant.re became the first Chinese Canadian in the RCN, thereby breaking yet another racial barrier by being the first person of Chinese descent to serve in any of the British Commonwealth navies.
Lore quickly became an extremely valuable intelligence officer first serving in Naval intelligence headquarters in Ottawa. He soon moved to London England and the Combined Services Radio Intelligence Unit. Later he served in a top secret jungle camp in Ceylon, (Sri Lanka) under Admiral Louis Mountbatten and helped in planning a major attack against the Japanese in Rangoon Burma.
After being assigned to the British Pacific Fleet, he was seconded to the American 7th Fleet with intelligence services there.
By August 1945, Japan was in the process of surrendering and Lore was with the British fleet sailing into Hong Kong harbor with Rear-Adm. Sir Cecil Harcourt.
Harcourt was well aware of the courageous defence of Canadians in Hong Kong against massive Japanese forces and so ordered Lore, as a Canadian , to be the first Allied officer to land on Hong Kong since it's surrender. He had lead a troop of marines ashore to take control of the shore base.  He was also to head the forces freeing the Canadian, British, and other prisoners from their horrific conditions at the Sham Shui Po concentration camp.
Again as a sign of respect for his service, Lore was present at the official handover of the colony and the Japanese surrender of Hong Kong on September 16.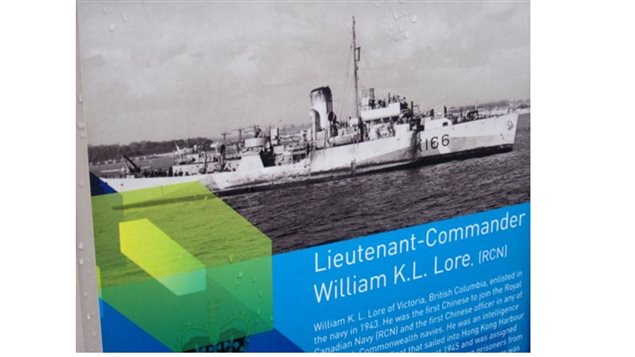 In 1946, he returned to the RCN and promoted to the rank of Lt.Cmdr. and retired in 1948.
He then earned a law degree from Oxford, and decided to return to the colony he had helped liberate, where he set up a law practice. It was there that this amazing Canadian died at the age of 103.
On his death in 2012, Canada's then Defence Minister, the Honourable Peter MacKay issued this statement
"Mr. William Lore's drive and determination to serve his country and to achieve recognition of Chinese Canadians as full members of Canadian society serve as a wonderful example to all of us and show that we all can make a difference. As a sailor, Lieutenant-Commander Lore made Canada proud."
On hearing the news of his passing, Vice-Admiral Paul Maddison, Commander RCN and the Canadian Forces (CF) Champion for diversity said,
"Although it may not have been his intent, he was a hero to many others as he led the way in helping making the CF a more diverse organization and Canada a more accepting society."