It was another case of sheer talent, drive, and determination breaking down barriers. In this case, it was in sports, business, and politics.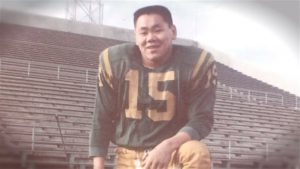 Norman Kwong became the first Chinese-Canadian to play in the Canadian Football League (CFL).  At 5'9" and 190lbs, his speed and power earned him the nickname "The China Clipper".
The son of immigrants, he was born in Calgary Alberta, and at the young age of 18, he turned professional and was asked to join the Calgary Stampeders of the CFL, as they went on to win the Grey Cup, becoming the youngest player to win that championship cup, a record which stood for 62 years.
In a time of real racial discrimination he was able to use humour to defuse hostility. That ability to take as well as give a ribbing combined with his very obvious sports talent, earned him the respect of all in the sports world and served as a trailblazer for other Asian-Canadians.
Alberta Order of Excellence– Youtube

In his career with the Calgary Stampeders from 1948 to 1950, and the the Edmonton Eskimos from 1951-1960, he smashed a number of football records and on retiring in 1960 held some 30 CFL records.
He was later successful in real estate and became part owner of the Calgary Flames hockey team,
He also became the president and general-manager of his former Stampeders team and helped the team back into financial success.
Selling his interest in the hockey team and stepped down from his positions with the Stampeders, he remained active as a member of the Canadian Council on Multiculturalism. He was awarded the prestigious Order-of-Canada in 1998.
Then to cap his incredible story, he was appointed as Lieutenant-Governor of his province of Alberta, serving from 2005 to 2010.Norman Kwong died in September 2016 at age 86.
Goodbye Norman Kwong– CBC

Additional information –sources