Listen
Lac Megantic residents will mark the first anniversry of the rail tragedy that changed their lives early Sunday morning.
On July 6th, at about 1:15 am, a runaway train derailed and exploded, killing 47 people; 42 bodies were recovered, 5 are presumed to have died in the fire.  The subsequent inferno also destroyed 30 buildings in the town-centre.
In an interview with CBC social worker Normand Grimard said that when he asks people in Lac-Mégantic, how badly they're suffering on a scale of one to 10, they tell him 20.  He says a year after the deadly derailment, the town is still going through an extraordinary amount of grief.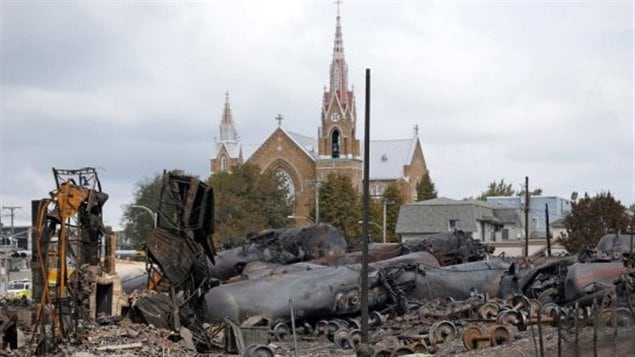 Avrom Shtern is the rail and transportation spokesperson for Montreal's Green Coalition.  He grew up in the Montreal suburb of Cote St. Luc, near a railyard. What began as childhood curiosity led to a vocation in adulthood.  He says, "even though rail is a huge player in the economy, it's being ignored."
There have been changes, in the wake of the Lac Megantic tragedy.  Canada introduced new standards for the rail cars.  Over the next three years the DOT 111 cars, that were known to be inadequate, will be phased out as cars are retrofitted and the newer better-designed cars with thicker steel casings come into service.
The regulatory framework has also been strengthened.  The 35 provincially regulated railways will have to comply with the safety management systems that the bigger railways have, and there is improved data reporting.
Rail companies now have to make annual reports on the goods they're transporting, available to communities, with the proviso the information will be kept confidential.  And the companies carrying crude oil, gasoline, diesel and other petroleum products are now obliged to have 'emergency response assistance plans' (ERAPS).  They must also supply specialized equipment and products, such as the foam eventually used to douse the fire in Lac Megantic, as well as the necessary technical expertise.  Of the 1,100 communities CN and CP move through, only 726 have signed up for the reports.
Changes have been implemented in the United States as well, which is imperative as the two rail systems are linked geographically and economically. North Dakota, where the Bakken formation crude oil originates, agreed to disclose oil train shipments.  And in California, legislators imposed a fee to fund clean-ups in the event of spills or accidents.
In Lac Megantic there is still a debate about where the train-line will be rebuilt.  The mayor wants it diverted outside of town, but that has yet to be decided.