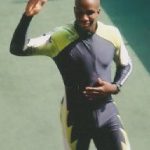 Running was not Donovan Bailey's first love, but eventually he realized he had something to prove on the track!
Few Canadians will ever forget his glorious victories at the 1996 Olympics in Atlanta, and his reign for a time, as the fastest man in the world!
He was the first, of only two men to hold all three titles of Olympic Champion, Wolrd Champion and World Record Holder
These days, Donovan Bailey devotes his time to helping other young athletes reach their potential.
Listen to the story of his meteoric rise to fame.

Credits:
Voltage – (S.Mirzayan) CDM 40
Steel Band – (Z. Pezin) CDM 44
Moscow Night – (K. Jarvis) Carlin 273
O Canada
Narrator: Conrad Coates