By Carmel Kilkenny |
'Soul on Ice: Past, Present and Future' is the documentary that was a labour of love for filmmaker Damon Kwame Mason.
The 46 year-old, who goes by his middle name, played hockey for two years while growing in Toronto and has a passion for the sport, like a lot of Canadians.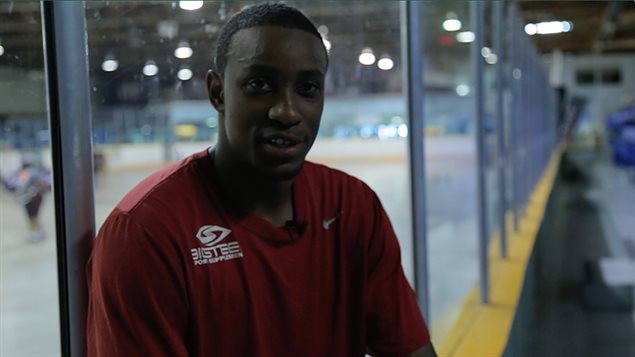 But as a young black player, he says he didn't really understand the game. Mason says his main sport was soccer. He played street hockey and got into it a little more seriously after his brother took up hockey. He says he had no one to teach him the game. Mason says when he was in junior high school most of his black friends didn't play hockey, he says it was considered the white boy's sport."Hockey was considered the white boy's sport."
"It's a shame; I feel that we lost generations of young black athletes that could've really taken a hold of the game but through finances, through the lack of role models, through the lack of education, through the lack of knowledge of the game, like myself, we didn't play." Mason explains.
The film is screening as part of the Vancouver International Film Festival's Black History Month programming. The February 27th event is being hosted by the Vancouver Canucks, of  the National Hockey League. Kwame Mason will be there, along with some special guests, to talk about the history and the making of the film.
Released in 2015, the film was screened in several festivals. It won the Audience Choice Award at the Edmonton International Film Festival that year.
In January 2016 there was a private screening in Washington, D.C. at a special event hosted by NHL Commissioner Gary Bettman. Willie O'ree, the first black player in the NHL, was a honoured guest. along with Kevin Weeks,  Mason says O'ree broke the colour barrier in 1958, but it was another 14 years before another player was drafted into the league, when Mike Marson was a second-round draft pick for the Washington Capitals.
"If Herb Carnegie was the first black athlete in the National Hockey League it would have changed the whole dynamics of the game 'cause he was just that good."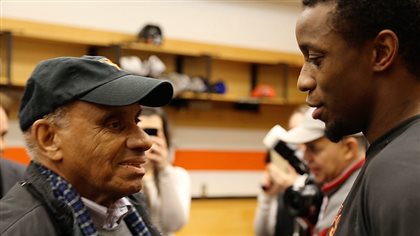 Mason has a special spot for Herb Carnegie, the man before Willie O'ree. Carnegie, who played in the 1940's in various junior leagues, was admired by one of the eminence grise of hockey, the late great Jean Beliveau. Mason says Beliveau looked up to Carnegie as a mentor.
"If Herb Carnegie was the first black athlete in the National Hockey League it would have changed the whole dynamics of the game 'cause he was just that good." Mason says. Carnegie did go on to establish the first hockey school in 1955, and his work continues to this day with the Herbert H. Carnegie Foundation.
Mason acknowledges that the situation has changed. "Especially here in Toronto, you go to any hockey arena you know, there's a lot more young black athletes picking up the game and really excelling!"
He says the next frontier is in the offices. "Some of these teams only have one black person working in the head office; we need to change that," He says it's not about "taking over" it's about informing young people about the myriad options around this professional sport.
"If you're a young black boy or girl and you're in university and you're into marketing or sports marketing or wanna' be an entertainment lawyer, i want you to know there's an option for you out there… there's something you can also aspire to work for."
Kwame Mason has been busy touring with the film since its release, but he's even more in demand during this Black History Month, attending screenings all over North America.
When asked what feedback he's most happy to hear, it's the comments concerning the next generation:
"I'm so glad my son or my daughter has been able to see this because we've been having problems in our team, or in our association, or our league, and a lot of the times these kids feel like they're by themselves and they have no reference point. After seeing this film they have a reference point; like nobody can tell them that they are a fly in a pail of milk."
Mason is beginning to work on his next film. It will be about another of his passions; comic books. He's looking into the black history in the comic book industry, featuring the writers, the creators, and the characters.