By Marc Montgomery |
It began several years ago as a non-profit project to provide access to the arts for underprivileged youth, called Overture with the Arts.
It was created by Akilah Newton, who later added an important aspect in connection with Black History Month.
That was to bring in her very talented twin brother Omari.
Omari Newton is an actor with an impressive record of TV and film appearances. He is also a playwright, a stand-up comedian, and slam poet.
In the role created by his sister, he is a performer for students in schools across the country, telling of the experience of being black in Canadian society.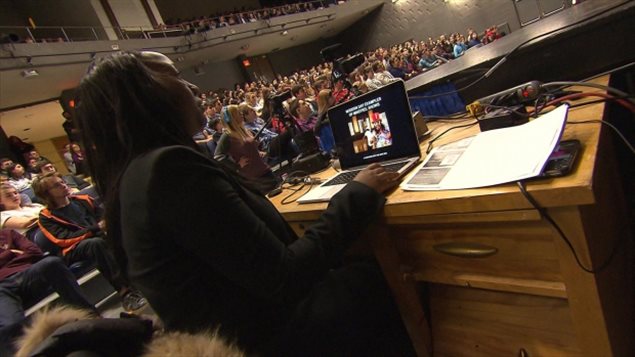 But he is also in this role,  a teacher of history as well through the telling of the stories of important black Canadians throughout the country's history. It's important he says, because we are inundated too often with American stories and American history.
It is a history that far too many Canadians, young and old are unaware of.
Omari does all of this however with an engaging performance he created this year for the Black History month tour of Overture that he calls "Slam Obsidian"
In it he uses his various skills including his slam poetry to bring to life the stories of these historically important black figures in Canada, and to tell of what it was like to grow up black, an outsider of sorts, in the Canadian society of the recent past, including a performance in our studio based on a personal experience.
Overture is visiting schools in Montreal until the 14th of this month before heading to Alberta and British Columbia for the remainder of February and Black History Month.
---
additional information