An historic lighthouse is in imminent danger of destruction.
The Cape Bear Lighthouse is located on the southeastern tip of the maritime province of Prince Edward Island.
Built in 1880, it was the second location, and the first in Canada, to receive the distress signals from the Titanic. (The Cape Race lighthouse in Newfoundland received the signals first, but at the time was not part of Canada)
Wallace Jordan is president of the community group which now overseas the historic site. He says The erosion to the banks especially to the bank at Cape Bear has been extensive over the last few years because I think the weather has been more severe.
The shoreline near the lighthouse has been eroded so much that the building now stands just a couple of metres from the edge and is in imminent danger.  Mr Jordan says the plans are to move the structure some 65 meters further inland.
Erosion of shoreline around PEI has been an increasing concern. The website of the provincial Department of the Environment, Labour, and Justice says. "Prince Edward Island will be severely affected as the influence of global warming takes hold in years to come.  Climate change will bring with it higher tidal fluctuations, increased incidents of storm surges and increased erosion along shorelines."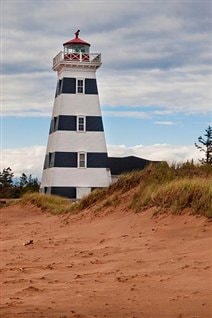 Another lighthouse still used as a navigational aid at West Point, was also threatened.  It also houses a bed and breakfast and museum. 
Several years ago, Robert Henderson, an island member of the legislature called for protection for the West Point Lighthouse. "This is an issue that's going to continue all around P.E.I. when we're dealing with global warming and coastal erosion," said  "When you look at maps from the '70s right up to now, it's significant the difference in coastline."
A plank wall barrier has since been set up to prevent further erosion of the beach at West Point Lighthouse.